Although Jennifer will always remain our very own Rachel Green, there are a number of other Jennifer Aniston roles that we all love.
From a newcomer to one of the biggest stars in Hollywood, Jennifer Aniston's role as Rachel Green has given her the respect and name in the industry. But that's not all. Our dear Jen has played roles after FRIENDS that have been nothing short of inspirational! Being a talented actor means you can ace any role brilliantly and that's exactly what 51-year-old actress has done. We have curated a list of Jennifer Aniston roles that we absolutely love.
To give her a giant birthday tribute from our side, here are some Jennifer Aniston roles after FRIENDS that we love –
1. Mickey Dawson in Life Of Crime
An adaptation of Elmore Leonard's book The Switch, Jen plays a rich socialite in this movie who falls prey to a kidnapping scandal. Due to a bitter marriage, her husband refuses to pay the ransom money so the kidnappers need to think of another way around. She definitely upped her acting skills in this movie and played the role remarkably.
2. Linda in Wanderlust
Jennifer Aniston and her F.R.I.E.N.D.S co-star (Phoebe's husband, Mike Hannigan), Paul Rudd. As a married couple, Jen and Paul escape their monotonous modern life to join a group of hippies in Georgia! This was not your ordinary movie, but it garnered lots of good reviews on both the actors' performances from the audience.
3. Rose O'Reilly in We're The Millers
Another amazing performance by Jen was in the 2013's movie – We're The Millers. This laughter riot starring Jason Sudeikis, Emma Roberts, and Will Pouter was about a small-scale pot dealer who cracks a big deal and attempts to smuggle hard drugs across the Mexican border. Jennifer's role in this was absolutely delightful to watch!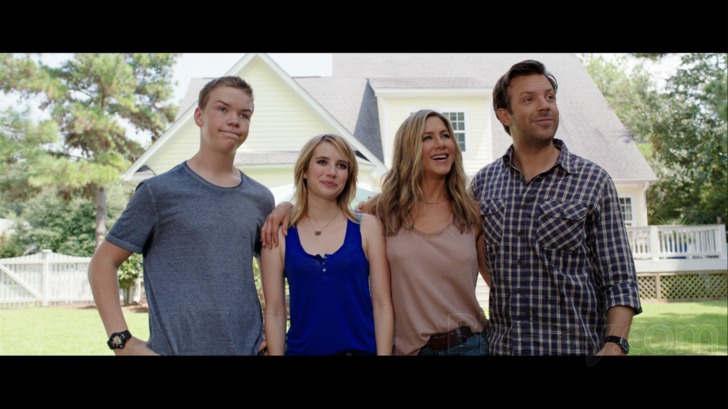 4. Kassie Larson in The Switch
Playing the role of an independent and smart young woman, Jennifer aka Kassie tries to get pregnant with the help of a sperm donor. After 7 years, she comes to know the shocking truth that there was a 'switch' and the donor is actually her best friend. Although it's a regular rom-com with a formulated plot, Jennifer has played it perfectly and you're sure to get those warm and fuzzy feelings from her character.
5. Audrey in Murder Mystery
At the time when Jen decided to put on her detective hat, although her husband Nick (Adam Sandler) is the actual cop, Audrey was there to help him solve a murder mystery. A couple who finally go on a Europe trip after years of planning on their 15th anniversary finds themselves stuck in the middle of a murder that happened in a billionaire's yacht. Jen steals our heart with her badass side in this Netflix movie.
6. Jenny in Marley & Me
Yes, we've saved the best for the last! If you have the emotions to spare for this 2008's movie that features the undying relationship between humans and their pets, you'll definitely admire Jen's character. John (Owen Wilson) and Jenny (Jennifer Aniston) adopt a dog (Marley) to see if they can raise a family. After a bunch of kids and a chaotic household, we fall in love with this wonderful family and obviously, Jen's performance too.
7. Dr. Julia Harris in Horrible Bosses
8. Katherine Murphy in Just Go With It
Happy Birthday, Jen! We love you and will be there for you every day, week, month and every year!!