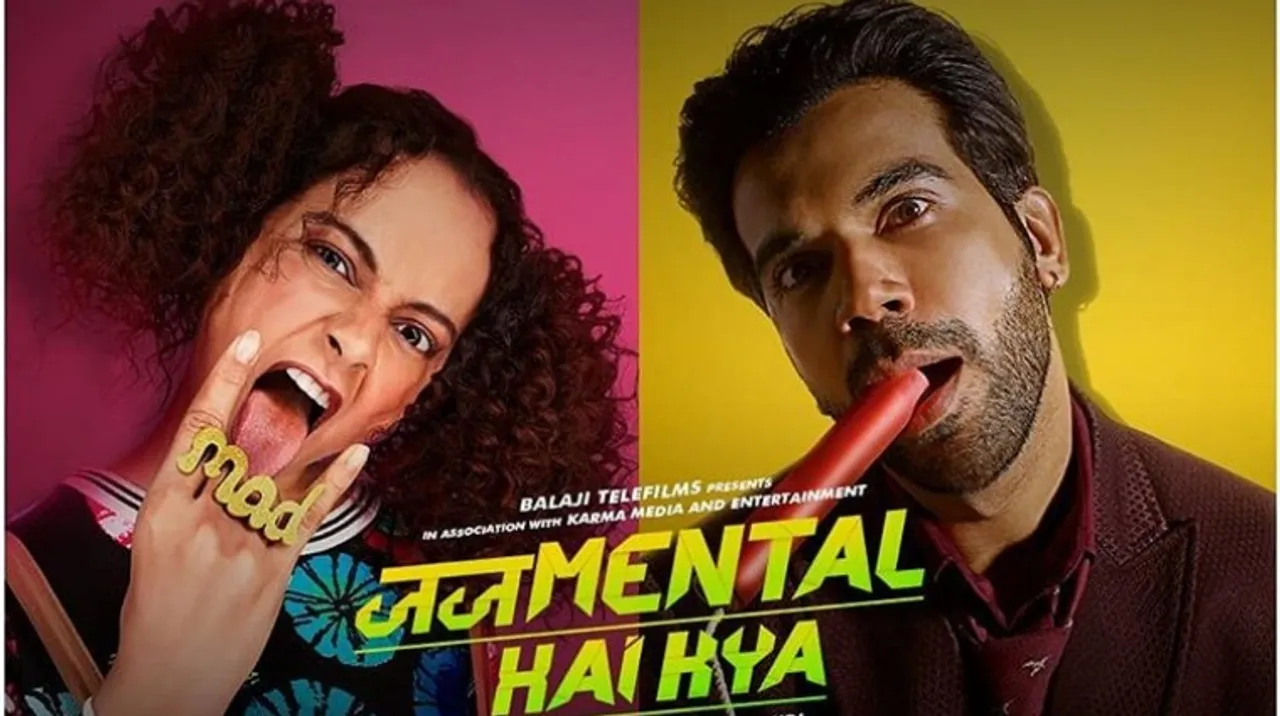 Judgementall Hai Kya is a classic 'whodunnit?' but it is so much more. It has eccentricity, quirks, twists and a screenplay that takes the movie a few notches higher. Kangana Ranaut and Rajkummar Rao's explosive chemistry as they go neck and neck makes for a thrilling experience. Here's our Judgementall Hai Kya review...
The story begins with and revolves around Bobby, who has a lot going on in her life and even more inside her head as she suffers from acute psychosis. She is untrusting, blunt and believes in her gut. The narrative of Judgementall Hai Kya focuses on Bobby's point of view for most of the film giving us a peek into the world she lives with inside her head. Effects of her mental illness and lack of medication are shown to flair up her suspicions and often makes her look like a trouble-maker and mind you she is one but is she capable of murder?
https://www.instagram.com/p/BzfiMK6lJsZ/
Rajkummar Rao on the hand seems to be a sweet and caring husband on the outside only to reveal scary amounts of twisted on the inside. Rajkummar has played many roles and with perfection too but this one brings out a side of him that is mysterious, dark, unnerving and draws you in with every scene. It's safe to say when Rajkummar is good, he's great but when he's bad, he's downright incredible. His character is nuanced just like Kangana's and even right from the start you know there's something unsettling about him.
The two talented actors sharing screenspace is almost explosive. They've managed to capture the true essence of their characters. And it is because of this very reason that you forget you're watching Kangana and Rajkummar and find yourself immersed in Bobby and Keshav's thrilling encounters. They bring their own brand of craziness to the screen and you find yourself suspecting both of them at different points throughout the film.
https://www.instagram.com/p/BzZ8Lqrlrcm/
Prakash Kovelamudi has directed this thriller and done an impressive job of making Judgementall Hai Kya stand out from the current lot of films. He takes time building Bobby's character for the audience giving them a taste of everything that makes her content with her own company, untrusting of the world, fearless but also a big mess at the same time. The way certain scenes in the film are shot will make you see the struggles of someone who is suffering from a mental illness in an empathetic light.
The music of the film is another plus and the background score accentuates the intensity of the scenes. Satish Kaushik, Brijendra Kala, Amrita Puri are a great addition to the screenplay and Hussain Dalal will crack you up every time he is on screen. Jimmy Shergill is another welcome addition to the film and leaves you charmed.
While the movie is one of its kind and manages to keep you intrigued, it isn't devoid of flaws. The first half of the film will leave you biting your nails, however, the second half of the film is dragged on. The plot twist becomes far too convenient for the story to continue and the conclusion disappoints with its poetic justice which is a little too poetic. The story does drop in places but Kangana Ranaut keeps it steady with her embodiment of the unapologetic Bobby who is willing to go to any lengths for justice and finds a formidable partner in Rajkummar to make this film what it is.
The film displays technical brilliance along with phenomenal performances by the actors. From the origami filled beginning of the film to the end the film gives you more than enough reasons to add it to your weekend watchlist!