As a generation, we're always up to something or the other during every day of the week. Changing the world, meeting deadlines, making tedious presentations, staying up all night laughing at memes, downing bottomless pitchers of cocktails to get over work stress to name a few. But the weekends and holidays; they belong to us, don't they? They're ours to exercise the 'Couch Potato' and 'No Shower Saturday' rights. Or to plan hikes and camping trips and fill every second of each day with excitement and thrill. 
Now, if you fall under the first category we suggest you check out this month's binge-watch list first. But if you'd rather do something more exciting in your free time then we've got something special for you! 
Here's a curated list of all the exciting events and stuff happening all around you and your city. There's something to hold everyone's passion and interest and God knows, we have a lot of them as a curious generation! So go on, scroll through, RSVP, make Whatsapp groups (if that ever works for you) and get started on making those adventurous plans!
Take a look:
Amarnath Yatra
When: July 1-August 15, 2019
Where: On Mount Amarnath, around 140 kilometers from Srinagar in Kashmir.
2. Dree Festival
When: July 4-July 7, 2019
Where: Ziro, Arunachal Pradesh, Northeast India
3. Puri Rath Yatra
When: July 4-July 15, 2019
Where: Jagannath Temple, Puri, Odisha
4. International Mango Festival
When: July 9-July 10, 2019
Where: Dilli Haat, Janakpuri, Delhi
5. Hemis Festival
When: July 11-July 12, 2019
Where: Njangattiri Bhagavathi temple, Pattambi, Palakkad district, Kerala
6. Beh Deinkhlam
When: July 14, 2019
Where: Jowai, Jaintia hills, Meghalaya, Northeast India
7. Champakulam Boat Race
When: July 15, 2019
Where: Pampa River at Champakulam, Kerala
8. Guru Purnima
When: July 16, 2019
Where: Guru Purnima is one of the largest festivals and is celebrated all over the country.
9. Njangattiri Aanayoottu (Elephant Feeding Ritual)
When: July 19, 2019
Where: Njangattiri Bhagavathi temple, Pattambi, Palakkad district, Kerala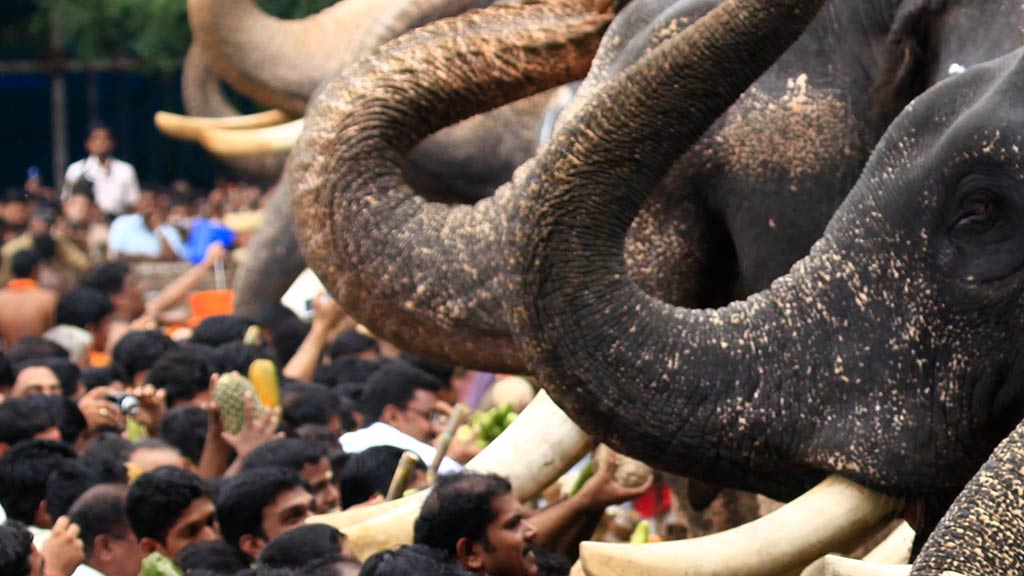 Image Courtesy: Kerala Tourism
10. Bonalu (Ashada Jatra Utsavalu)
When: July 7, July 14, July 21, and July 28
Where: Secunderabad and Hyderabad, Telangana
11. Royal Enfield Himalayan Odyssey
When: July 4-18, 2019
Where: From Chandigarh to Ladakh, including the Nubra Valley and Pangong Tso
What are you waiting for? Book your tickets now!