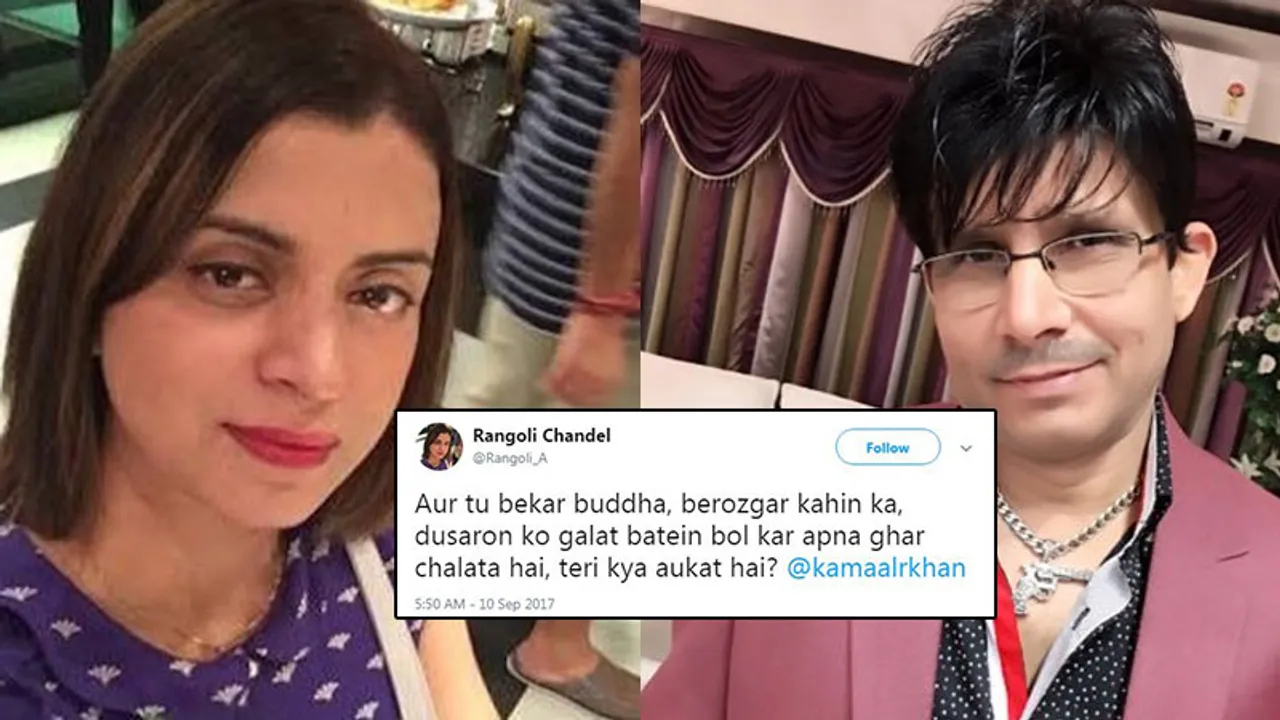 Kamaal R Khan is a man of many presumptuous talents, although the one most recurrently out on display is his ability to piss people off. This time, he managed to irk Rangoli Chandel, Kangana Ranaut's sister with his poor choice of words.
One would think Kangana Ranaut is enough firepower compressed into one hell of a talented worldly vessel but the man above seems to have blessed the Ranaut family abundantly in that specific category. Rangoli Chandel pulls no punches either as you can see right here.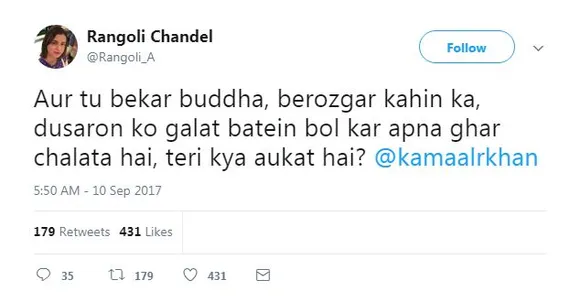 So here's how it all began.
Being the KRK that he is, Kamaal R Khan had to say something about Kangana Ranaut's ongoing tussle with her Ex-Boyfriend(s), Hrithik Roshan, Adhyayan Suman and Aditya Pancholi. KRK tweeted something speculative that was presumably not in the best interest of Kangana,and of course elder sister Rangoli Chandel would not let someone speak about her sister this way.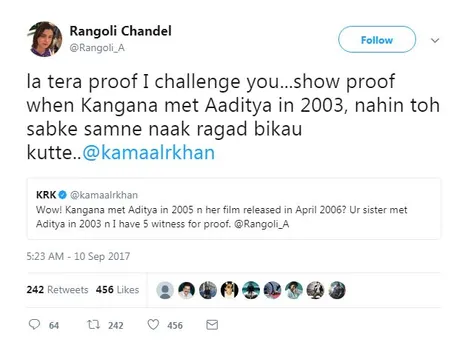 She lambasted the buffoon with some of the most innovative insults that I personally have ever witnessed and the Retweets just kept racking up. Twitter ki janta was loving it. (Just saying, bikau kutte is so Sunny paaji right? Refer to 'Balwant Rai ke kutte!)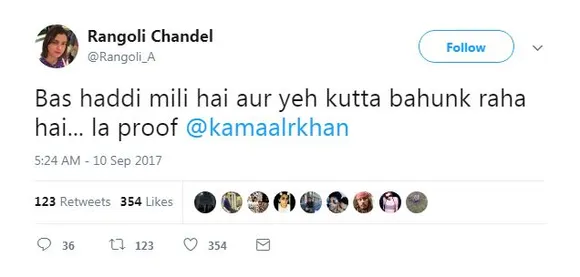 And so, it obviously snowballed into more accusations, more insults, and more tweets. KRK stood his ground, Rangoli continued to innovate with 'crows' and 'kuttes'.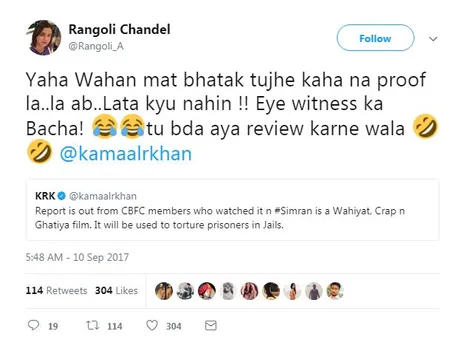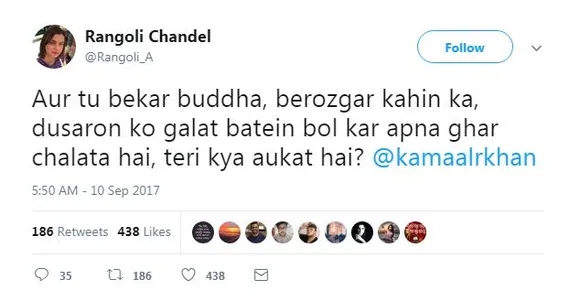 She even attacked his wig, and called him a dead crow.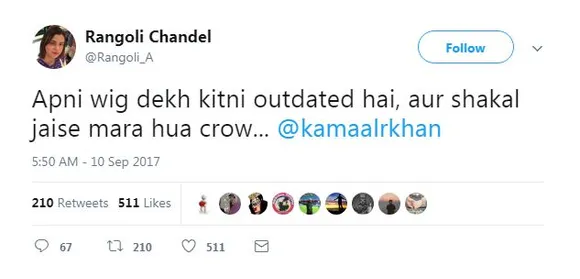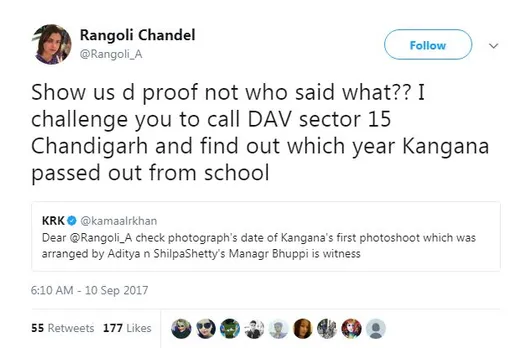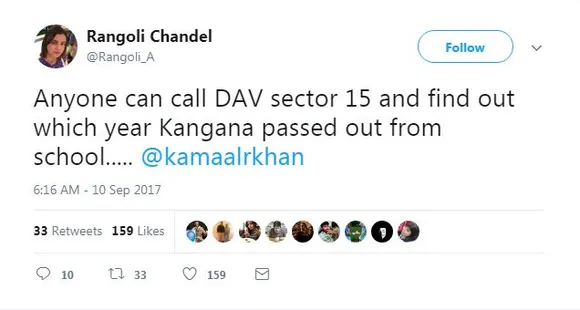 And questioned his Googling skills. (That's just harsh Rangoli!)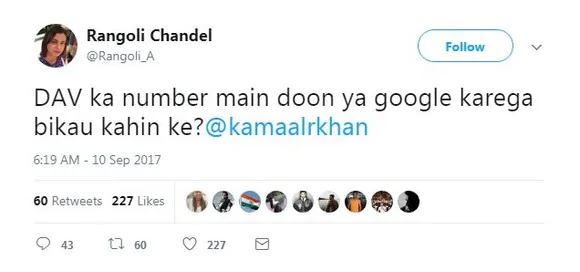 As you guys know, Rangoli is a recovered acid attack victim who turned her life around and did not get bogged down by the attack. Well, KRK thought it was a good idea to bring that up. Where's Shreyas Talpade when you need him!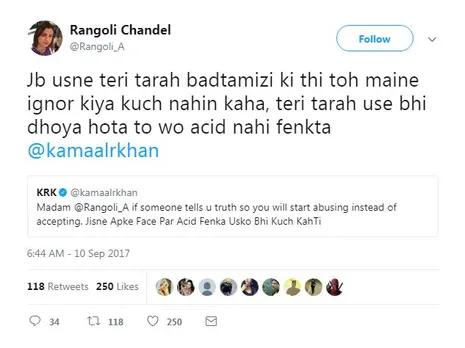 From 'Bikau Kutta' to 'Bheegi Billi', KRK was thoroughly bashed.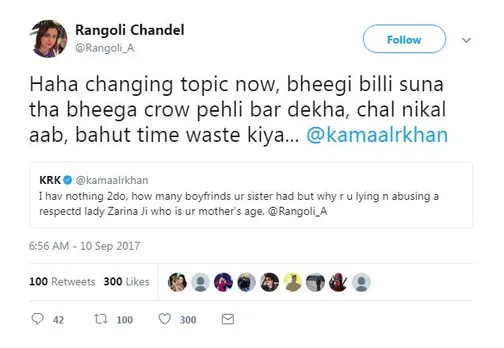 And here's some for the people who prefer birds.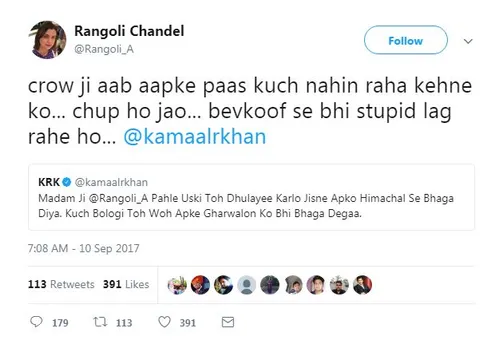 I guess you could say, KRK was thoroughly reviewed by Rangoli Chandel.