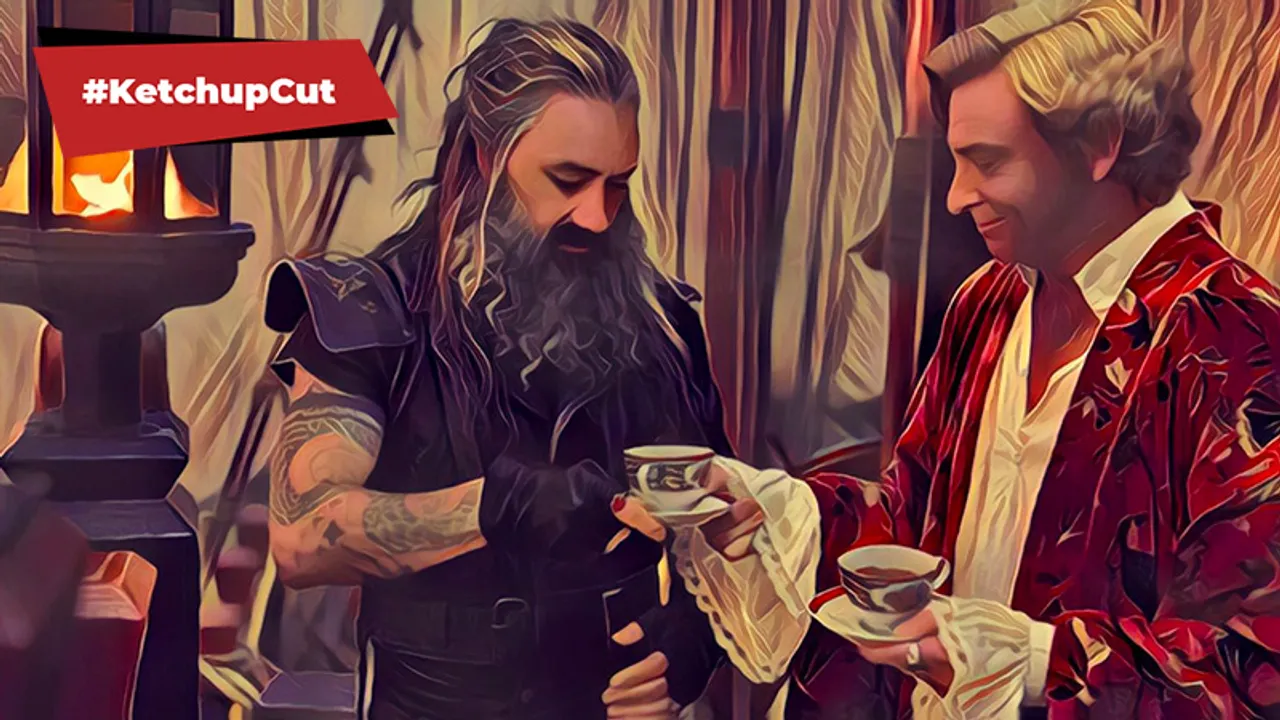 We discuss a show that was hilarious and deadly (mostly) with an incredible ensemble of cast, aka Our Flag Means Death.
It's not often that you come across a show that's able to end your what-to-watch dilemma and have you binge the entire series in one sitting. While at times it's the writing and screenplay that gets us hooked, other times it's the characters and their amazing portrayal by our favorite actors. The HBO original series Our Flag Means Death is an example of the 'I am watching it for the characters' show. And today, on the last day of Pride Month, we discuss one of the most beautiful scenes from the show.
About the movie:
Directed and showrunner – Mike Nichols
Cast – Rhys Darby, Ewen Bremner, Joel Fry, Samson Kayo, Con O'Neill, Nathan Foad, Vico Ortiz, Kristian Nairn, Matthew Maher, Guz Khan, David Fane, Rory Kinnear, Taika Waititi
Where to watch – HBO Max
The show follows the life of Stede Bonnet, someone born into a wealthy family, who abandons his life of privilege to go live his dream of becoming a pirate in the early 18th century.
Ketchup Cut:
OTT platforms have definitely stretched our content consumption patterns. There's nothing we cannot decide on and yet find ways to land on shows as soon as we finish one. And in this ever-lasting list of shows and series, we have drama, thrillers, and satires. But one genre that we always love and enjoy is good comedy. A show that's a no-brainer and we watch it just for the sake of it. And while scrolling on OTT platforms, you won't be disappointed if you land on Our Flag Means Death.
For me, the sole encouragement to even try and watch the show was obviously Taika Waititi. For anyone who goes in for the same, you won't be disappointed. If anything Blackbeard easily becomes one of our favorite characters 10 mins into his introduction. Apart from the amazingness that is Taika, we also have an array of talented artists in the show who continue to have us amused with unique and weird personalities.
Pirates of the Caribbean meets Downtown Abbey, OFMD is nothing like the two but also a combo of both. A rich aristocrat who wanted to be a pirate always on a voyage but never leaving his high-class manners behind. Although not very impressed in the beginning, the crew finally embraced the gentleman pirate and his unusual practice of piracy. While Stede is the softy with a lot of heart (wealth, books, and a LOT of clothes), Blackbeard is assumed to be the fierce pirate that every voyager is afraid of. Black leathers, knives, and a ruthless crew, he has everything until we get to know him. The way he goes all starry-eyed with a child-like excitement on seeing the inside of Stede's ship shows the actual Edward that is hiding behind the Blackbeard's persona. And Taika has acted the hell out of this character. Our love for him has grown 2x times.
There are a lot of moments from the show which will either leave you in spilt or with happy tears. More than anything, it's the subtle way the show incorporated relationships and gender identities without making a big fuss about it that makes it even more admirable. One such scene is the night interaction between Stede and Blackbeard after spending a day at the party boat.
The scene is a small moment after an eventful day when they have a high-class party that Blackbeard wanted to attend, mostly because of how exclusive it sounds. Right after Blackbeard meets Stede we get to see his love for all things fancy, contrary to what people would expect from a pirate. He wants to read his books, have food with a thousand spoons to choose from, and wear clothes that are made of silk and smooth material. He gets to have a taste of it when he meets Stede.
This want and love for 'good things' comes from his childhood as we see in the flashback scenes with his mom. Stede gently tucks the silk into Ed's pocket and at that moment we see him melt because we sure did. The piece of silk is also a reminder of his childhood. This is when we see the shift in their relationship letting us know what it would be. The moment is so cute, soft, and heartwarming that we instantly root for them to get together. The scene is as cheesy and sweet as any classic 'start of a love story' premise can get and that's what makes it even more special. It's not just that the queer couple is the show's lead, but the show also has characters and actors with different sexual orientations. And each actor gets the chance to shine with their own small story arcs in between episodes.
If you haven't yet, then this is a show that you should definitely check out.