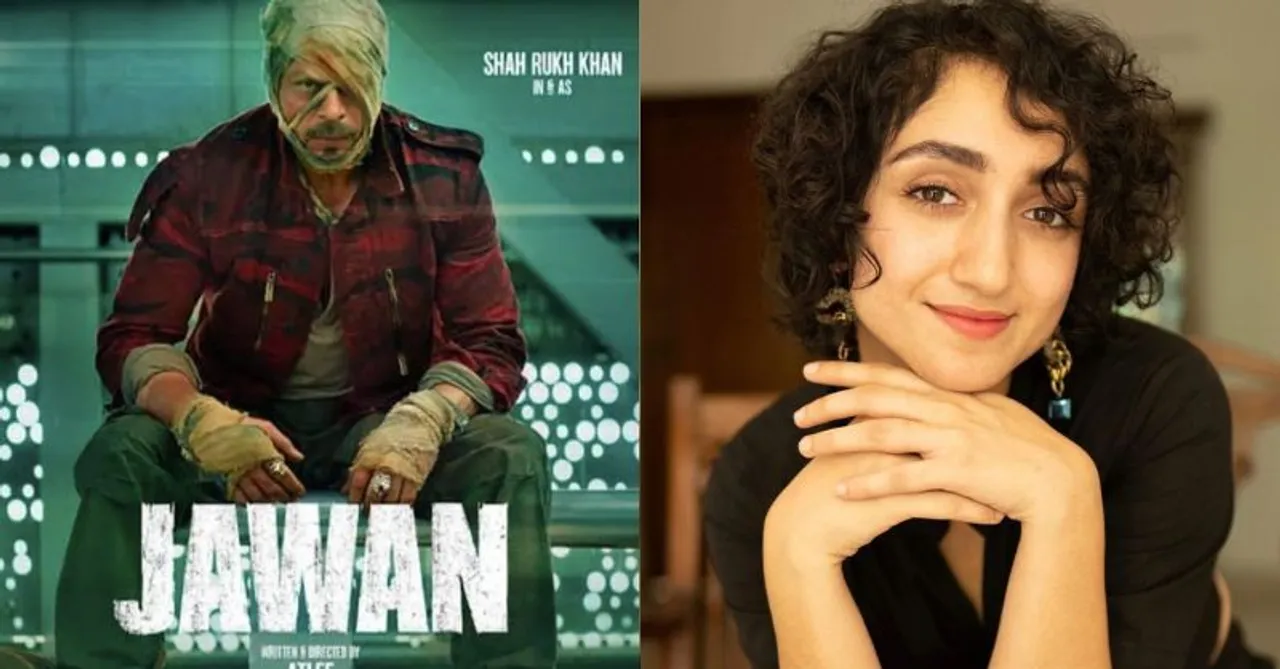 "Never thought would be dancing, singing and having coffee with SRK", Sanjeeta Bhattacharya on working in Jawan.
There isn't a soul in the world who wouldn't jump at the chance to make a debut in a film starring the one and only Shah Rukh Khan. Indie musician-actor Sanjeeta Bhattacharya is one of the lucky few who stepped into a fairytale the moment she started working with the charismatic and legendary Shah Rukh Khan in Jawan. According to Sanjeeta, SRK is someone who exudes intelligence, wit, and a down-to-earth nature that instantly puts everyone at ease. Though she can't reveal her character in the action film, she said she is in the core team of SRK in Jawan. Now, that's indeed a huge honour. But did you know that Sanjeeta wasn't even aware that she was auditioning for a film, which had SRK as the protagonist?
Also Read: The Jawan prevue looks like yet another intense action adventure with a never seen before Shahrukh Khan!
Here's what she had to share about working with SRK!
How did you get the offer to be a part of this huge film opposite SRK?
I was in Kolkata for my concert when I received a call for Jawan. A week later, in Mumbai, I auditioned nonchalantly without knowing much about the project. Soon I was told that I'd gotten through and the protagonist was SRK. I couldn't believe what I was hearing! It was a truly surreal moment.
Tell us sometime about your character in Jawan.
I can't reveal much about my character but she plays a primary role in SRK's core team.
How's the experience working opposite SRK ?
It's dreamlike. He is everything I was told he'd be. Startlingly intelligent, witty, humble, relatable and generous with his art. Our conversations felt like speaking to a wise friend. I never thought I'd be sitting in a massive film set, dancing, singing and having coffee with SRK. Unbelievable! He made sure everyone on set was at ease. When he found out I am a musician, he brought in a guitar and mic on set the next day to have me sing for the cast. It was so thoughtful.
How's working with the brilliant cast including southern super star Nayanthara , Sanya Malhotra, Sunil Grover and others?
On set, everyone is on the same boat. We shared laughs and became friends, given our collective experience of shooting for almost 2 years, on and off. There is so much to learn from these seasoned actors, just by observing them. I think the biggest gift I am taking from the sets of Jawan is a group of genuinely kind hearted, goofy, talented, funny people I now call friends.
Working with SRK is anybody's dream who have seen him during 90's. When you got the offer, how did you react?
I received a call from Mukesh Chhabra sir's office telling me that I was selected for the role. At the time of the audition, I didn't know much about the project but once I was told about the other actors involved, I let out a really loud shriek of disbelief and delight! Every question that followed after that, I responded with an immediate YES!
Previously you were part of web series such as Feels Like Ishq and Broken News on OTT, Jawan is your first project which has a theatrical release with such biggies, are you considering it as a turning point of your acting career?
Absolutely! Jawan is my debut in theatrical films. Needless to say, I am over the moon about it! It's an honour to be a part of a project like this and I know it will be watched by millions. I hope that my work is noticed and look forward to more such incredible scripts and opportunities.
What's your expectation from this film ? Do you think this will open your doors and fetch good opportunities for you ?
I know that the film will be a treat to the eyes given G.K Vishnu's vision. Atlee sir has weaved an intriguing, exciting and important story that needs to be told and seen by everyone. The film will pull your heart strings and keep you on the edge of your seat throughout. I can only hope that I continue to be considered for such incredible stories.
You are a trained singer too. How are you balancing both singing and acting that too simultaneously?
I don't consider it a challenge. It's never all work and no play. I am blessed enough to say that my work is play as well! I just have to manage my time between performing, writing music and acting projects. The key is to strike a good work-life balance. I am now based in three cities- Delhi, Mumbai and Bangalore and I shuttle between them often. It's not hard because I honestly love what I do.
What do you love the most - lights , camera and action or interacting with a live audience as a singer?
Both the artforms, to me, are forms of empathy. Music is very personal and introspective. It's a reflection of me, wearing my heart on my sleeve for my audience. It's a vulnerable state of being. Acting is putting myself in my character's shoes, surrendering to my imagination and the director's vision. I love both equally. They both help me explore my own potential.
Which is more liberating- creating your own music or being a character as per the script and portraying it on screen?
I do feel like I have more control over the outcome when it comes to music and a bigger sense of freedom of expression.
What are your future projects as an actor?
I'm currently shooting for The Broeken News on Zee5 and just finished shooting for a series on Amazon Prime. You will also be seeing me in Sabbir Khan's Adbhut and another project alongside Pankaj Kapoor sir.
For binge-centric content, follow us @socialketchupbinge.