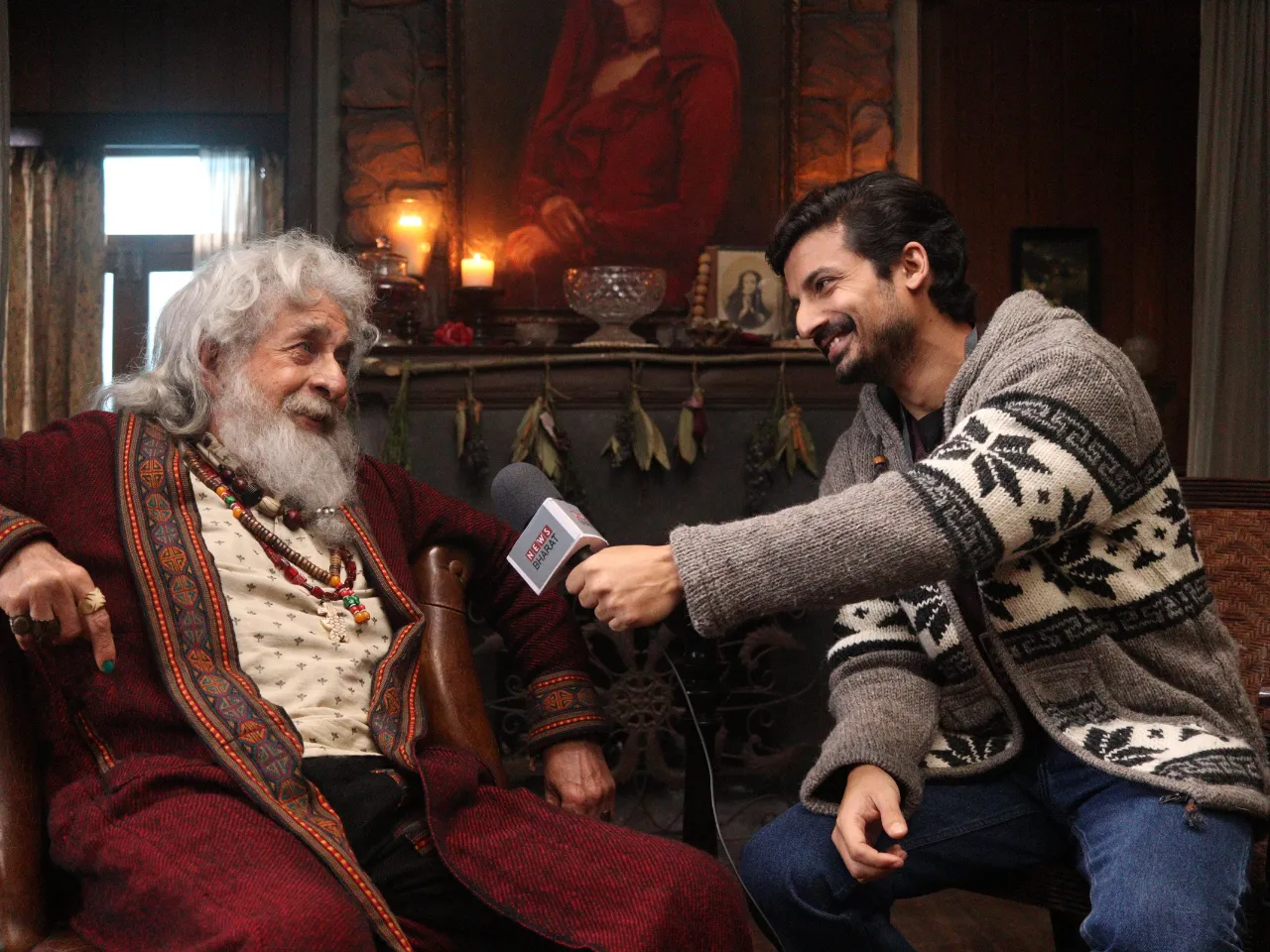 Priyanshu Painyuli, popularly known as Robin from Mirzapur, is seen adorning the hat of a local journalist opposite Wamiqa Gabbi in Vishal Bhardwaj's series Charlie Chopra on SonyLIV! 
Priyanshu Painyuli is the face of an actor who even though being one of the part of an ensemble, knows how to shine bright. Even though his acting journey started much earlier with theatre, yet his recent character of Robin from Mirzapur, which he revealed will be coming back in season 3, attained him a cult fan following status where his 'yeh bhi think hai' became a pop culture reference. Now, he has worked with Vishal Bhardwaj in Charlie Chopra as a local journalist, Sitaram, who is a loyal partner to Charlie (Wamiqa Gabbi) in her investigation. According to him, while he was excited and anxious about the project, he was also very confident that this product would work with the audience as it is a Vishal Bhardwaj ensemble piece where there were no actors, just characters bringing a really interesting investigation-comedy world to the forefront! 
His hope that Sitaram and Charlie go on many more investigations has come true as Vishal Bhardwaj announced to take the series further ahead to more seasons. In a special interaction with him, we deep-dived into the process of Vishal Bhardwaj's filmmaking, about Charlie Chopra, working with Wamiqa Gabbi, his character Sitaram, and how he brought out that authenticity, and how his life changed after Mirzapur. He never read the book as he felt that it was not about knowing the story but knowing the world Vishal Bhardwaj created. Among all the dark and mysterious content available on OTT, it was necessary to bring an investigative thriller with a twist of quirkiness and dark humor. Read the full interview to know what all he had to say! 
Here's what he had to say:
Someone I had talked to recounted their experience of working with Vishal Bhardwaj sir as someone who comes to talk to each actor before doing a scene and creating an entire mauhal what was it like for you? 
Working with Vishal sir changed me as an actor. So usually, when you take up any script, what happens is you start preparing for a character, getting into the idea of how he is, and obviously working with a team of people for costume, hair, workshop, and all. But even after all of that, you're still confused, and it only slowly picks up when you start shooting. Working with him every day was something new because, as you said, he would come up to you and say what we can do with this guy, and what we can do with the scene?! So it was as if we were creating this, not just something he had written, as if he and I were making a biryani and he was asking me what masala I wanted to add, and then he'd add some of his masala, so every day on the set was new for me and I have had a great experience learning from him. 
I think he is a master at understanding you as an actor, understanding what you're bringing to the character, and then working with that with changing small dials here and there and throwing a new ball every now and then. Even if you don't know where to go with the scene, he'll just add a very small thing, for example, you know, door se aise jaake bahar aise andar aa jana, and shut the door very loudly. And it will just add so much to your character and to the scene that it will change you, and you'll start behaving very differently. So, I always kept saying that nice googlies you throw at us! He'll see us rehearse, and if I've added something to it or if Wamiqa has done something and it's not improvisation that we are going to take the scene somewhere else, it's something just to add a little flavor to the character or to the scene, and then he will throw something at you, which you will be like, oh my God, how do you just think of that because it will be out of what you're only doing. I found that very interesting! 
I remember the third day of the shoot, going up to him and asking whether I was doing fine, fitting in my character, or doing something wrong; he just said don't think too much because the first day I saw and heard you perform you were doing absolutely fine so now we just play with it. And this idea of playing every day where he'd change scenarios on set, between actors, was so interesting because it just does not change you physically but also mentally. I've done something like a physical Charlie Chaplin kind of comedy in one scene, which I do not think was in the script, and all I brought was my character, lines, and accent; the rest of everything is all just play. Also, this part that you can create movement out of anything small and can create drama with it; I am going to keep all these learnings with me. 
Since you mentioned about collaborative process and it is often said that different actors will perform the same characters differently which means each actor brings something of their own to the table. So what was the brief for Sitaram given to you and what did you bring to him? 
To be honest, Vishal, sir, let me devise this guy on my own, trusting me that I'd bring in something interesting, and that happened. As I started playing with this character, I just went into this guy in the way of researching about how local journalists are, especially the phadi journalists, and how they do their reporting because I wanted to get into that energy of when they are on their job. Given that, according to the script, this guy is aspirational and wants to reach New Delhi somehow and be part of some big news channel, I kept him very loud. So when he's reporting, he's loud as if he wants to prove his point. He wants to be like this guy who wants to be part of this big investigation and the big murder mystery that has happened in his town. Another interesting thing is that in a detective series, he is a journalist who is also looking for answers so either he's calling the investigation or part of it or has to do something with it. In that way, I have kept him cunning so people will never know what to expect from him. 
He stands apart from the rest of the cast because he's this local guy wearing those typical Himachali jackets and I kind of got this Himachali accent in to give this local manali flavor. I had a dialect coach, but I went a couple of days before the shoot and started talking to locals; I went to the market, talked to tea vendors, just sat with them, and tried to get certain flavors from them. Of course, for the language but also to understand the mannerisms- how do they move around, talk, and react. Then I layered with the flavor of the journalist and how he is with Charlie because he's very different when he meets her and builds that connection-chemistry between them. So those kinds of colors I wanted to bring to this guy!
Also, he is someone who has his own agenda, watches Tamil films and then repeats dialogues, and has a funny as well as a dark side to him. There are so many shades to him, which was very interesting to explore and try to bring that to the table. But personally, for me, it is somewhat of a performance that is very outward, as he can't control what he's saying or showing on his face. I've played characters before that were very inward, and you can only know them when you dig deep into that guys through their eyes. But yahan pe sab dikhta hai especially with Charlie. So I think that that kind of added a lot of flavor to this guy. Vishal Sir also started understanding what I was bringing in as Sitaram was an amalgamation of many things that are there in the script journalists, their reportings, the local flavor of Himachal, an aspirational guy, and so much more. 
Sitaram is that character in the detective genre where he takes the place of the audience like Dr Watson to Sherlock or Xavier to Poirot. But given that Charlie with the fourth eye camera has a direct connection with the audience how does Sitaram navigate his space? 
The idea is that there are certain things that she talks to him about, making him her ally as a partner, but at the same time, she's also on her own, which is fascinating. There are many things about the cigar, her past that she doesn't talk to him about. Also, he has his own agenda, so he has betrayed her a couple of times and broken her heart, so he's not just like a friend. It was about creating these two characters in their individuality, very different from each other, and they only team up in some way. So I did not want to break that key and wanted to keep the mystery of their relationship, which neither being lovebirds or best friends. In another world, Sitaram and Charlie might not even jell well given that he is not always her ally or doesn't agree with at all times, there are things that they both dislike about each other, and of course, Charlie doesn't think about Sitaram in a way Sitaram does about her. So they keep their distance and just work together as they need each other; in a sense, Sitaram is Watson to Charlie, but he is much more than that too because he very much has his own aspirations, doesn't get stuck to Charlie, and does not want to be a detective. Even though their relationship starts off as highly professional, eventually, he grows emotionally attached to the case and Charlie as he enjoys her company and starts liking her. 
Since Sitaram and Charlie are constantly together and dependent on each other in many ways, you and Wamiqa might have had to bounce off from each other a lot. So what was it about Wamiqa that made it so easy for you to be Sitaram? 
Actually, there's this one energy of hers that is very interesting to see every time in the morning she's quite highly energetic even when it is minus three degrees in the snow, I don't know how se gets that much energy. Because I am a little lazy in the mornings, it takes me time to get to my character even if I am prepped on set. I have never shot in knee-deep snow, in that cold, and on top of it is mornings, so it takes me a while. Wamiqa brings in a certain kind of charm and energy whenever she is on the set, and I was very mesmerized by that energy of hers. This I think also helped Sitaram to like Charlie which is quite interesting to notice. 
Now we've done lots of workshops together and we have known each other for a long back as we shot a small music video together just after the lockdown was opening up. We had met during Midnight's Children as lead actors for Vishal Sir and had chatted that time about how our careers are. I think we both come from a similar space of acting as we both hail from middle-class families and are here trying to make our way. So if you have good actors together, it's easy to build chemistry, you don't have to do much but simply connect with each other in the sense of the energy, where you come from, and what you're trying to achieve, and then you have Vishal Sir on set, who knows how to bend both of you and get things out so it becomes an easy, nice collaborative fun event. On sets we weren't even discussing scenes, just reading, rehearsing, and going for it and it happened like all action-reaction!
Since this is an adaptation of Agatha Christie's Novel did you guys read the book or not? 
No, I did not at all, and as far as I know, Wamiqa did not do as well. I read a synopsis of it on Google for an overview sort of. But you what Vishal Sir does? He takes the essence of the story and creates a whole new world which is his world, his characters, and then you focus on this world created by him. And there is nothing left to read as there is no similarity that you can find to understand about the particular adapted story or characters at hand. So for me, it was about Sitaram, this guy here who is from the world of Solang Valley and Manali, understand the family tree, dynamics, and murder happening here. Also to cater to the Indian audience you'll notice that I am very Himachali and Wamiqa is really Punjabi and there are lots of other actors who are playing themselves in graded in Indian context and colorful. That's the quality of Vishal Bhardwaj Sir, if you see any of his previous adaptations from Ruskin Bond stories to Shakespearean he has always adapted them to a very Indian context. So all of you have to do is understand his writing and storytelling and that didn't require you to know the book.
Getting out of the world of Charlie Chopra has anything changed for you since the massiveness of Robin from Mirzapur?
(Laughingly) One is definitely that I get some 500 messages or comments every time I post something and everybody says 'yeh bhi thik hai…' to whatever I post. They can say more than that but I am not irritated by it as it has become a very special part of me. I think after a long time, a line randomly used in life is now connected to a character, which used to happen in the seventies or the eighties- like saying kitne aadmi the or ye mushkil hi nhi na mumkin hai or something like that, so when now people connect to 'yeh bhi thi hai' it feels special and nice and I think that line will always be there! Robin this character in itself is very interesting and he will come back again as there's a lot happening in season three, shocking and surprising in many things which I can't reveal but maaza aane wala hai and I'm really looking forward to the reactions of people in this coming season. 
The way people started looking at me whether it's the industry point of view or audience point of view is that as an actor I can experiment and do different stuff. Especially because in that year in early 2020 during the lockdown Amir Asif came out in Extraction and by the end of the year Robin came out with Mirzapur and it was two different variations of characters. Then Rashmi Rocket with Taapsee and U-turn with Alaya F came out which were very uniformed roles. Now I'm in the space where people are like as an actor, we can use him, change him and he's ready to experiment with, which is essentially what a lot of young actors want to do today so that's my plan is and that's how I want to go while changing, experimenting, and telling some good stories. Robin will always remain with me and people will always react with ye bhi thik hai but I want to build new guys also and gain the trust of with audience.
I am trying my best and with my upcoming shows and films that I'm leading as well, I am trying something different. And that's somewhere me personally as well because on stage I've played from a six-year-old kid to a 60-year-old man, always open to experimentation and I like doing that because that's the fun of our job. I always want people to connect with my character first not watch me because if you want to watch me then come to my social media or meet me but if you're watching a story, I think I want them to forget that it's me on screen and just enjoy the character and later on come to realise that it was Priyanshu. That's what my idea is of acting as I like watching actors who are not acting on screen but rather someone who is so natural that I feel like I am watching the character or the story. And now that my upcoming projects like Shehar Lakhot are coming this year, I am very tense because it's a big Aamzon show with a beautiful script that I am leading and I am looking forward to reactions to those! 
For more updates, interviews, and reviews, follow us on @socialketchupbinge.