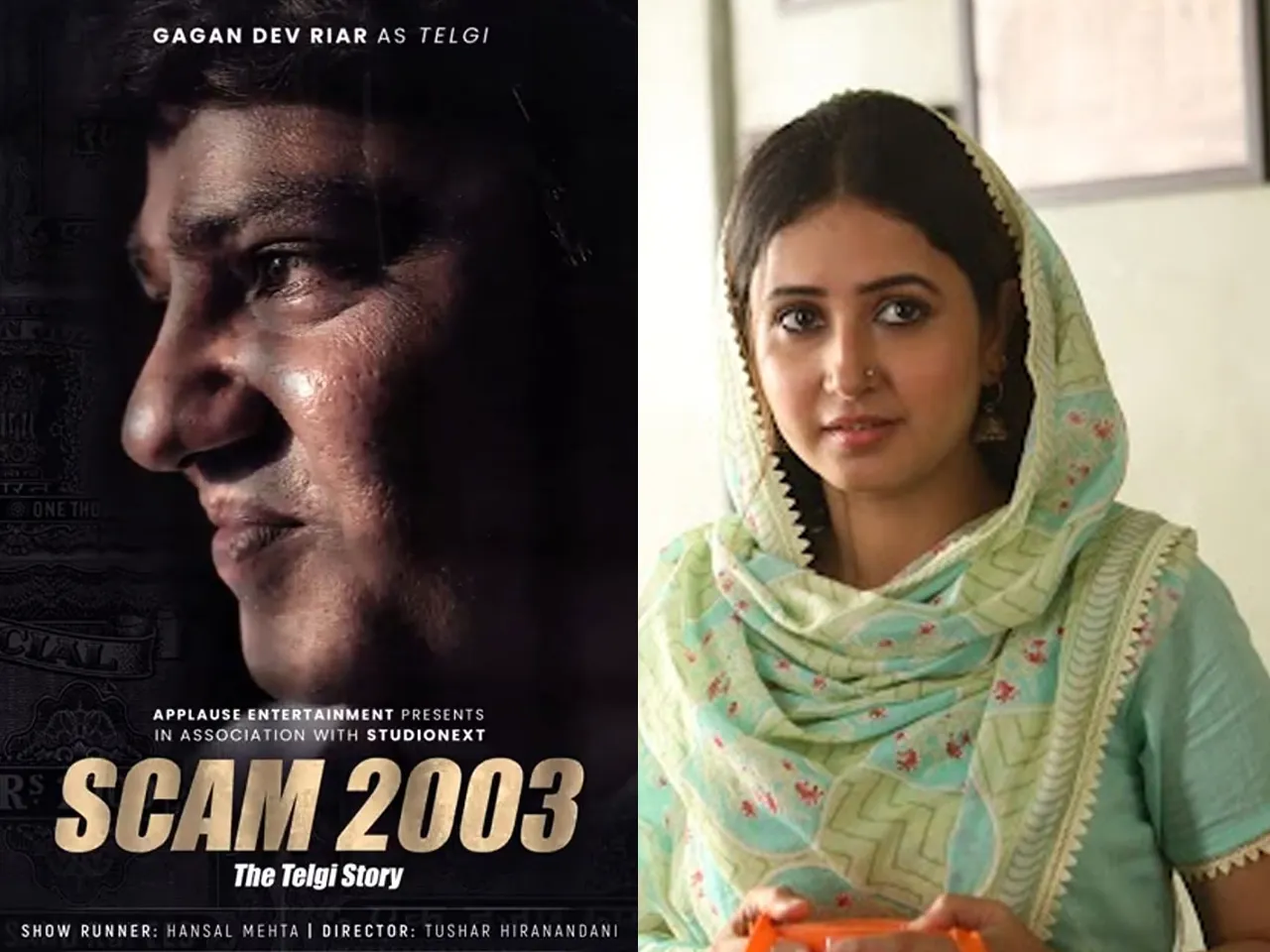 A radio jockey, a television actress and now dipping her toe into the world of OTT, Sana Sheikh gives us insight on her character in Scam 2003 and what it was like working with the entire cast and crew!
Ever since she was a child, Sana Sheikh has been in front of the camera. She made her debut with the show Hasratein but eventually was popularly known for her character 'Ritu Shah' on 'Kya Mast Hai Life' which aired on Disney Channel. She has also been a part of various Hindi serials which dominated TV screens every single day such as Million Dollar Girl, Gustakh Dil, Krishnadasi, among others. Sana also made her Bollywood debut with the blockbuster Singham and portrayed the character of 'Anjali Bhosale'. In a candid conversation with us, she opened up about why she loved being a part of Scam 2003, her behind the scenes process of getting into the character, what's next for her and much more!
Here's how the conversation went!
Can you tell me a bit about your part in Scam 2003? 
I play Abdul Karim Telgi's wife, Nafisa, who brings out a softer side of him that you usually wouldn't see in the show. You might not like his character overall but when he is with his wife, you get much needed insight into his personal life as well. 
What attracted you towards this show and helped you decide to take it up?
Hansal Mehta, since it's being made by him. We already saw Scam 1 and the historical success of it. Like who could not audition for a part in such a series?
How did you prep for your character given that you're playing someone based off real life?
Since there was not much information available on the character, I just prepared with whatever articles were doing rounds at that time and were available for me to read. After a lot of readings, when I went on set, it was me just surrendering to my director, how he would mold the character and how he used to explain the scene to me. Then my off screen and on screen chemistry with Gagan helped bring out my character better because we were playing husband and wife and we had really intense scenes most of the time. So the real life friendship and camaraderie also reflected in our characters because the comfort level was amazing. And of course there was Hansal Sir who helped me a lot as well. He knew me as Sana, the person and Sana, the actor. But mainly he has this method of going about with a scene where he plays a song related to the mood of the scene. So once I had this really intense scene that I had to pull off and he played a Lata Mangeshkar song and I somehow just went with the flow and gave the shot. It was a one take OK.
From Kya Mast Hai Life to Million Dollar Girl and Perfect Pati, you've been a part of many Hindi daily soaps before. How was being a part of an OTT series different from that?
Like how you named all these shows, you yourself know how different they were from each other. From starting off with being a Disney kid to getting into different types of daily soaps, I made sure none of them are similar to each other. You know, even if they were love stories, they were different kinds of love stories. Like the love story in Krishnadasi is so different from the one in Gustakh Dil. So since I've been so conscious with that I have never been stereotyped to just one particular character of mine. But Scam 2003 being my first OTT show, there were differences and similarities as well. There's not a lot of difference in the way they shoot but the only major factor that seperates the two is that when I am shooting a daily soap I am there in every scene, in every shot because I am the protagonist and there's a new episode every single day. But here it wasn't as hectic, it was challenging in a different manner. 
How did you become a part of the Hansal Mehta universe?
Surprisingly, I was in the middle of watching Scam season 1 when I got to know that the auditions for season 2 are happening. Of course I jumped at the opportunity and gave my audition right away without even doing my hair and make up. I just wanted to send it on the same day itself. But once I sent it, I did not sit and wait around for it. I had to forget about it becase it was such a big show and I did not even know whether I would really even land the part. But luckily, I got a call after a few months saying that don't take up any work for now because Hansal sir and Mukesh Chhabra sir have liked your audition. So just wait for a few days and we'll confirm! I was officially confirmed like a month later. Truly though, for me, Hansal sir even watching my audition and saying that he liked it is a big achievement in itself. I was overwhelmed and how!
How was your experience working with the entire cast including Gagan Dev and Tushar Hiranandani?
It was amazing! But it was challenging too because I really wanted to give my best since this was the biggest show in my career. Even though I carry a body of work from television, no one here really knew about that so I pretty much entered like a newcomer. So I just followed Tushar sir's lead and he was great. He helped all of us a lot when it came to how we should really portray our characters. Even Hansal sir was very open and free flowing when it came to takes that we came up with. If the feel was okay and the honesty was there, they were absolutely okay with it. 
And with Gagan also, he comes with a very heavy theater background and has a nice body of work there. So I also learned quite a bit from him. Every actor has his own way of preparing for a role and I learnt from the way that Gagan preps for his character. It was really new for me because I have never worked with someone from a theater background and I really loved the experience. 
When it comes to the thrill of the show, how is Scam 2003 different from the first season?
In season one, you saw the scam and the series of events that go down. And in the end, even though he dies, you feel bad for him. So in the same way, even with Scam 2003, whether you hate him or like him, I know one thing for sure that when you will see him in his personal life, with his wife Nafisa, you will really like both of them together on-screen. 
What's next in the pipeline for you?
Since I was doing Scam 2003, I didn't take up any other work on purpose because a long commitment would have been television. And if I would take that up then I wouldn't be able to give my dates to Scam 2003 like on and off whenever I was shooting. It was almost like two years of waiting because I was occupied with Scam 2003. But after that, when I got free from the Scam shoot, I took up a hundred episode television series which is a love story and I've just shot for it. I don't know when will it be out but I can't talk about it because it's at a very raw stage. 
Scam 2003 is currently streaming on Sony LIV!
For more entertainment content follow us @socialketchupbinge