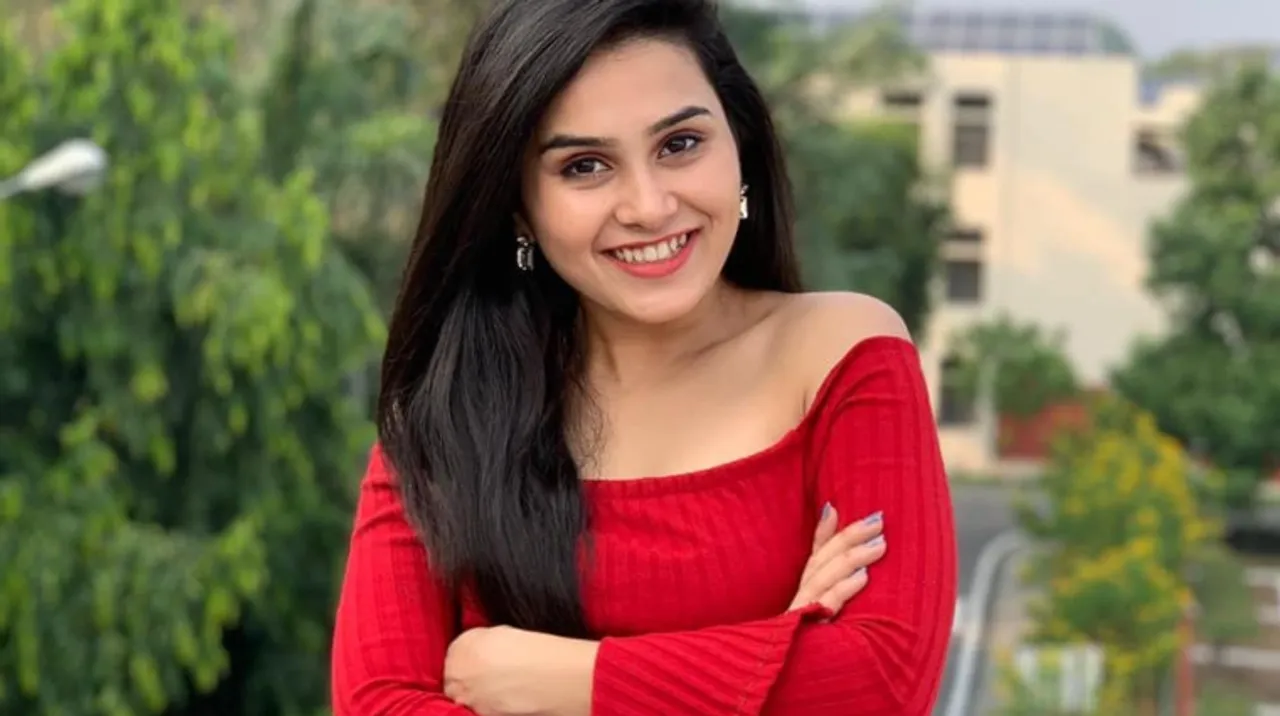 Actor and Digital Celebrity, Anushka Sharma, talks to us about her journey, creating content  during unlock, and her projects. Read on to find out more about our interaction with the actor.
The entertainment industry is growing exponentially especially since the advent of digital platforms. Content producers are constantly finding new ways of delivering compelling and entertaining stories while also bringing in fresh and talented faces to the forefront. The boom in the digital media industry has helped various aspiring artists find their calling and make a place for themselves in the digital space. One such artist who has found success in return for her talent and efforts is the actor and digital celebrity, " target="_blank" rel="noopener">Anushka Sharma.
Anushka Sharma has been a theatre student and actor and has also received dance training earlier. She has been honing her craft and various talents for years, all of which has helped her become the popular digital actor she is today. Some of the most popular videos include those created by famous YouTube channels such as TVF, Timeliners, Alright!, Filtercopy, etc. With a feature in Bollywood and various TVCs, Anushka Sharma aspires to make it big in the Indian film industry. 
We recently had a candid chat with the actor and here are some excerpts from it:
How are you handling the lockdown?
"I left for my hometown on the 20th and the lockdown began from the 21st. So, luckily I was saved and I met my family during the whole lockdown. Now I am back in Delhi and we have started working. The first time I was very scared when we were shooting but now it is chill and totally fine. It's just that you have to make sure you take the necessary precautions and that your immune system is working properly."
How difficult is it to shoot now that you have to follow so many necessary precautions?
"In the first month, I was not able to figure out how we are going to work. From the second week itself, we started working from home. As an actor, you are doing the work of a DOP, you are doing the lighting, your makeup, your hair and everything. So, now I even know how I look in a certain profile, how to change camera angles etc. So it was a learning process."
She further added, "Later, when I was talking to them and they were explaining it to me, I said I am not going to step out because I am someone who usually doesn't. This is a job that has a lesser possibility of practicing distancing space. I am not going to be in a PPE kit and sitting in one place. I will have to hug some other person while acting or stuff like that. But they were like, if you have to touch a prop they will sanitize it, and after the cut, we will sanitize it again. So yeah, things have elaborated. We also have a smaller crew when we had 50 people on set now we have only 20 people."
How did your journey as an actor and content creator begin?
"So, I was that kind of kid who used to stand in front of the mirror and say dialogues. I belong from a small town where there was no scope for acting so I began with dance. I trained in classical dance for 5 years, then in class 12th, I joined one of the theatre groups. I did theatre for quite some time then I specifically came to Delhi because it has a great theatre circuit. Then I started doing theatre over here. It's been 5 years since I am doing theatre here. Later I began giving auditions and my first audition was with the Timeliners. For the second one I had my exams, I was in my final year and I had my Economics exam but I went for the audition. This time it was for a movie by S P Chauhan. So, that was the first film that I was featured in. Then from there I started giving auditions and this journey of selection and rejection started and then I've landed in this digital space now.
How different is it acting in the digital space from theatre and movies?
"What I always feel is that it is very important to work on your craft. There are two things - you should work on your product and you should also work on the marketing of your product. So, if you talk about the product, theatre is a place where you can explore yourself to know what you can do or what you have in your vessel and you cannot stop learning. It also requires rehearsals and a longer span of time. And if you are talking about making it in the digital space have, it's great that people found ways to showcase their talent and that is the best part. People are making the most use of technology and available opportunities."
Do you have a favourite genre when it comes to acting?
"Actually, during my theatre classes, I used to think that comedy and romance are my least explored genres. Because I used to think I am not at all romantic. But now you'll see that a majority of my work on YouTube is in the romance genre. But if you talk about my favourite genre then I would rather love going for some real stuff. I did this short-film with Prajakta Koli aka MostlySane, that is something I enjoy doing. Hamesha se raw aur regional content se mujhe dil se pyaar hai. Even for this short-film I had no makeup on and I was so happy because I am the kind of person who doesn't like to apply makeup. Koi touch-up nahi, you are in your own zone and you are exploring new things. Also, the kind of vibe that is needed you don't have to create that, it is already there. You just have to go with the flow."
How do you think YouTube/ OTT other platforms help actors or technicians to get exposure and opportunities?
"When we were kids we only knew one thing and that was Bollywood. Humko actor banna hai aur Bollywood me jana hai. But now, if I talk about myself, I only want to look out for a good script. I mean, I don't want to be centred only around YouTube, I want to explore. If I'll get a good script for a web show I would definitely love to do that. But if you talk about a movie and if you talk about a web-show, the biggest difference is that in web-shows you have 9 to 10 hours to project a story. There is so much time to layer a character and not only for the main leads but also other featured characters. It is very important as the story revolves around everyone and I think that is the best part. In movies, although that 70 mm is a different feeling. But if you talk about the layering of the characters and developing content then definitely it has provided space."
You have been a part of several videos with fellow Creators. Are there any instances where you learned from the other person that you would love to share?
"Yes and not only from the actors. I believe there is something thing that you can pick, from every person, always. I started reading books only recently otherwise I was just a person who would sit and talk to a person. If you talk about playing the character of an 18-year-old girl and she is an urban girl and stuff ussme bhi there are varieties of ways in which you can portray the character. Because every individual is different from another. So, there are all similar characters but there is a particular X-Factor that makes it different. I think vo sab cheez nikalna mujhe bohot acha lagta hai. Even in my recent vale vo project (Khayali Pulao), the director, writer, everyone was very good there."
What do you enjoy the most about creating content with 'Alright!'?
"Alright! is my home now. I still remember when I got this call from Alright! on how they'd like for me to audition and I still remember we were going back and forth over the budget and that person manages me today. I have seen Alright! grow. If you talk about Delhi, I think Timeliners and Hustlers India were already there from the past 3 or 5 years. And Alright! that only started 1 or 2 years back and it is doing great which is quite impressive. It feels like a family and a home, working with Alright! now."
Do you have any advice for people who want to work with such platforms?
"I would again, say that, it is very important to work on your craft. It is also about the product and the marketing. But apart from that any aspiring actor or creator should keep on shooting mails to such platforms and organizations. To every Casting Director or a person who is working in production. Starting me thoda difficult hai, I understand that because if you send 100 emails only 10 might reply, out of which only 5 might be the right fit and then by the end of it you might only get selected for 1. But keep trying. You should focus on your work and not think of the monetary terms or things like 'oh shit! issme toh mera thumbnail mein naam anhi aa raha hai so I should not do it'. Just go out, be on a set and give your self a chance. Maybe you will step out and you'll know that you don't want to be an actor, in fact. Until you go and explore how can you tell that this thing will work for me or not?! It also requires a lot of patience, if you are doing any of these off-beat courses. Because it is not like you to crack an exam and its done. When I started I worked on a few theories and stuff and made some principles out of it. And those principles definitely work for me. They may or may not work for you. So, you have to see how your journey is going to be. Also, when you do anything and you wake up the next morning you shouldn't feel, 'yaar yeh galat, nahi karna chahiye tha', as in there is this conscience that keeps telling you what is right and what is wrong. Remind yourself to not go astray. Because people become so desperate to chasing their dreams that they think that this shortcut may work but the thing about shortcuts is that its journey is very short. So, just be patient."
Many people might use the tag of an Influencer for you and others may call you an Actor. Which one do you identify with?
"The problem is with the bifurcation. For example, when there were Tiktok stars I think people used to call them as being really good actors and stuff. For me, when I am asked I always say that I am an actor. I didn't work too much on having an Instagram presence. It just happened. When I started working on Youtube, people started noticing me, started looking for me on different platforms and started following me on Instagram, Facebook and stuff. Now I know, by God's grace I have earned this and I want to take it to the next level. So, I've started putting more effort into it. But people don't understand that content creators create different stuff, actors and Tiktok stars are in very different zones. There's no problem is someone is doing other things too. But the thing that happens is, people don't understand the difference and club models, actors, influencer, content creators and TikTok stars together and try to rank them. Their work is different and we just need to be mindful of that. So, yes, I identify as an actor."
Can you tell us about your upcoming projects?
"I started working with Rusk Media in their early stages and the amount of love that I am receiving post-Alright! is amazing. We are coming up with a new web-series post lockdown. We shot episodes in the quarantine itself. We shot the second part from home and it is a three-part series about best friends. And hopefully, we will come up with the second season soon, I mean it is not officially announced yet. We also did a second web-show which is releasing next month, I cannot reveal much about it. And I also shot another sketch with Alright. For Instagram, we are also going to come up with a new dance cover and web-shows are also on its way for different platforms."
Here's how she responded to our Quick 5:
What is the first junk food you will eat when you can?
"Dahi wale Gol Gogappe."
The first place you want to visit?
"I have never been to Goa, so, Goa. I love love beaches, I just like to sit and stare at the water peacefully."
One outfit that you haven't worn in a while because you're at home?
"My Denim. This is so common but I find it very uncomfortable and I don't love them but would like to wear it now."
One actor or creator, you want to collaborate with?
"Ashish Chanchlani. Although I have worked with him I would love to work with him again."
Would you rather only use filters, or use no filters at all?
"No makeup, no filter."
You can check out more of Anushka's videos here.