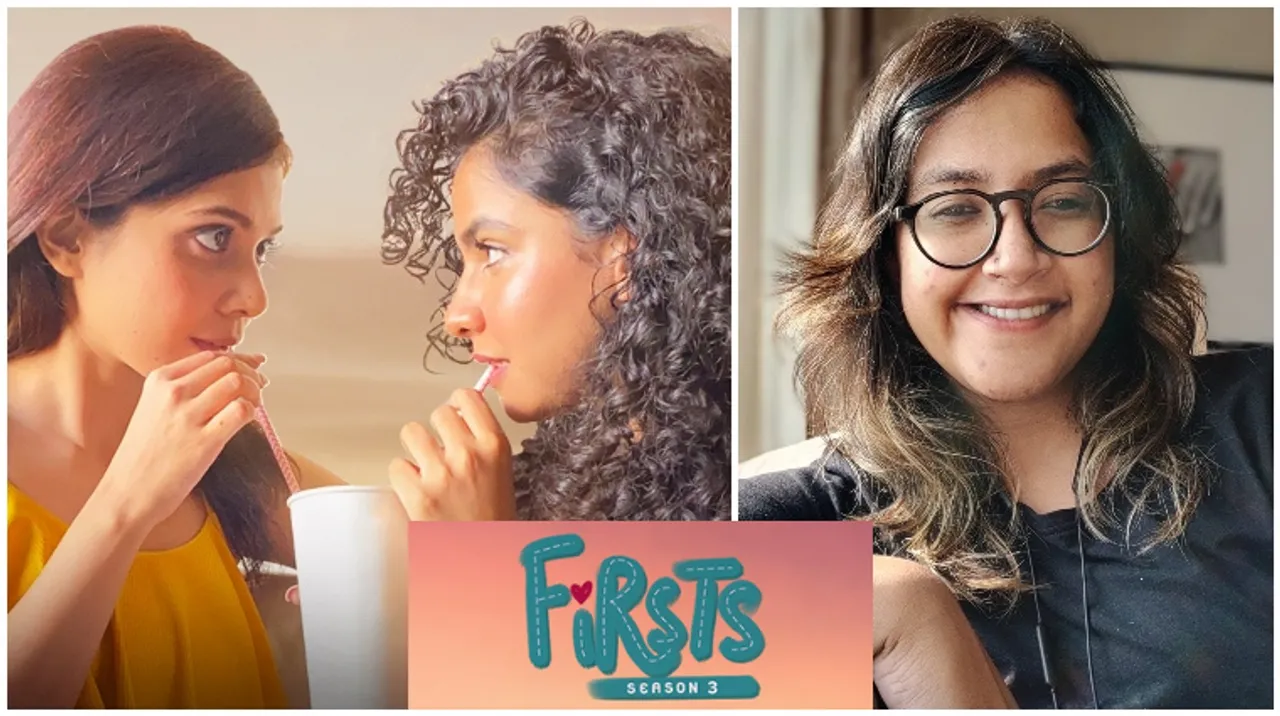 The cast of Dice Media's Firsts Season 3 - Shreya Gupto, and Himika Bose along with its writer, Sulagna Chatterjee indulged in a riveting conversation about the show, queer characters, new storylines, and shooting during Covid-19 restrictions.
Is it possible to meet on a dating app, go on some dates, fall in love, and move in together? Well, obviously, yes. Not in that order and maybe not even all at once but it is. It's this uncertainty of the journey and the hopefulness of it all with the dread of ruining it is what makes it exciting. And Dice Media's Instagram-series, Firsts Season 3 (in partnership with Tinder and PureMe) explores all of this and more with a heartfelt and realistic approach. The current season of Firsts unlike its predecessors brings to life the story of a same-gender couple (Ritu Chatterjee and Lavanya Vijaya), played by actors, Shreya Gupto and Himika Bose. Drawing from real-life experiences and staying truly aligned to the story arc, the show's writer, Sulagna Chatterjee brings out the many firsts including joys and struggles that every couple goes through together and as individuals.
We recently interviewed the talented trio of Actors Himika and Shreya, as well as the show's Writer, Sulagna as they shed some light on what went into creating Firsts Season 3 and its lead characters.
Here are some excerpts from our conversation with Shreya and Himika:
How was your experience of shooting during the pandemic? 
Shreya: "Before we began shooting, each one of us was tested for COVID-19, and only after getting negative, we proceeded with the shoot. The production team was quite particular about our safety the entire time. On the set, we were only four us – myself, Himika, our supervising producer, and the DOP. The rest were present virtually via Zoom calls. The whole experience felt like we were a bunch of college students, finishing a video project."
Himika: "Shreya has covered the most part here honestly. But more than this, I was so excited to come on the set and shoot as before this, we had a couple of videos shot from home and that was not fun at all. But then we got out, took precautions, gave our hundred percent to everything falling in the correct places and now the show is out. It was a beautiful experience."
How's it being associated with Dice Media for this show?
Himika: "It's my first with Dice. I feel when you have positive energy around, no matter what issues erupt they just tend to resolved before they even show up on the surface. Shooting with four people, where the first two are actors, is not an easy job. On the set, there are many requirements and thus the need for people with different jobs is obvious. Given the situation, we had to eliminate all that but because the environment was so friendly, we also helped out, we had lunch together, we laughed. Our Producer, Varun made sure we were fed properly and if I am fed properly, I can work day and night."
Shreya: "I have had several bad experiences with some production houses when I was on set shooting and thus was skeptical about everything. But at Dice, things were pretty particular in terms of precautions being taken for everyone and everything. I was honestly relieved that the team here is so conscious about everything, given the fact that I have to go home to my parents. In terms of shooting, since it was just the four of us on set, we bonded quite well and eventually formed an emotional connection with one another. Touchwood this shoot went on very smoothly."
Are there any similarities between your reel and real self?
Shreya: "When the script came to me the names were different, so Lavanya was called Shreya, and Ritu was Akriti, I think. And I thought I am going to be Shreya in reel life too. So, I can completely relate to Lavanya as well. But in terms of playing Ritu, there's 10% of me in her. Like I associate with her calm personality. Other than that you can see she's hesitant, she's not confident enough, you know? She may not be as out there as Lavanya and speaks less but she knows what she is saying. Plus, she has her own internal battles, which was all different but I am glad I could experience that through the script. But in terms of personal nuances, there only 5-10 percent of me, and the rest is what our writer, Sulagna Chatterjee created in the script."
Himika: "40 percent of Lavanya is somewhere in Himika. She, like me, can go on and on about anything when angry but in the next 5 minutes, regrets everything being said. All of her emotions are upon her sleeves which is exactly like me. Like me, Lavanya's life revolves around work! At first, when I read the script the first thought I had was how I can make Lavanya the person Himika would be if she was queer! She is very similar to me and even when she was not I kinda nudged Bharat, our Director to see if we can change certain things. He was very supportive of our suggestions to make the character feel more real."
Sadly, since storylines with same-sex couples still receive a lot of misguided negative reactions. Did that ever concern you before taking up this role?
Himika: "There was this preconceived notion about the show getting backlash. Furthermore, we felt like Indian audiences might still not be very accepting and we will have someone or the other saying it's against our Indian culture etc. However, to our surprise, nothing of that sort happened. Scrolling through the comments section I didn't find hate comments and for me, that was a huge deal. There might still be some negative comments somewhere but I haven't come across those. This shows that we should explore different storylines and characters as people are opening up to new things!"
Shreya: "For me, this was an opportunity as an actor, more than anything. I have always wanted to do a same-sex or a story on LGBTQ and getting an opportunity like this made me happy."
Did you seek any inputs or suggestions from Sulagna throughout the project?
Himika: "Once we were finalised for the project, we did our readings through Zoom, which she was a part of. I believe it was essential and helpful to have Sulagna there because she also identifies as queer. It helped us a lot in terms of getting the nuances of the story right. See, Shreya and I have not truly experienced something like this in real life. So, her having been there, lived that life, and been through similar situations made the writing more beautiful and real.
What do you think about the one-minute content format?
Shreya: "Honestly, as an actor, I wanted more than the one-minute content. I would go with the audience, I would want to see more of the characters because they are so beautifully made. I want to see how they deal with the battles Lavanya and Ritu are having with themselves. But it is a fact that people do not have time and given their busy schedules, this is the content people look for. This can be an opportunity to grab the attention of people of those types! But as an actor, we would like to do more, explore more depths of the characters, and go deep into the scripts."
Do you think shows and cinema that highlight queer stories, non-binary gender identities, and gender expressions have helped made the audience more accepting, or is it still a long way to go?
Himika: "When you introduce something unfamiliar to people, of course, the change doesn't happen overnight. Today, people are opening up to Firsts as a show or similar content is because of movies like 'Blue is the Warmest Colour' or 'Margarita with a Straw' has already been in people's minds. So, all this is like the small food you feed the mind of the audience. If Firsts was the first-ever homosexual show or film, it would have been very different. But the reason we're enjoying all this positive feedback is that content with different storylines like these exist. It's a big thing that films and shows are being made on topics that need to be spoken about and it will gradually change everyone's perspective. But honestly, I think we are getting there."
Shreya: "See, we have all watched Kuch Kuch Hota Hai, and it is now a part of everyone. Similarly, the latest classics like Ek Ladki Ko Dekha To Aisa Laga or Shubh Mangal Zyada Saavdhan is now reaching vast audiences. This means we are slowly but surely moving towards a progressive mindset."
What are the most memorable firsts you've had this year?
Himika: "This year has been the year of firsts! I think it's my first that I sat at home for six months without working! Then getting to learn how to cook and living alone in a state like this. The most important first being the pandemic, we as a generation experienced. The remaining is just an add-on now!"
Shreya: "Kissing a girl. That was definitely a first for me. It was a good experience and I will be absolutely honest about it, having a female co-star opposite me who made me feel comfortable in that scene was a different experience for me and I won't forget that!"
Here's how our conversation with Screenwriter, Sulagna Chatterjee about Firsts Season 3, representation of queer characters, and more turned out...
This is the third season of Firsts, what do you think about the franchise?

"I think, in the simplest of terms, this franchise is a ray of sunlight amidst the maddening dark days. Look at our surroundings, our reality - it's dark and grim. Look at the options you have when you open your laptop to consume content - dark, gritty, violent. Where's the escape? Right here! That's the chord this franchise touches upon. Easy, snackable yet nuanced and relatable, it's like that power nap before you pull an all-nighter."
Have you derived inspiration from any of your personal experiences while writing?
"I'd like to think that I've put a tiny bit of myself in both the characters. Lavanya's "I'm here, I'm queer!" openness about her sexuality and Ritu's slightly anxious demeanour. The rest of it, all of it is actually inspired by real-life experiences, either mine or my friends'. And maybe that's why everyone seems to relate to it."
Which is your favourite part or episode from the third season?
"Asking that to a writer is like asking a mom who her favourite child is. I think the 'First Confession' is one episode that was emotionally draining for me, considering that I put a huge chunk of myself into that. Navigating the emotion of fear when you're writing something is very taxing because you have to really get into the skin of that character's insecurities. In order for the audience to feel that fear, I had to feel it. And wow, that still remains my favourite episode."
 

View this post on Instagram

 
How close or far do you think we are from making the singular-focused heteronormative approach towards cinema and life, obsolete?
"As much as I'd like to be idealistic and hopeful, I feel that it'll take time, for sure - especially normalizing the parts of the community that are under-represented. The community isn't just lesbians, gays, and bisexuals. Until and unless the transmen, transwomen, intersex people, asexuals, and my most amazing non-binary folks don't get the same amount of respect, there's little hope. Our policies are majorly discriminatory (to whoever's reading this, read up about the Trans Bill to see how the community is suffering). Day in and day out, homophobic comments are passed by people all around, leaders too. How can one breathe freely and thrive, in such a setup?"
How easy or difficult is it to write storylines and especially intimate moments for queer characters, not knowing how a chunk of the audience might react?
"I really think that if you as a Creator come from a space of authenticity, it'll reflect. If you, on the other hand, want to fetishize intimacy, as you see in a LOT of content these days, that's what will reflect."
Do you think evolving content and cinema can truly contribute towards making people and society more inclusive?
"Art is revolutionary, that's something I truly believe in. Art can change mindsets. If trashy, regressive sexist content can drive hetero men to kill and rape women, imagine the power that it has. And imagine the power it can have in changing mindsets. It'll take time, yes. One piece of content at a time. One character at a time. The regressive, almost ultra-sexual attitude of the audience towards the queer community hasn't happened overnight. It's years of conditioning. So, the change too will happen, one step at a time."
Was it challenging to write for 1-minute episodes while doing justice to the story?
"Challenging, yes! There were moments I went really overboard but then I had to remind myself that these are one-minuters. Every dialogue needed to add something to the narrative and I didn't have the luxury of major setups. But it was equally exciting."
What do you want people to take away from the third season of Firsts?
"Queer people aren't unidimensional. I hate it when people say, "Arre dating a girl must be so much easier!" It's not. Dating ANYONE comes with its own set of issues. Every individual is multifaceted, they have layers and layers to them. But when you have someone by your side, then life becomes easier."
All episodes of the third season of Dice Media's Firsts are now Live. You can check them out here!