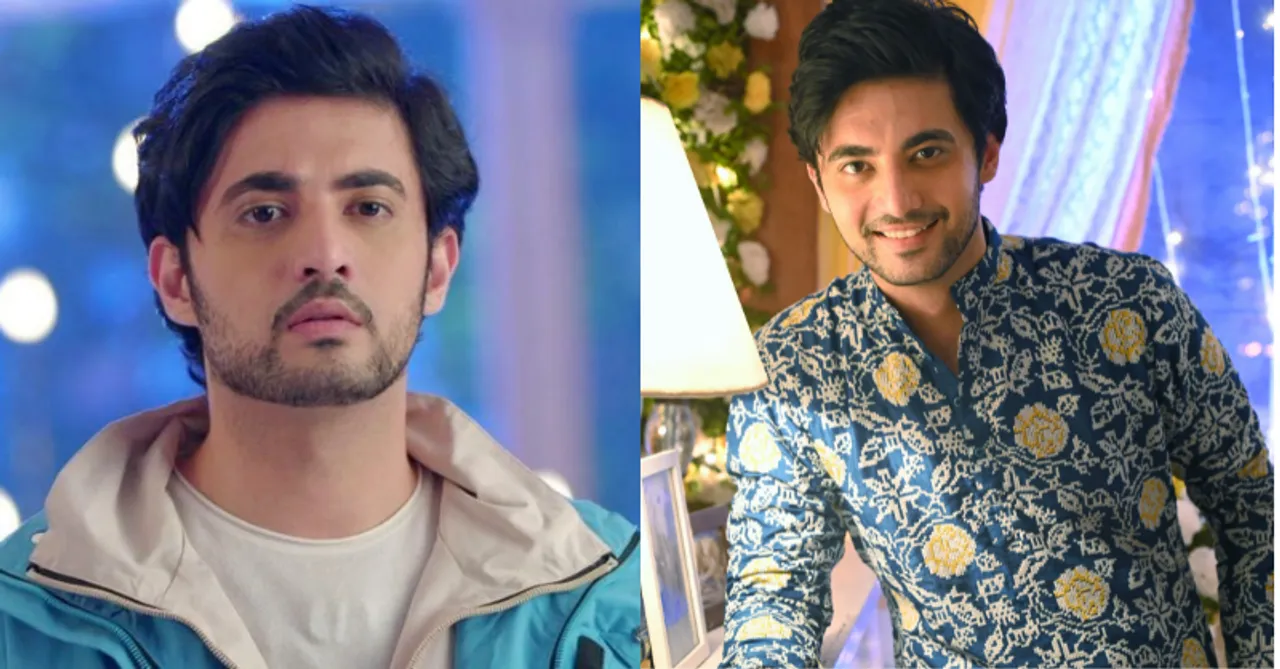 TV actor, Kushagra Nautiyal opens up about his acting journey, his fame with Kumkum Bhagya, balancing music with acting, and much more.
Hailing from West Delhi, Kushagra Nautiyal's journey as an actor with his debut show, Kumkum Bhagya has been a rollercoaster ride for him. The actor entered into one of the best prime-time television hit shows Kumkum Bhagya that's been on the top spot for years and is enthralled and well received by the audience. But little does the world know about the person that Kushagra really is and how does he feel about it all! Very few know that Nautiyal was also a musician, journalist, video editor-cinematographer before this beautiful journey began.
He's currently seen as Siddharth Kohli along with some of the best TV actors: Shabir Ahluwalia, Sriti Jha, Mughda Chaphekar, Pooja Banerjee, Krishna Kaul, Rushad Rana, and the others. It all starts after the show takes a leap of two years, and Kushagra enters as the elder cousin of Ranbir Kohli (Krishna Kaul) and gets married to Rhea Mehra (Pooja Banerjee). Kushagra Nautiyal had to struggle a lot as a journalist and musician before acting happened. And we had a chance of interacting with him and we got to know a little bit more about him!
Here's how the conversation went!
How has your journey been from being a musician to a journalist to an actor now?
Post my graduation in Hotel Management from Shimla, I knew that I wanted to play my music on stage and didn't want to cut my hair short (laughs), and that made me become a content writer which later on led me to the path of becoming a journalist. So I used to be a full-time journalist for a B2B magazine by the day and a guitarist by night and play at shows. Nothing was easy for me. I shifted genres from Metal to Commercial music. From learning how to play the guitar and music production from YouTube, saving pennies to buy a guitar from my shows, playing at weddings and managing work, learning video shooting-editing, VFX from the internet, starting various projects which eventually failed, and learning singing on my own, having my solo production house for audio and video, and eventually auditioning for TV, this journey has only taught me to be ever-evolving, humble and grateful every day. My debut with Kumkum Bhagya has given me the right platform I was always looking for. Being on the screen amidst such talented actors who make me feel at home, I'm blessed, to say the least.
How has your experience been working with Shabir Ahluwalia, Sriti Jha, and the rest of the cast?
Shabir sir is a rockstar in real life as well. I was very nervous when I met him for the first time because I have always seen him on screen, but he made me so comfortable in an instant. His presence on screen and off the screen is unparalleled and I always look forward to doing more scenes with him. Sriti ma'am is a gem of a person and the world knows about it. She's such a wonderful actress and a great-great-great human being at the same time. I always want to be like both of them as I grow as an actor and a human being. Working with Krishna Kaul is super duper fun as he's like a brother to me now. He's the first person I met on the set and since then he's made me super comfortable and always taught me things like an older brother does, although I'm the older one between us. He's a great actor and a pure soul. Mughda Chaphekar is a great actress and her craft is unmatched.  She has always been a constant support on the set and a great friend. From the first day of the shoot to date, she continues to outgrow my respect for her as a fine actress and a wonderful human being. Pooja Banerjee is an institution herself and I have learned so much from her, as she has so much in-depth knowledge about the dynamics of acting and production. Working with Rushad Rana sir and Khyaati Keswani ma'am is like a fan moment every time. I've seen them on the screen and loved Hip Hip Hurray and Kyuki Saans Bhi .. and sharing the screen with them gives me enough reasons to be thankful.
How have you been responding to all the love that you receive and how does it impact your life? Has anything changed?
Well, it's overwhelming seeing my inbox every day. Fans have been very kind and loving so far as Sidharth Kohli continues to get all the love on the internet and in real life. It definitely gives positive feedback to me honestly and motivates me to deliver better every day. I recently went to Delhi for my sister's wedding and I saw many people recognize me. What will never change will be my gratitude for them!
 
Now that you're working on TV, it means long hours every day; How do you manage to take time out for music and journalism?
I continue to post my music covers on Instagram Reels. Whenever I get an off or it's an early pack up, I record covers and try to be consistent for people who like my voice and music. I have major plans to launch my debut songs 'Addictive' and 'Magic' soon, just working on their final production these days. I will try to bring a fine balance between acting and music.

What are your future plans in relation to acting as a career?
Whatever I have thought of previously, didn't work out perfectly. As for my future as an actor, I'll always give more than 100% on screen and work harder than yesterday and be more experimental in my craft. I've finally landed here and totally look forward to my journey ahead. As I say it, work harder and you'll never regret it.
How has 2021 been for you and what are your expectations from 2022?
2021 was a game-changer for me, as I started off with singing for the first time which was well-received on a smaller scale, and later on, auditioned as an actor and landed up with Kumkum Bhagya as Sidharth Kohli.  The year has given me so much to be thankful for as I met so many talented people this year, made some lifelong friends and memories. I'd always say, life can change if you try a little harder than yesterday. After struggling as an independent musician for so many years, life has only taught me to do more and expect nothing, and that is my mantra of being better and happy every day. I expect myself to deliver better than 2021 as an actor. But you will see a lot of my original songs, that is for sure.
How do you like Kushagra Nautiyal's performance as Siddharth Kohli in Kumkum Bhagya? Do tell us in the comments below!
For more entertainment content follow us @socialketchupbinge