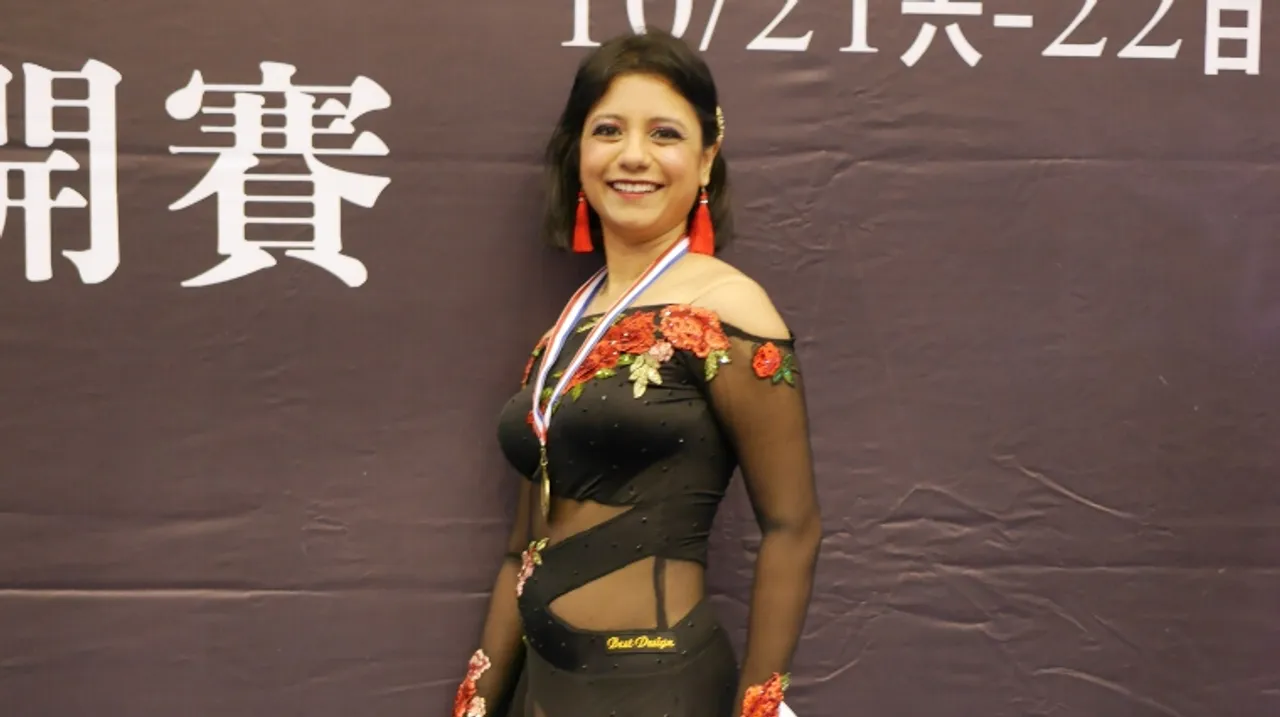 Check out what Choreographer, Rajeshwari Vaidyanathan had to share about her work in Mira Nair's new Netflix web-series A Suitable Boy.
Rajeswari Vaidyanathan is an accredited DanceSport trainer, who has pioneered International Latin in India. She is an athlete apart from being a choreographer and performer who has victoriously represented Indian in various international dance forums. She along with her dance partner Shannon Benjamin were awarded a Silver Medal in the Thailand Open Championships along with honouring India with a Gold in the Taipei Open DanceSport Championships. This talented TEDx Speaker has pushed numerous listeners to pursue their passion and attend to their true calling as she shifted from a successful banking career to dancing.
Latin American, Salsa, Bachata, Argentine Tango, Ballroom Rajeshwari has trained multiple ace Bollywood celebrities to match her moves. Ranveer Singh & Vaani Kapoor for Yash Raj Production Befikre, Shernaz Patel & Denzil Smith for The Good Karma Hospital on UK's Primetime, Sooraj Pancholi & Isabelle Kaif for their upcoming movies. Randeep Hooda & Shahana Goswami to name a few more.
To further contribute to the Dance Industry, Rajeswari plays an integral part in Mira Nair's Netflix series A Suitable Boy. The popular web series is a BCC production, and an adaptation of Vikram Seth's Novel. We had the opportunity to interact and talk with the woman herself. She talked about her journey in dancing so far and about her experience of working on the series.
Here's what Rajeswari Vaidyanathan had to share:
How did your journey as a choreographer begin? 
"Right from the beginning, I had a creative angle that was suppressed while in the corporate. While running the school we had assignments for wedding choreographies or own performances, performances for our students. Choreographies is an integral part of a dancer. But for me, it was not just footwork and music but the lyrical interpretation of the song. The depiction of emotions and sequences that were "hatke" from what you generally see. Having an array of dances, I was able to play with variations in music, movements etc and hence put a different level of creativity. The fact that it had an international flavour even at our beginner level gave an added advantage. It is from here that I got the projects for some Ad Films, Good karma Hospital (UK ), Befikre, A Suitable Boy. We had Rajiv Goswami, a well-known choreographer for Dhoom etc who came to train Latin with us. So when it comes to a need that is for any Latin form including salsa, Bachata, Tango and something different, I think we are able to cater to it well."
You gave up your corporate life to continue and turn a struggling dance school into a successful one. How would you describe the whole journey so far?  
"Well, I didn't change any struggling school to anything. This was a school of my own that I started independently. Shannon who I partnered with, had some prior experience with a school and was able to provide me with the skeleton of how it functions in the initial months. While it provided me with a direction to the thought process, I changed the teaching style and curriculum even before I started my training with International champions. These were drawn from my experience in profitably handling businesses worth hundreds of crores in my banking career.

I always believed that if you undertake anything, do the best and to be successful you need to know your product and competitors very well. When I saw that there was a gap in what existed outside and in India in the quality and the very nature of dancing, we ventured out to intensively train with the Asian and then the European Champion. What started as a business intention became strongly passion oriented. This mindset I think helped me to achieve success as we started delivering quality way beyond industry standards in India. So while we were left with no time to market ourselves, people came to us watching the sheer nature of our work and the swiftness with which we changed dancers, the different level of choreographies that we delivered in Weddings, performances etc. On top of it we were priced at par with the market. I didn't waste time implementing my vision. We brought the prestigious membership of World Dance Council in the 1st year and held an all India competition in NCPA, to give exposure to young and old talent from 5- 70 years of age. I was focused on bringing International Dancesport awareness to India and possibly compressed 2 decades of work into 6 years. Corporate life taught me to work round the clock and work smart. To be focussed and clear. Given this journey, I brought in aggression that the dance world had never seen, but you can't create history being gentle and soft.

Having said this I would say VRD is a school with a difference. We have our set principles and structure that we follow. We have clarity on our vision and where we want to be and don't digress. All these went to take us to the road of success."
Tell us more about DanceSport and what inspired you to start it in India? 
"I am deeply patriotic coming from a family of renowned freedom fighters. I wanted to obviously know my subject better than the competitors, but when I went for my 1st training to Thailand, in a room full of audience, we had one of the Champions recalling an incident where for the Asian Games an Indian couple was doing Bollywood. They were laughing uncontrollably and ridiculing the standard of dancing in India. This infuriated me and I took this up personally as a mission for India and started training hard and fast. I definitely wasn't in my 20s like all international competitors. I was very hard on my body to train, manage a school and then home. Physically & mentally took a toll, but I had my vision to see Indians held at high esteem on the international arena and surely we did. After a year in the same Club in Thailand, we had the Gen Secy of the Thailand Federation applaud us and state that he was proud to see India dance the international way. For me, the focus was India and not just VRD students. However, though I wanted to help the existing schools and train their students on the international form away from the Bolly Latin that they do so that India has a stronger hold. It's a very expensive sport and they could have used our expertise. However, that part remained unfulfilled as we were seen as a threat and treated with subtle hostility for bringing the change."
How did your collaboration with 'A Suitable Boy' come to be?
"Mira and her team were looking for a choreographer for a Tango sequence in the ASB. When she approached me, I told her that our choreographies are in authentic international style and not Bollywood hence we are selective in our projects. That was when she assured me that it would be in line with what we do. Their initial part took a week as they checked out trainers & choreographers from across the country before finalising with us. Even though they were looking for a choreographer from India, we felt blessed to have been considered in spite of being mainly in Dubai. It was posted that we flew to Mumbai and after a few days of commencing the training, I got the entire contract as the choreographer for the web series. The posh night club in Episode 1 & 6 was added along with a couple of dance movements scattered across the series. Mira gave a lot of flexibility to use my creativity around the given framework."
Can you describe your experience working with Mira Nair and the cast? 
"It's been a very satisfying experience working with the team. The team right from the ground level to the Producers and Directors were extremely professional, efficient and worked round the clock. It took me back to my days in corporate life and I thoroughly loved it. Having said this, it was a close-knit team and like a family away from home. The time to deliver sometimes was minutes and almost on the spot while shooting. So the presence of mind, creativity had to be at the optimum. This was one project where I felt my potential was truly used. Coming to the actors, Randeep in spite of his stature was extremely humble, appreciative. All the actors were very grounded, eager to learn with no air. It was one team with one goal."
How long did it take for you to train the cast for the dance sequence? 
"We came on board from August until December. Training for the Tango was not easy as the choreographies were complex. While my team started the basics after my introduction to the dance form with the lead couple. Post this the main training started at the location. It was almost for 2 months with over 10 main actors including Randeep Hooda, Shahana, Vivek Gomber, Namit Das and of course Tanya Maniktala. We spent maximum time training Mikhail, Tanya and Minakshi for the Tango as that was the toughest. Having said that we didn't have the luxury of time as the shoot was actively on. This is when our scientific approach to teaching came to our rescue and shortened the time taken. For actors like Vivek, Randeep we had 6-8 hours to teach them the choreography. It was not just the footwork, but also the body language. The actors were very very hardworking, cooperative and ready to do their best. We also had the privilege to teach an elderly actor  Borun Chakraborty ( head of the Chatterji family) , a prominent actor who worked with Satyajit Ray. We had to keep his age in mind and tune the choreography accordingly. There were many times when we had to make changes on the spot while shooting and the actors played it off very well."
Are you looking forward to being a part of more films? 
"Yes, definitely. I am looking out for more movie projects and maybe ad films. I feel that's where we will be able to do justice to our potential and bring a change for the audience to see. Having an array of dances that depict different moods & tempo,( Bachata, Rumba, Jive, Tango, Waltz, Samba, Salsa etc) we will be able to give a fresh feel to the screen. Also, the quality and international experience that we bring will enhance the quality of dancing even if there is a flavour of Bolly that needs to be infused."
If you can name an actor or director that you would love work with, who would that be? 
"In India, I would to work with Aamir Khan, not because he was my childhood heartthrob but because of the quality and perfection, he brings with him. Director would be Zoya Akhtar, a powerful woman director who has successfully broken the glass ceiling. It's very important to work with like-minded people to get the best. I am also looking forward to gaining a foothold in the international projects where we would be able to showcase India's capabilities in this field."
Can you tell us about any projects that you're currently working on or will be taking up soon? 
"Currently, there is no project that I am working on, given the circumstances. We are focusing on students currently who want to dance to destress, fitness. Also since a lot of online classes are on we are catering to schools and teachers across India to teach them the International Latin. I am personally conducting the classes which otherwise in Mumbai would have been through my team. 
The other things on which we are focussing on is to spread our wings. will hopefully be able to disclose more details in a few months."