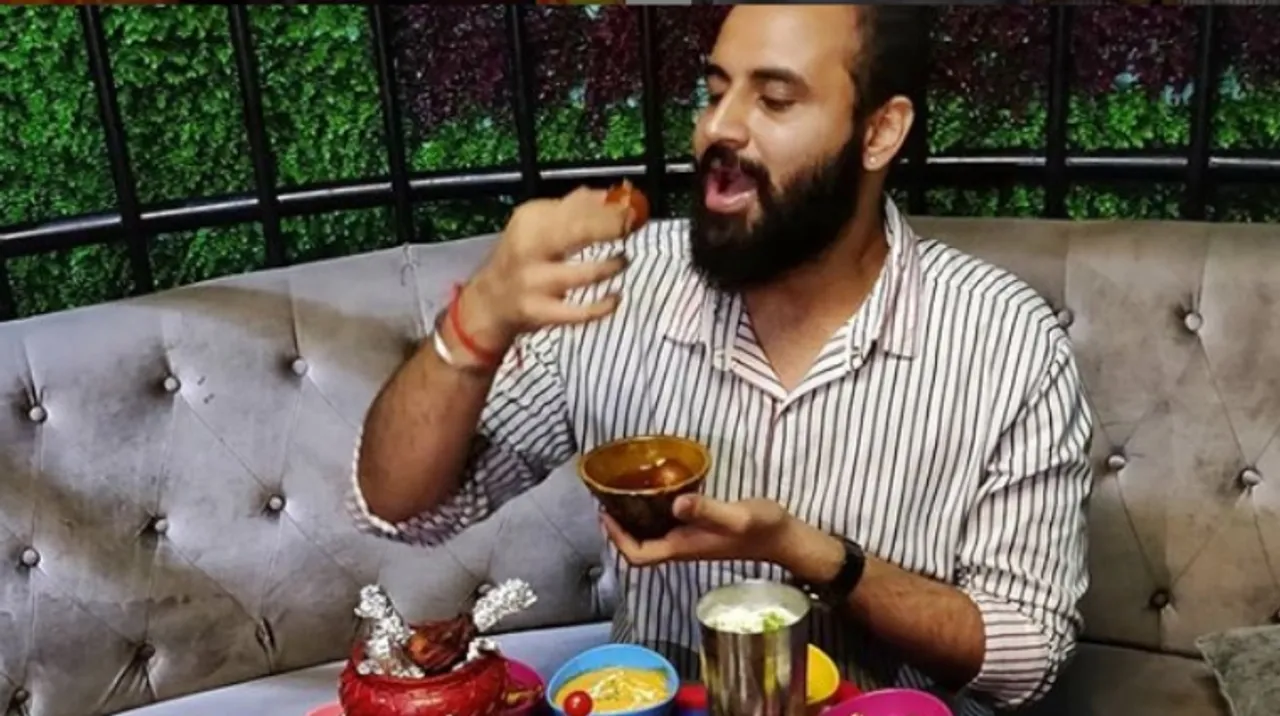 The Craving Nomad talks about his obsession for food and his journey as a food influencer to owning a restaurant chain in Delhi-NCR.
The Craving Nomad shares with us his journey as a food influencer and his obsession for good food. While food blogging seems an easy task to many, Vaibhav Dwivedi takes us through the tough process of growing in this field where the competition is soaring high. Vaibhav shares his experience of both good and bad food that he has tasted from vendors to high-end restaurants, making his reviews trustworthy. Keeping the photos and videos simple, he believes in showing his followers the reality without having to decorate or edit his photos.
Scroll down to check out our interaction with him about food, food, food and a lot more interesting stuff!
Here's all The Craving Nomad had to share with us:
What made you start creating content and when did you begin?
"I have been exploring food, going out to new places from late 2012, social media was not that active back then so I used to upload food images on my personal Facebook account. I came very late on Instagram it was the fall of winters in 2016 when my fellow friends told me about Instagram, since then I have been regular there and on many other video making platforms."
What makes your content stand out?
"My major focus is to show reality. I don't edit my images much or use fancy backdrops and setups."
How do you choose what to promote on your feed and what not to?
"Somehow, I have never received any such opportunity that kept me in a dilemma. About choosing yeah it has been food always, I click usually everything I am eating, apart from my regular meals."
One instance/experience that made it all worthwhile?
"I am not sure of this; I am very silent and a bit shy person. I try not to reveal to the audience that I come with a decent follower base. I quietly go click images to enjoy my meal and come back, if I like the place, I will surely visit again eat my food and be back."
What does a regular day look like?
"I recently changed my eating habits and lifestyle, constant eating made me huge, this year in April I weighed 135kgs (I am 6'3) but that was time I realized enough is enough. I focused on my diet, started hitting the gym regularly. I made a great change in me. Now I am around 102. I still plan to lose another 5-6 kgs. Apart from that recently I have started my business, that is a small restaurant chain, that keeps me busy all throughout."
How do you make moolahs?
"haha..!! that's a great one. Yeah! the outer world feels like influencers & bloggers have a good life they get gifts, hampers, and goodies and then they also make money from the brands, which is actually not true. It's tough here believe me very tough. India is full of talent and to stand out is really really tough. I do have got paid promotions in the past and also made money from video creating apps, but if you ask me, I can't just stay on this."
Where do you get ideas for your videos from? 
"This is what I have adapted from the world, the world is changing fast and in past 1-2 years the focus has been on video-based content in any industry and there are now plenty of video making/uploading apps available on the web. Looking at the audience and response, I too jumped there."
Weirdest brief ever received?
"Luckily none, I have been very skeptical about posting my content. I make sure I am not harming anybody's emotions. I keep myself away from posting anything related to religion and politics. Yeah at times I do post about cricket else all my feeds have been related to food only."
If not an influencer, what would you be?
"I have been around food from long so it's not just about being an influencer. I am into restaurant marketing (social media and offline) and recently have opened 6 outlets in Delhi – NCR by the name of Country Curries. We specialize in North Indian and Mughlai. So yeah that sums a lot."
Message/tips for upcoming bloggers
"Be humble and original and focus on good content creation. Success will be all yours."
Your favourite TikTok audio?
"I was never that active on TikTok earlier, but there are 2 songs about which I came to know from TikTok and are now part of my playlist- Bindrakhia Tribute by Gupz Sehra
and Le Vie Ne Ment"
Here is how The Craving Nomad replied to our Quick 5 –
Favorite meme template on social media?
"I love that Kapil Dev's one.. "aisa nai keh sakte haan par"
One celebrity you want to collaborate with?
"Akshay Kumar"
Your favorite Influencer?
"Can't name anyone. There are many who are doing better work than me."
Weirdest or funniest comment you have received?
"A few ppl said I should try for voice over artist and voice is a bit
similar to Ranbir Kapoor."
Favorite face filter?
"A few on Snapchat, but surely not the dog one."
So, what are you waiting for? Head over to his profile to see drool-worthy food pictures and check out the places to eat from as soon as the pandemic gets over!