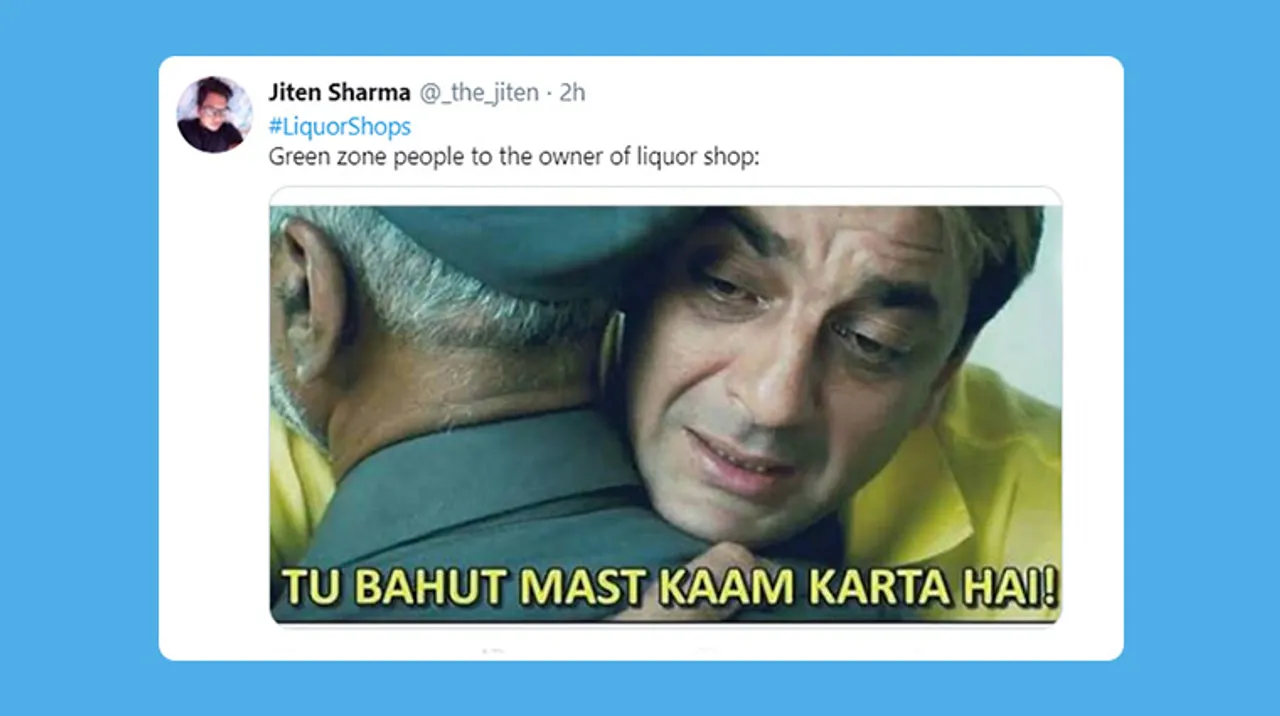 Check out how twitter celebrated the opening of liquor shops in green and orange zones. These tweets and memes will buzz you with a different high of laughter.
With the lockdown being extended to two more weeks further, the Government of India has announced relaxations on certain non-essential commodities. Liquor shops being one among them is likely to open in the green and orange zones starting from May 4th, 2020, Monday. The sale is allowed under "certain conditions" and prohibited under areas that come in the red or contaminated zones. Almost all of the states have accepted the protocol but Kerala government will wait for a while.
It's funny how there are so many things going on in the world yet #LiquorShops are trending at number one today. Soon after the declaration, some of the people rushed to the nearest thekas while the Twitterati have come up with the best memes to buzz your head but with laughter!
Check out these meme-ingful tweets:
Alchohol right now - 👇#LiquorShops pic.twitter.com/bwD4igIN9S

— TauTumhare🏹🚜 (@TauTumhare) May 4, 2020
Neighbor uncle after spotting me in a queue at a liquor shop -#LiquorShops pic.twitter.com/9cuNN8g9dE

— नीरज . (@AjeebPrani) May 4, 2020
https://twitter.com/5trillion_jumie/status/1257193230216474625?s=21
1. When u r staying in Red zone
2. When u r staying in Green zone#LiquorShops pic.twitter.com/khKlNCr8iz

— Tweetera🐦 (@DoctorrSays) May 4, 2020
After standing for 4 hours in line and then asking for a Breezer.#LiquorShops pic.twitter.com/X6cvvwjIHS

— Akkshay (@akkshayjain1995) May 4, 2020
What have we learnt from lockdown ??

We should stock up Liquor ,
Ration to Govt ghar pe pahucha rahi hai
?#LiquorShops#Lockdown3 pic.twitter.com/VnB9g1AA7K

— Satinder K. Dhiman ?? (@satinderdhiman) May 4, 2020
https://twitter.com/thestenoboi/status/1257209841128312832?s=21
https://twitter.com/mohitnomics/status/1257197151668498432?s=21
No-one :

People of Green zone outside #LiquorShops : pic.twitter.com/e0EIhGpJLo

— Tweeting Quarantino ➐ (@rohitadhikari92) May 4, 2020
https://twitter.com/doctorrsays/status/1257182311629697024?s=21
When people are happy for #LiquorShops opening more than vaccine development news.#coroanvirus vaccine:- pic.twitter.com/aVWhG9Adrp

— Gulshan Laassi (@gulshanlassi) May 3, 2020
Ministry of Home Affairs allowed Paan shops & #Liquorshops to be open in #Lockdown3
Meanwhile Paan waala & #Liquorshops :- pic.twitter.com/KO8H86keR5

— The Musafir (@HarisPathan8) May 1, 2020
Drinkers after getting the news that liquor shops are open in all zones#LiquorShops pic.twitter.com/gmfB4UyYqo

— Sociopath Memer (@sociopath_ladka) May 4, 2020
#LiquorShops
Liquor shops are allowed to open in lockdown 3.0

Drinkers : pic.twitter.com/f1YhCreABt

— Tweetholic 🐦 (@AptArpit) May 4, 2020
#LiquorShops

Wine lovers after returning from theka today : pic.twitter.com/54Vog9x0te

— Riya (@jhampakjhum) May 4, 2020
https://twitter.com/31sahej/status/1257178560285995008?s=21
Me prepping my roomate before sending him to the #LiquorShops pic.twitter.com/0pYMVMMYWf

— Light (@4d_sociopath) May 4, 2020
#LiquorShops
Green zone people to the owner of liquor shop: pic.twitter.com/enXFcFTVfs

— Jiten Sharma (@_the_jiten) May 4, 2020