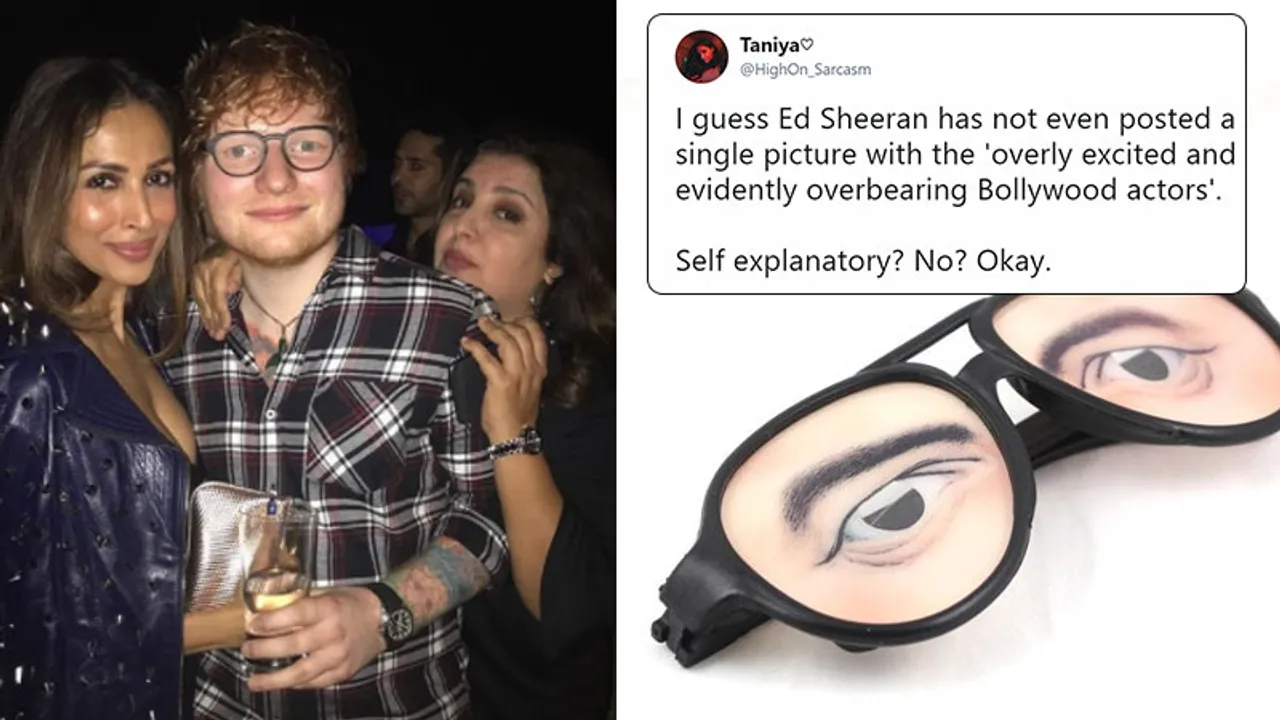 So it can be safe to say that coming to India has not been turning out well for musicians abroad, and poor Ed Sheeran had to be taken hostage to have his experience trauma in India.
Famously, Justin Bieber came to India and performed but left abruptly because he did not want to be reduced to a puddle of sweat and randomly thrown together designer clothes. Ed Sheeran on the other hand is a nice guy, and he honestly couldn't do much when he was being guillotine choked for pictures by Pooja Hegde, Aftab Shivdasani, Maniesh Paul, Raveena Tandon's husband and Bollywood Khandaan members, Malaika Arora Khan, Farah Khan and more.
His eyes were stone cold, and his smile looked as real as the college degrees of certain politicians in our country but hey that's a story for another day when I will want my workplace trashed and my life threatened.
Okay so Ed Sheeran was literally made to pose with all these starry eyed fans who he had no clue about, and then there was this reaaallly akward clip of Farha Khan teaching him a dance step, which considering her profession, should have been anything but this step!
"Come on now, follow my lead
I may be crazy, don't mind me "
Thank you @TheFarahKhan for being the 'perfect' host that you always are & for a rocking party last night. The hangover still continues. I can see the 'Shape of you' with @edsheeran ❤️? pic.twitter.com/v7foPaTC8T

— Raj Nayak (@rajcheerfull) November 19, 2017
WHAT THE F#@!?
And this just went on and on and on, and just look at the poor guy's helpless face and uninspired smile. He clearly just wants to go to his room and watch some TV in his pajamas but these guys just won't let him.
smh.
Now Ed Sheeran may be a nice guy, but Twitter users couldn't care less and quickly called this zabardasti out and poke fun at them forcing the poor guy to take selfies with him. Also, no one really mentioned any other songs he has sung except Shape Of You. I mean cmon guys!
November 21, 2017
He is obviously very tired and is wearing one of "Tim and Eric's Party snoozer masks" that allows you to sleep the hours away while at parties pic.twitter.com/Bhjzd7e8EC

— Tantrumgasm (@tantrumgasm) November 20, 2017
Okay okay Bollywood. We get it. Ya'll partied with Ed Sheeran and he loves the "shape of all of you".

— Ishaa (@itsishaaa) November 19, 2017
The devil is always in the details.
I guess Ed Sheeran has not even posted a single picture with the 'overly excited and evidently overbearing Bollywood actors'.

Self explanatory? No? Okay.

— Taniya♡ (@HighOn_Sarcasm) November 20, 2017
Yes. This. Yes. This. Yes. This.
I think a lot of western singers want to perform in India but avoid because of the afterparty

— Amit Tandon (@amitandon) November 20, 2017
"And please stop that woman from entering the venue."
*Ed Sheeran planning his next India tour*
Agent: The first flight back home is 12 hours after your show.
Ed: I'm in no hurry to reach home. Book me on the first flight out of India. To anywhere.

— Numbyaar (@NumbYaar) November 21, 2017
Yeah actually he has no pictures of him not being touched by some random Bollywood personality, its just non stop hugging, and guillotine chokes and whatnot.
I'm yet to find a pic of Ed Sheeran (of his India visit) in which Farah khan is not on his back like Betal while making faces ...

— Nikhil (@trivedinikhil) November 20, 2017
Well, its safe to say that Ed won't be forgetting this trip anytime soon!