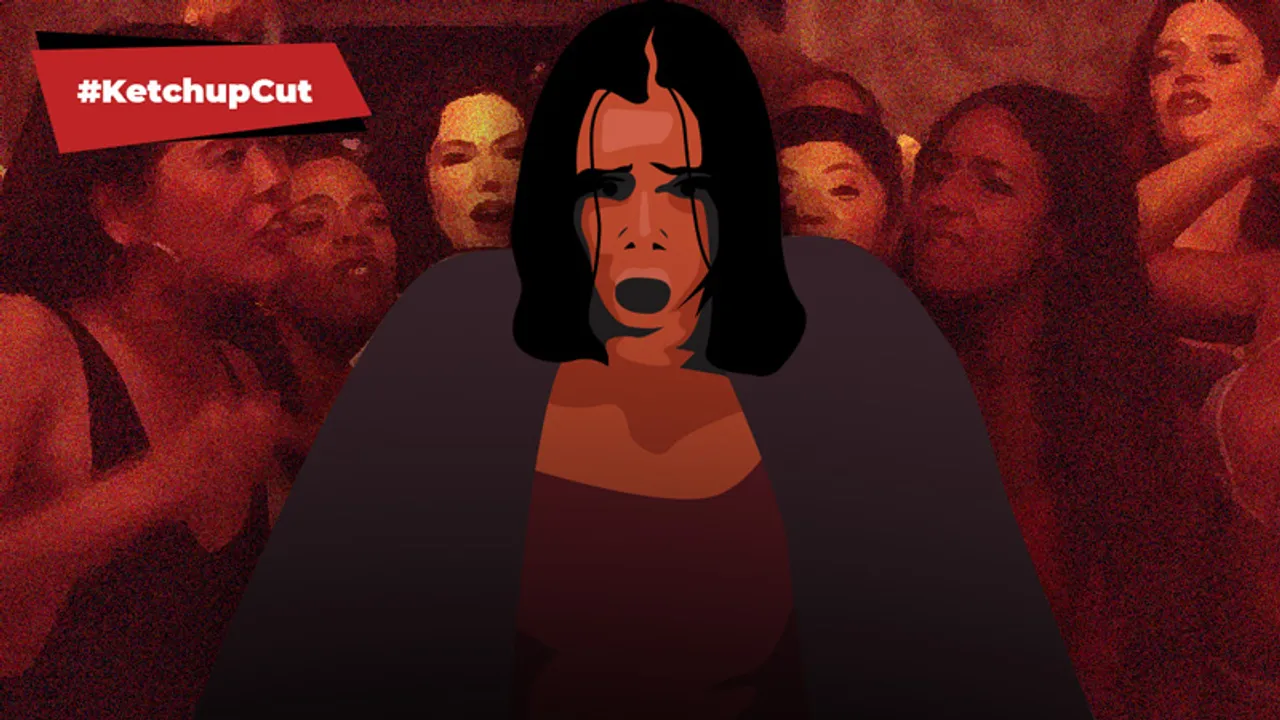 Check out how Kat's 'Love Yourself' scene from Euphoria season 2 points at the irony and truth behind body positivity.
Talk about feeling sad and concerned about the way we look and we have a bunch of influencers talking and hyping us up. They continue to preach and talk about how one should love and appreciate their body no matter how you feel about it, and we get it. The only person who can and should fully accept our body is ourselves. But do these preachings always help us? Or is this 'self-love cult' as Rue calls it only ruining our mental state? A scene from the 2nd episode of Euphoria season 2 pointed out the same and we will be discussing the same in today's Ketchup Cut.
About the series:
Directed by – Augustine Frizzell, Sam Levinson, Jennifer Morrison, Pippa Bianco
Written By – Sam Levinson
Cast – Zendaya, Maude Apatow, Angus Cloud, Eric Dane, Alexa Demie, Jacob Elordi, Barbie Ferreira, Nika King, Storm Reid, Hunter Schafer, Algee Smith, Sydney Sweeney, Colman Domingo, Javon Walton, Austin Abrams, and Dominic Fike.
Where to watch – Disney+ Hotstar
The story revolves around 17-year-old Rue from East Highland and a group of high school students. While Rue must do her best to find hope while balancing the pressures of love, loss and addiction the show takes the audiences on a journey highlighting the struggles of various high schoolers with drugs, love, social media and money as they come of age while trying to establish their identity.
Ketchup Cut:
Euphoria has become a hit for all the show's realistic approach towards teenager problems that needs attention. From drug abuse, mental health, self-identity, loss and love the show has been able to touch various parts of teenage life while giving us a different perspective of the same situation. One issue that was also addressed in the first season was body positivity. Although Kat is the only plus-size character in the show, she was able to address one major teenage problem that everyone has been through. The second season that has only aired two episodes so far addressed the same in the second episode. And Kat's whole 'Love Yourself' scene has to be the highlight of the episode.
At the New Year's party, we saw how Kat is in a cute relationship with Ethan. Considering how everyone else's relationship is on a down low, Kat's has to be the healthy one. But in the second episode, we realise that everything is not merry as it seems to others. We see her struggle in a scene that is nothing but a parody of its own version from season one and it couldn't be any more relatable. It looks like a live footage from every young teenagers' house as they sit around on a bed and hating their own body. We have all been there and Kat, we connect on this on a spiritual level.
Despite how lovely and amazing Ethan is Kat is confused about why she is unhappy in her relationship, so she decides to make a 'pros and cons' list only to come to the conclusion that the reason for her unhappiness is not Ethan but herself. She finds the reason for her melancholy is that she hates herself. But like every other teenager, she decides to lay on her bed and watch YouTube videos while feeling pathetic about herself. And the way Rue puts it 'the problem with hating yourself is you can't really talk about it because at some point recently, the whole world joined a self-help cult and won't shut the fuck up about it,' everything that happens later only makes more sense. The entire social media 'self-love cult' comes to life and withers Kat instead of helping her in any way.
One thing that we know about Euphoria high school is everybody here dresses up like they are about to walk right into a magazine shoot. And Kat having her self-hate phase in this surrounding makes it somewhat relatable. Because to begin with if we were part of this school, we would have had our doubts too. And in this scene when Kat is at her lowest we see all the inspirational quotes that we have heard over and again come to life. Influencers clad in a bikini with perfect bodies asking her to love herself, while some body-positive influencer yells another positive quote is everything we see on social media. We have seen people preaching about how one should accept and love their body, smash all the heteronormative beauty standards, look past the outer beauty and what not. But one thing that stays is the person feeling shitty about themselves. The scene is the perfect demonstration on how someone asking you to love yourself is not going to solve anything. They do not want people to empower them, not when the person themselves look perfect in every way possible. Their words are not the badge that can just be put on to heal the wound, it is more like salt and only burns it further. We all know that these powerful or meaningful words never solve a self-hating depressed person.
For a show that is aesthetically pleasing with frames that captures some of the most real emotions in the most artistic way, adding this scene only makes viewers like us realise how similar to Kat we feel when watching all the beautiful actors on the show. It further establishes why teenagers around the world find the show relatable despite overly sexualising the young characters on it.
Fun Facts:
Hunter Schafer is credited as a writer with Sam Levinson in "Fuck Anyone Who's Not a Sea Blob".
Gustave Rudman Rambali is credited as a composer with Labrinth in "Shook One Pt. II".
In season one the reaction that Kat has to the micropenis is completely genuine.
One of the fight scenes between Rue and her mother was completely improvised, and it was really emotional for everyone on set.
The characters' various makeup looks help show their emotions and their development throughout the season.
Barbie even made T-shirts for the cast with Leonardo DiCaprio's quote.
Awards and Recognitions:
Won Primetime Emmy Award
Won Satellite Award for Best Actress in a Drama Series
Nominated for the British Academy Television Award for Best International Programme
Nominated for TCA Award for Outstanding Achievement in Drama
As the show continues to unfold the stories that ended on a cliffhanger in season one we cannot help but appreciate the artistic experience of watching the show. One such masterpiece has to be the finale of season one. So as we wait for the next episode, we can always go back and enjoy this song.
Have you binged on the first two episodes? Let us know what is your favourite part.
Also Read: Euphoria season 2 promises to take it to the next level in the chaotic and messy lives of Gen-Z's
For more entertainment content follow us at @socialketchupbinge