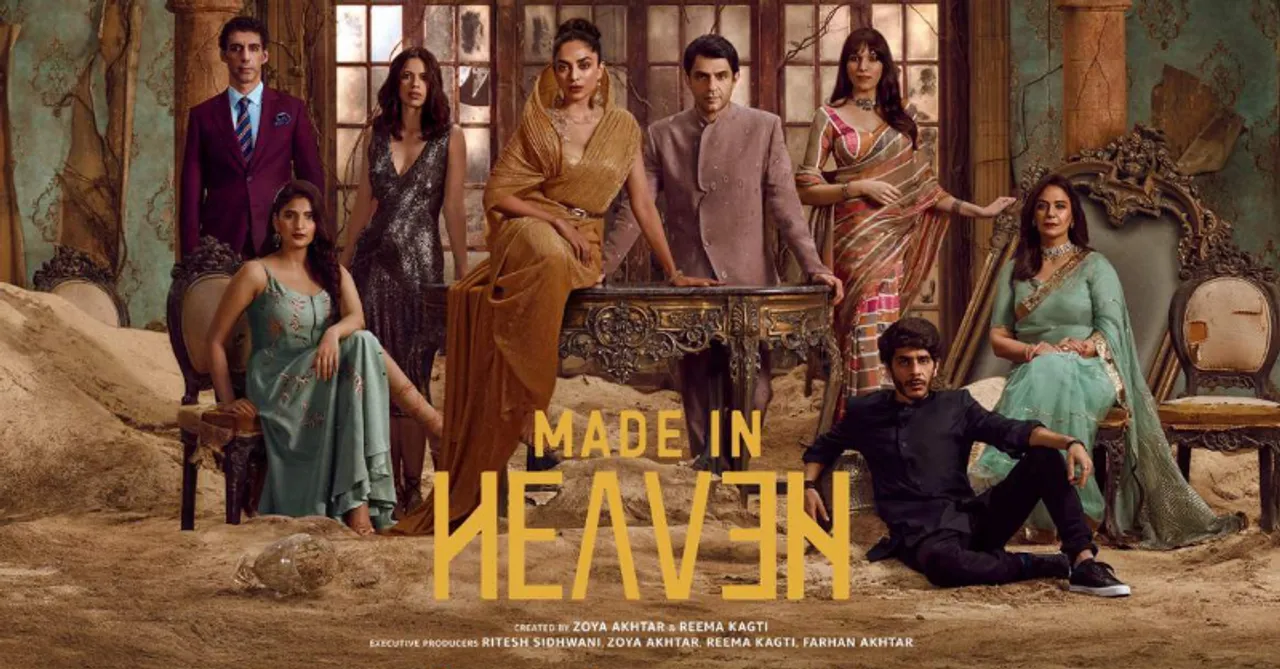 Made in Heaven season 2 review: This series is very evidently created by Zoya Akhtar and Reema Kagti with the kind of stories it packs and the emotions it brings up for its viewer!
Made in Heaven season 2 review: Being born and brought up in Mumbai, in the comfort of my sheltered and privileged Gujarati life, I didn't quite realise what most of India daily grapples with even today. While colourism, domestic abuse, polygamy, caste discrimination, struggles of the LGBTQIA+ community and more make it to the news and are a part of conversations with friends and peers, I had hardly stopped to think about the gravitas of these issues and how they aren't as occasional as we once believed, even in today's India. As preachy as every episode of Made in Heaven season 2 may have been, every single one of them weaved a tale that left me wondering how little I know about the very society I live in.
Season 2 picks up 6 months after where season 1 left us - Adil and Tara are right in the middle of their divorce settlement when Faiza finds out that she's pregnant. Adil's father's untimely death reveals that his father had a whole secret family that had been kept from him for years. While Adil is wrapped up in this mess, Tara and Karan are putting in their all to bring Made in Heaven back to its former glory. Even in the face of adversity, we find them planning one wedding after the other. Helping them pull off this task are Jazz and Kabir and their constant will-they-wont-they scenario, their newest Production Head, Meher Chaudhry and their auditor, Bulbul Jauhari. Watching each of their stories unfold has been rather satisfying given how they're all fleshed out characters with life happening to them which exposes their flaws, leaves them feeling vulnerable and breaks them before it builds them up again. I love how this is as much a story about Karan, Tara, their ensemble team as it is about every single family who walks into the Made in Heaven office.
Also Read: The Hunt for Veerappan review: A masterclass in stirring, fascinating, and ethical documentation
Watch the trailer here!
Contrary to popular belief, Made in Heaven isn't just a story about two wedding planners and brides and grooms seeking a happily ever after; it's about human experiences and addressing taboos in Indian society and peeling off one layer after the other until we're forced to look into the mirror and question our own prejudice and privilege. Case in point - A few minutes into observing MIH's newest partner, Ramesh Jauhari and you'd assume that he'd be yet another husband who doesn't bother with treating his wife right. What you don't expect is Bulbul Jauhari and her husband having a rather cute relationship, one where he adores and respects her and demands others, including her own children to do the same. If this doesn't speak about how quickly we jump to conclusions going simply by appearance, I don't know what does! While season 1 was shining light on Karan's daily struggles, a middle class gay man living in Delhi, via Meher, this season focused on showing the love that she's surrounded by in the midst of insensitive comments from friends and terrible dates. Trinetra Haldar's character is so well fleshed out that there's more to her throughout the series than just being a trans woman.
Having been recently married, this season brought back some much needed nostalgia along with a little trauma. Watching the wedding prep, gende ke phool, the introduction sequence before every episode, trying on lehengas, location scouting, those interviews where the couple tries hard not to let their awkwardness show, and that one scene where Mrunal Thakur's father breaks down during her pheras, God, that alone could break me again! Watching Sabyasachi make an appearance in the first few episodes of this series was so mesmerising. Watching these brides get dolled up in Sabyasachi lehengas while he guides them with colours they can try out - it was everything! The larger than life feel of a Sabya shoot at the hen party was right out of his product campaigns that we see on Instagram. Everything was so aesthetic, the outfits, everyone's mannerisms during the shoot, the background setting. Even Tara's outfits while she attends these weddings that she's planned are an aesthetic in itself.
As glad as I am that yet another character sought therapy onscreen, its portrayal wasn't very accurate in this one! There's a lot more to it than simply discussing what's happening in your life. And this part of Faiza's arc was cut pretty abruptly.
Almost every episode tackles the ever so delicate parent child relationship and the turbulences it faces, something that will make you break down while watching this show. While you may not be able to relate to some of the reasons of conflict in these conversations, at its heart, every single one of them is about parents struggling with acceptance. In the last episode, when Nawab Khan (Vikrant Massey) said, "You'll always love your mom but you don't need to like her", it resonated with a lot of us who have a complicated relationship with our parents, one where there's ample amounts of love and hurt. The casting is absolutely on point for every single parent across each episode, including Natasha Rastogi, Satyajit Sharma, Dalip Tahil and Preiti Mamgain from last season. They've encapsulated the inner turmoil of a parent so well!
Made in Heaven's writing really works in its favour given how every episode tackles multiple pressure points all at once, inspite of weaving a different tale in every episode.
For more reviews, follow us on @socialketchupbinge