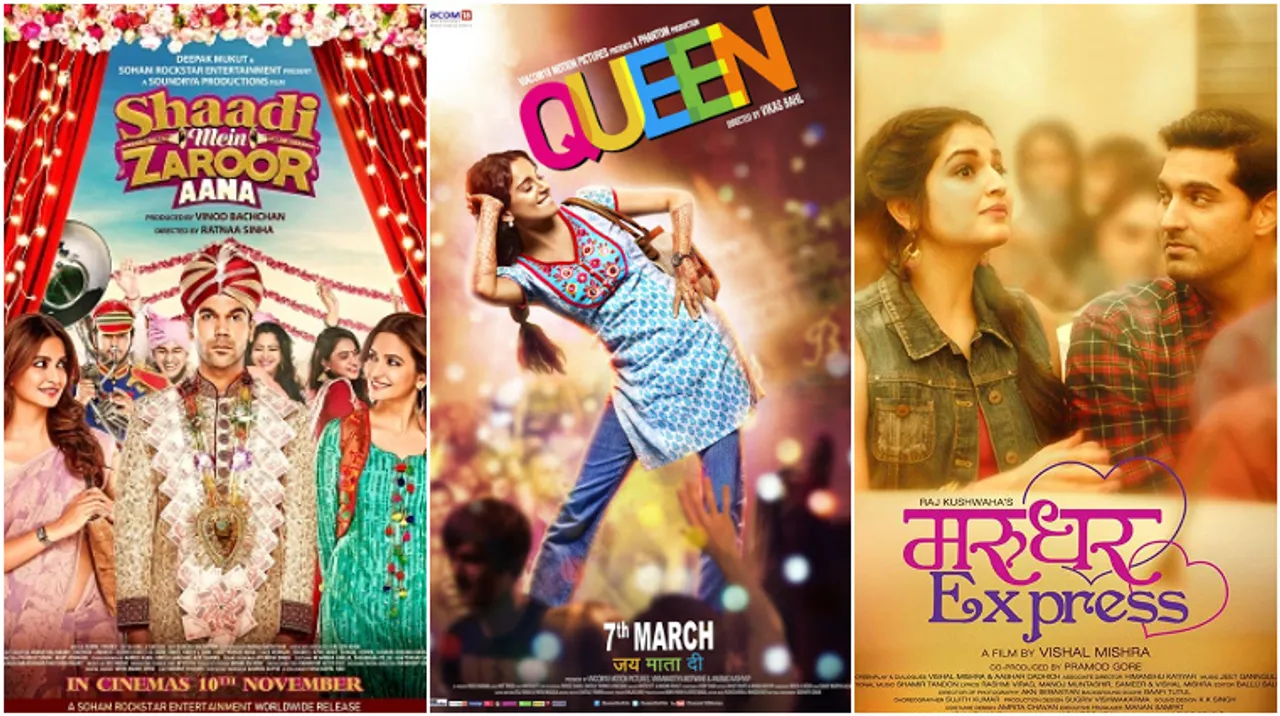 Being in quarantine or self-isolation is not going to save you from your parents' question regarding marriage. And if you're not ready to get married anytime soon, show these movies to your desi parents.
The season of wedding planning and shenanigans is about to begin and so is the pressure from your family and relatives to get you married. Bollywood movies can have a great impact on people and the film stars are the biggest influencers. Hence, who better to convince our desi parents and the society than the stars themselves through the different characters they portray in movies. The notion of getting married at the 'right age' is just an illusion. After all, you don't need the right age but the right person to get married, no?
Well, if you're still not ready to sail the marriage ship then here is the list of movies that you have to make your desi parents watch soon:
Queen
Queen is the quintessential modern Indian film, which made people understand through its humour on the hardships of societal pressures, a girl goes through. Kangana Ranaut, the queen of hearts with her terrific performance convincingly depicts a character of Rani who embarks on a journey of life, which is best for her and did not allow the conservative minds of the society to take the opportunity and stop her to realize her self-worth.
Watch On: Voot, Netflix and SonyLiv
Marudhar Express 
The critically acclaimed movie Marudhar Express is based on a character named Marudhar, a person who has never been in a relationship or dated anyone throughout his life. This film goes on how a father plans his son's marriage against his will and later Marudhar is not able to balance his life. The best part of the film is with no experience in dealing with women, Kunal Roy Kapur as Marudhar goes through an emotional and equally hilarious journey of his life and tries to balance his feet amidst love, life, and family. This movie will make you realize how both genders are equally facing the same marital pressures from society and their families. The character Marudhar in the movie shows this through the lens of a male protagonist. 
Watch On: ShemarooMe
Badrinath Ki Dulhania 
A truly small-town wonder, featuring Alia Bhatt as Vaidehi, who is ambitious and wants an equal status in the society, more important than having an ideal husband. This film roared on how the character Vaidehi, agrees to marry Badri (Varun Dhawan) because of the family pressure and eventually, running away from her own wedding to pursue her professional dream to become an air hostess and travel the world. The story parallels with Urmila Shukla (Swetha Basu Prasad) who is not allowed to work despite being more qualified and professionally trained as compared to her husband Alok played by Yash Sinha, thereby giving in to the demands of the father who is against the daughter-in-law and her wishes to work and maintain an equal stand in the society, depicting the male-dominated side of the society.
The film shows that it is equally important to have a life partner who values your decision and takes a stand for you throughout your life.
Watch On: Amazon Prime Video
Shaadi Mein Zaroor Aana 
A Bollywood masala flick with the right dose of romance, drama, ambition, revenge and social causes, starring Rajkummar Rao (Satyendra Misra aka Sattu) and Kriti Kharbanda (Aarti Shukla) as a lead pair in the movie. The movie showcases Rajkummar Rao working as a clerk in the Excise department while Kriti is an intelligent girl who has her own dreams. Both the characters agree for an arranged marriage, but the twist is when Aarti learns that she has cleared her Civil Services exam, and panics by all the commotion that she won't be allowed to work post marriage, basis a detailed conversation with her to be mother-in-law. Aarti elopes from her own wedding leaving Sattu behind fuming and betrayed. But what follows is the twist in the tale, that makes the two cross their paths again with different agendas to succeed in life.
Watch On: Zee5
&t=18s
Do you have any suggestions for any other movies that people trying to avoid marriage must show their desi parents? Tell us in the comments below.