MDL beast concert hosted by Saudi Arabia has been in news for the wrong reasons as all the influencers present at the event were called out for being ignorant towards the human rights violation in the country.
Saudi Arabia organised a grant music festival, MDL Beast, in the presence of a number of influencers, musicians, models and western celebrities with an aim to achieve its agenda of permitting live concerts, sporting events, welcoming foreign visitors and tourists, as well as relaxing local laws on dress code and freedom. However, all the influencers who were present at the concert have been facing criticism for being part of it.
The celebrities are facing backlash from the people for allegedly ignoring the human rights violation happening in the country. Saudi Arabia is said to be a country of facing great "humanitarian crisis" as it has reportedly become a place of unrest. Several reports on the country's stance towards women's rights, the LGBTQ+ community, the killing of the journalist of The Washington Post Jamal Khashoggi and its crackdown on government dissidents has been doing rounds.
While the influencers shared pictures of having a great time at the concert, they were later called out for ignoring the various instances of sexual harassment that were reported by women present at the concert. In the list of influencers who were allegedly paid to create positive content around the concert was Indian actor Sonam Kapoor. She took to her Insta story to share that she was 'treated with immense respect and love as a Hindu brown female actor' at the event.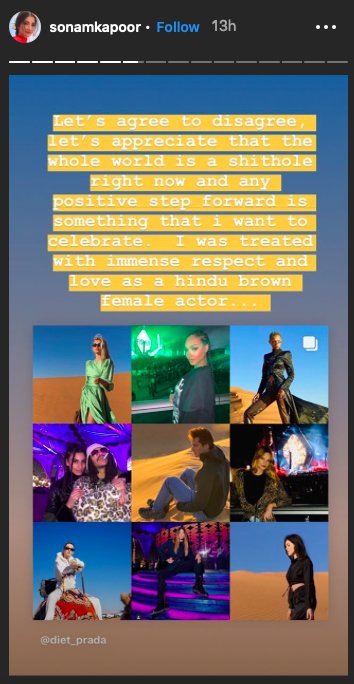 The brand DietPrada also called out the influencers for the same.
Here's how Twitter reacted to MDL beast harassment:
This is really embarrassing! So many foreigners were invited to attend one of the greatest music festivals in the Middle East and instead of welcoming them, they got sexually harassed.
والله شي يفشل للاسف #MDLBeast pic.twitter.com/g6wUYZnpO1

— هِكتر (@Heckhigh) December 22, 2019
Dear girl do not forget to conduct safety from harassment
#MDLBeast pic.twitter.com/Ug9NaXi7LM

— ▵ (@_4_NA_) December 20, 2019
My friend @pfpicardi just flagged that there's a group of celebs and influencers on a free image rehab trip to Saudi Arabia..did you know you could NOT go to places that dismember journalists, murder queer people and violently oppress women under the guise of religion?

— Zara Rahim (@ZaraRahim) December 21, 2019
#تحرش_مدل_بيست #MDLBeast
Sexual harassment is not a joke, it should be taken seriously I'm so disappointed about what i saw tbh. I feel so bad for all the girls who attended this festival where they faced sexual harassments and shit.

— Mazen (@MizoAy) December 22, 2019
#MDLBeast festival was apparently a sexual harassment fest, this is bullshit, men should be held accountable!!!there must be an emergency intervention team!!! https://t.co/K2vMiH2Nu2

— Dr.Femini5t🤓💭 (@DrFemini5t) December 22, 2019
Sonam Kapoor's non-answer in regards to the numerous sexual harassment allegations at #MDLBeast is beyond tone deaf. Claiming that you were "treated with immense respect…" is such a cop out. The south Asian elite refuse to put their "image" on the line when it matters the most

— Ciroc Obama aka the Clout Father (@MacArunyNCheese) December 23, 2019
Welcome to the global harassment party
Here, a system against harassers is not applied. If you attend, you will suffer the most failed organizations here..#MDLBeast @MDLBeast

— هيكاري | هيوندي داي💙 (@_li9ht) December 21, 2019
Sexual harassment is punishable in Saudi law and she can complain about the harasser to the authorities . What else you want us to do stop having fun in our beloveds country or run a way like you to the Qatari terrorist organizations .#MDLBeast

— Xoeliek (@xoeliek) December 22, 2019