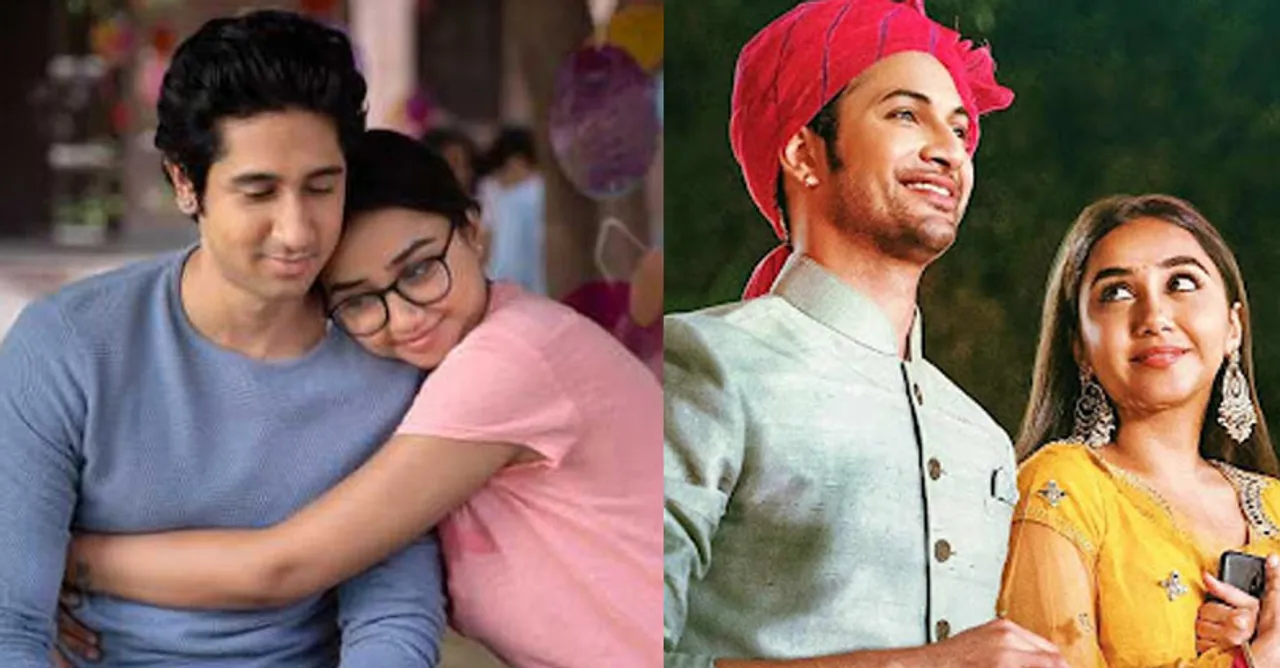 Mismatched S2 was released on Netflix on October 14 and the Janta is completely floored with this one!
Mismatched S2 is back with a star-studded cast and more drama! Prajakta Koli (Dimple) and Rohit Saraf (Rishi) are the lead love interest of the show. Alongside Vihaan Samat (Harsh), Muskkaan Jaferi (Celina), Devyani Shorey (Namrata), Kritika Bharadwaj (Simran), Taaruk Raina (Anmol), Abhinav Sharma (Krish), Ranvijay Singh and Vidya Malavade (Zeenat) with some new characters added to the show which only gave more essence to the show! Sanjana Sarathy and Priya Banerjee are the new characters this season and we can also see a cameo by Ahsaas Channa.
Mismatched season one was all about Dimple and her ambitions but it turned into the not-so-perfect love interest between Dimple and Rishi. Two teenagers fell in love with each other while they were in Jaipur for their summer course. At the end of season 1, we all were left with a massive cliffhanger and that is what continues in season 2. As the show starts, we see new drama coming in and that means only one thing, more meme content! The Janta has fallen in love with the characters but they seem to want something more from some characters!
Also Read: Mismatched Season 2 Review: The second season of this rom-com is back with mismatched relationships, apps and so much more
Here's what the Janta had to say!
Still can't get over this 🤍🥺#mismatched2 pic.twitter.com/8mQcVZ9IDO

— Saiii (@__iykyk____) October 17, 2022
Okay, that ending wrecked me. 😭I love Rishi, but I felt like Harsh exhibited the typical second-lead syndrome. I was actually rooting for him and Dimple. Getting Rishi-Dimple together was just fan service; they lacked any development this season. #Mismatched #Mismatched2

— Majnu Bhai (@Johnlock_221B_) October 17, 2022
"Yeh coincidence nahi hai this is kismat" how most love stories fall through 🥺 #Mismatched2
— Kayy💃💃💃💃💃 (@KKiran_HH) October 17, 2022
Smiling because they happened, crying because none of it is happening to us#Mismatched2

— ira patel (@oceanskymusic) October 16, 2022
Harsh was the biggest green flag this season when he said "Take your broken heart and turn it into ART" 😭#MismatchedSeason2 #MismatchedS2 #Prajaktakoli #VihaanSamat pic.twitter.com/xR3dUbmeYc

— The Magic Journal (@magicjournal__) October 15, 2022
"eventually soulmates meet, for they have the same hiding place." #mismatched2 pic.twitter.com/tcAyC0fBjL

— m̆̈ (@m4hr33n4) October 15, 2022
Appreciation post for dimple and harsh 💌❤️🦋🌸

everyboday needs a guy like Harsh aka naughty america 🥹 ❤️😂#mismatched2 #MismatchedS2 pic.twitter.com/0Zgd01jOJZ

— S🐷 | 𝐇 𝐚𝐧𝐝 𝐉 𝐚𝐫𝐞 𝐥𝐨𝐦𝐥𝐬 ❀ (@Angrichorni) October 14, 2022
Rishi and Dimple, yes.
But can we talk about Zeenath and Sid🫠?

How cute💜! #mismatched2 #Mismatched pic.twitter.com/ED0WNeAByK

— Amy 🌊🤍 (@amycreationnss) October 15, 2022
Why is noone shipping them yet 😭
The domestic vibes in this 🥹🤌🏽
Yes please...

#Mismatched2 | #Mismatched > pic.twitter.com/TNuKhWxFKs

— Tₕₑ Fₑₘᵢₙᵢₛₜ ᵣₐdₕₐ 🦥 (@Sue_Centric) October 15, 2022
They deserve much much better 😭💔
Harsh yaar why you were so good??#Mismatched #mismatched2 pic.twitter.com/mT3TZ0JJPV

— Rupal♪⋆ (@_alien_fromIPZN) October 15, 2022
I literally cried in this scene 🥺❤@rohitssaraf and @iamMostlySane nailed this scene#Mismatched2 #dimpshi pic.twitter.com/ae5HADx4KV

— 🌻 (@omgnih) October 16, 2022
How can Dimple choose Rishi Over Harsh when Harsh deserves so much love please! He loved Dimple for who she was and didn't expect a perfect vision of her ! Stood for her throughout and so selflessly
Harsh is a guy we need we deserve 🥺#mismatched2 #MismatchedS2 #NetflixTUDUM pic.twitter.com/Kil1nKBxQM

— clementine (@haveyoumetcleme) October 15, 2022
Who did ya'll ship this season? Let us know in the comments below!
For more binge centric content, follow @socialketchupbinge.