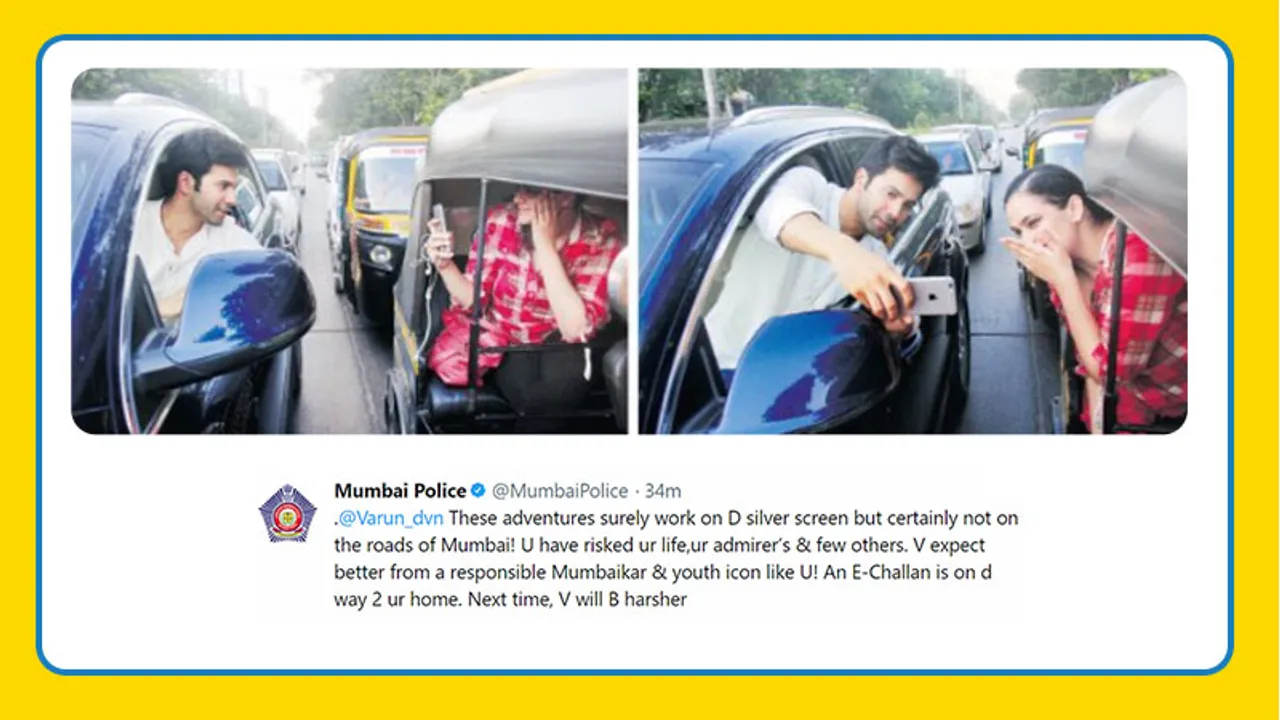 Mumbai Police and Varun Dhawan had an interesting Twitter conversation today when the former 'scolded' the Bollywood star for leaning out of his vehicle to click a selfie with a fan.
If you thought Mumbai Police were badass on the streets, you certainly haven't witnessed their Twitter badassery. Today they proved why they are a force to be reckoned with by sending an e-Challan to Varun Dhawan and the actor too took it in the right spirit and apologized to Mumbai's finest.
The tweet from Mumbai Police's account was sent out earlier today, warning Varun Dhawan about the dangers of clicking a picture in the middle of the road by leaning out of his vehicle.
.@Varun_dvn These adventures surely work on D silver screen but certainly not on the roads of Mumbai! U have risked ur life,ur admirer's & few others. V expect better from a responsible Mumbaikar & youth icon like U! An E-Challan is on d way 2 ur home. Next time, V will B harsher pic.twitter.com/YmdytxspGY

— Mumbai Police (@MumbaiPolice) November 23, 2017
And soo, Varun Dhawan posted a reply, and realized the error in judgement on his part, ensuring he would always put safety first in situations like these in the future.
My apologies ? Our cars weren't moving since we were at a traffic signal and I didn't want to hurt the sentiment of a fan but next time I'll keep safety in mind and won't encourage this. https://t.co/MEJk56EksG

— Varun Dhawan (@Varun_dvn) November 23, 2017
Pretty chill of Mumbai Police and Varun Dhawan to work things out in such an amicable way, setting an example for millions of fans across the country.
Mumbai Police then replied to Varun's tweet and even complimented him with some insane subtlety that is sure to put a smile on the actor's face.
Quite a galactic coincidence for the photographer to be on the same signal to capture your gesture, in a good intent nevertheless risky. Leaning out even in a stationary vehicle can be distracting for others considering your popularity. Glad you took our message in d right spirit https://t.co/jKqosfH6V3

— Mumbai Police (@MumbaiPolice) November 23, 2017
*sigh*
Twitter users who now follow Mumbai Police on Twitter regularly, quickly spotted the tweet and came up with some interesting reactions and suggestions about people who deserve e-Challans too.
1.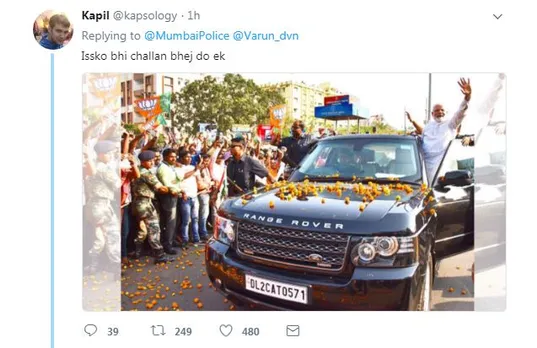 2. Poor Kejru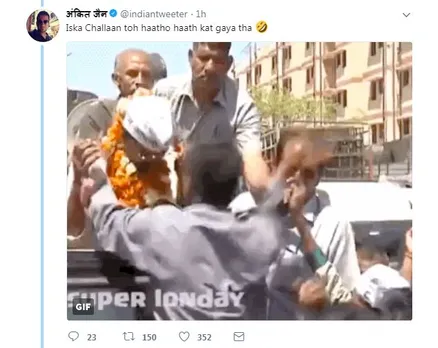 3. Read the Tweet below this image.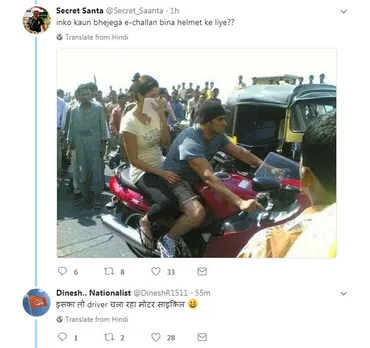 4. Is that not RPF?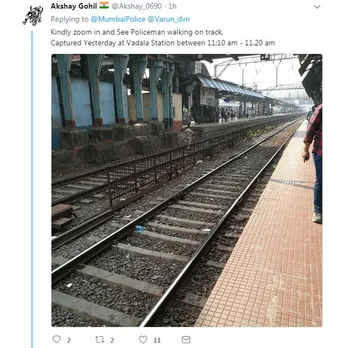 5. Damn.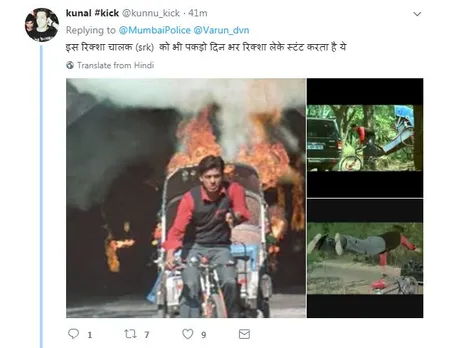 6. Ranveer is dressed like a traffic cone. I don't see the problem.
(Yes I know this isn't orange neon but neon nevertheless)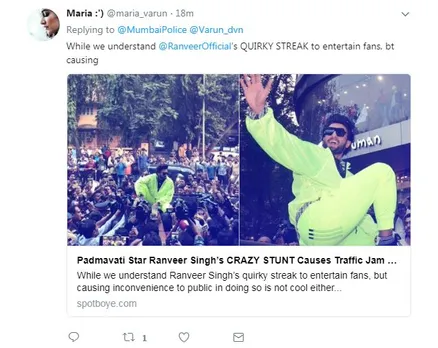 7. Is that Nana Patekar?

8. Of course, how was he not mentioned yet.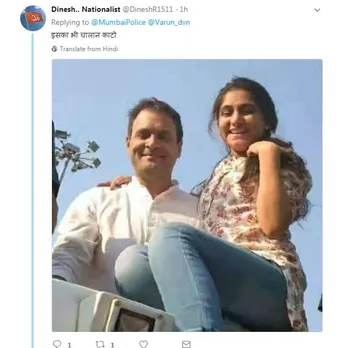 9. And this guy.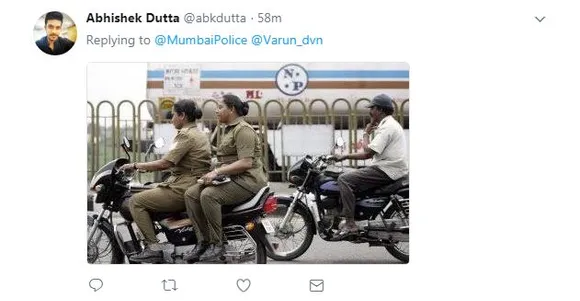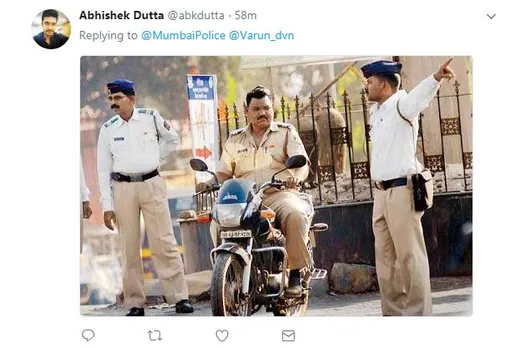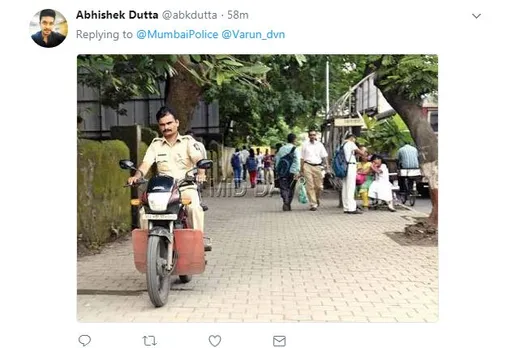 11. Technically not a vehicle. Technically not a road.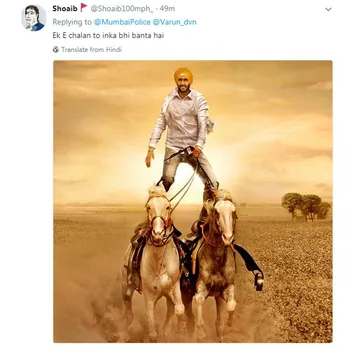 It's nice to watch things not get out of hand on Twitter and turn into a messy spectacle of taunts, jibes, abuses and mindless controversies.