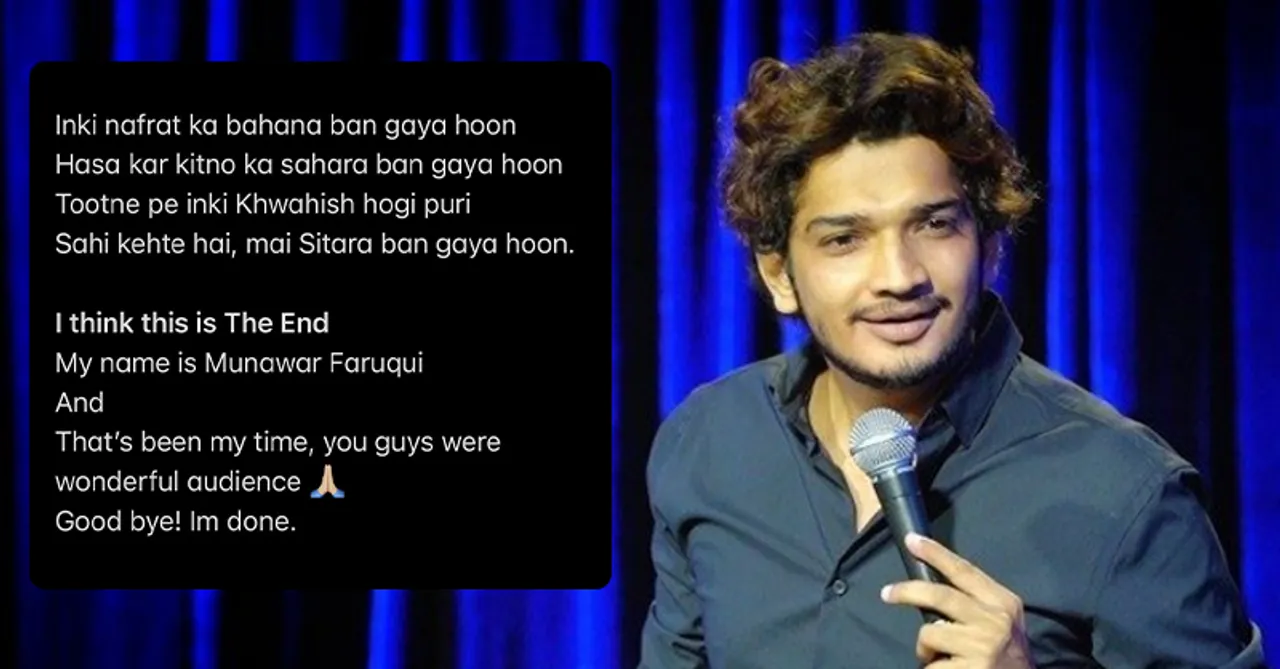 Munawar Faruqi was to perform in Bangalore yesterday before his show was called off.
A stand-up comedian from Gujarat, Munawar Faruqi was arrested in January 2021 during one of his shows after a complaint was filed against him for allegedly passing remarks about 'Hindu Gods and Goddesses' and Amit Shah. He ended up spending a month in jail for the same. Faruqi has been targeted ever since leading to shows being forced to cancel in Surat, Ahmedabad, Vadodara, Mumbai, Raipur in the past.
Munawar was to perform in Bangalore yesterday when his show that was a part of 'Dongri to Nowhere' was canceled after they received threats and the cops withdrew their permission. As per The Indian Express article, While the Deputy Commissioner of Police for the Central Bengaluru region refused to comment, Ashok Nagar Police Station in Central Bengaluru sent a letter to the organizers of the show on Saturday asking them to cancel the show.
The letter said, "It is learned that cases have been registered against him (Munawar Faruqui) in several states. There is credible information that several organizations oppose this standup comedy show and this could create chaos and disturb public peace and harmony which may further lead to law and order problems."
Taking to his social media, Faruqui penned down a note announcing his quit from the standup comedy, he said, "Nafrat jeet gayi, artist haar gaya (hate has won, the artist has lost). I'm done, goodbye. Injustice."
Here's what Munawar had to say about the same!
Nafrat jeet hai, Artist haar gaya.
Im done! Goodbye! INJUSTICE pic.twitter.com/la4xmaeQ0C

— munawar faruqui (@munawar0018) November 28, 2021
Stand-up comedians, celebrities, and the common man took to Twitter to put forth their two cents on this matter!
As an Artist, If I had 'Khan', 'Farooqui' or 'Kappan' as my surname, I would have had a different story altogether on Social Media.
I know I get that escape gate being a Hindu.

But, I always ensure that I utilise this privilege for Truth & Justice.

With You Bhai - @munawar0018

— Arpit Sharma (@iArpitSpeaks) November 28, 2021
Also.. it's heartbreaking & shameful how we as a society have allowed bullying and gaslighting to become normalised. I'm sorry Munawwar! 💔 https://t.co/lC3fcMHusE

— Swara Bhasker (@ReallySwara) November 28, 2021
Best times for comedy. #Munawar pic.twitter.com/xaC07tvMFX

— वरुण 🇮🇳 (@varungrover) November 28, 2021
12 shows of #MunawarFaruqui have been cancelled in 2 months because of the pressure and threats from majoritarian thugs.
Imagine the ways they have been trying to break this one man and end his career because he makes people laugh.
Such lowlife cowards ! Shame on you !

— Arfa Khanum Sherwani (@khanumarfa) November 28, 2021
All the journalists reaching out for a comment all I have to say is this.
🙏🏽🙏🏽🙏🏽 pic.twitter.com/ZrHlwlSfWn

— Kunal Kamra (@kunalkamra88) November 28, 2021
#MunawarFaruqui was jailed for a month for a joke he never said

Munawar can't perform though he has a censor certificate & SC allows him to work

These cops haven't caught one person behind Sulli Deals'. But are behind Munawar for no reason!

New India = Fascist Banana Republic

— Srivatsa (@srivatsayb) November 28, 2021
Instances like these raise the question of Freedom of Speech in comedy; how can one maintain the perfect balance between humor and offending someone's sentiment and when will the comedy or artist be seen above the discrimination on the basis of caste, religion, and more and bear the hate. Tell us your thoughts in the comments below!
Also Read: Here's what creators have to say about YouTube hiding the dislike count