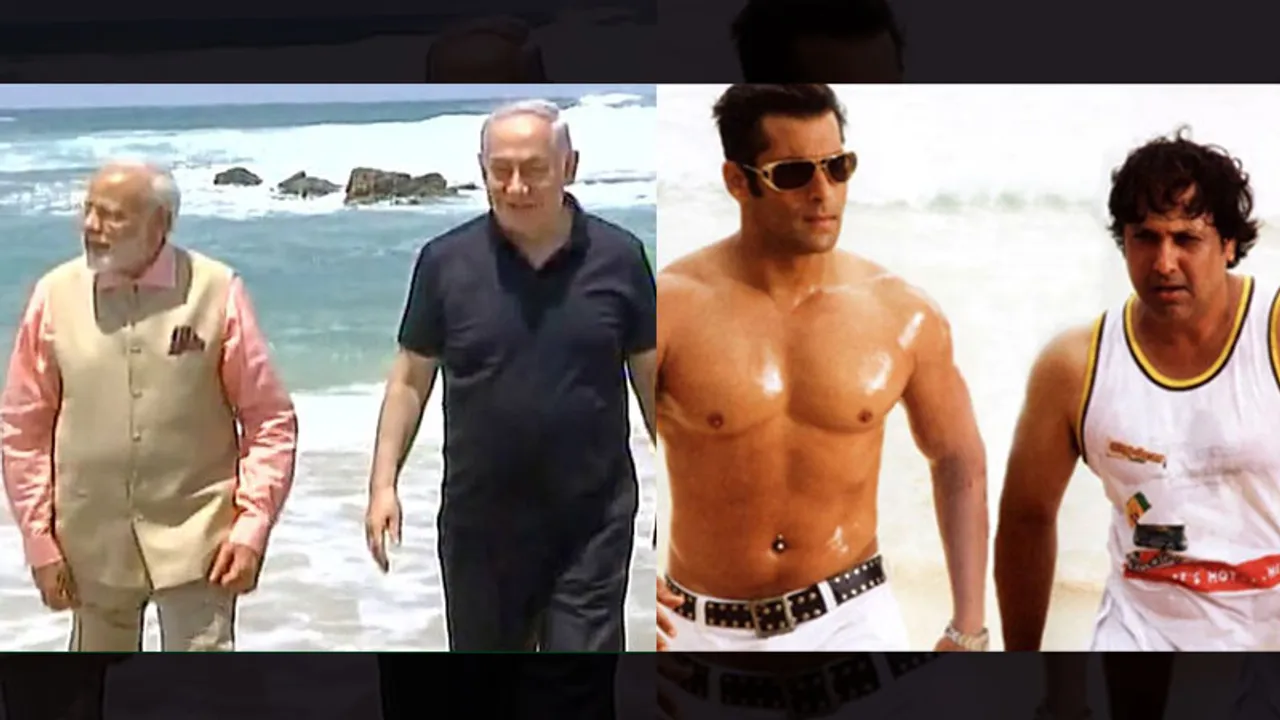 #NamoInIsrael. Not only that, in Israel on a beach with Netanyahu! And as you guessed, memes were on the way. Have fun!
Narendra Modi's Israel visit gave tweeps another chance to take a dig & roll out a wave of memes Ft Netanyahu. Some people did take offense, but that didn't stop the creative minds from making the beach visit viral.
Go through some of the best ones that won't stop you from chuckling! You have our word....
NaMoste Israel's Neta (nyahu)
Best comment I saw after #ModiInIsrael:
"Secularism ke mele mein bichde do bhai aaj mile" !! pic.twitter.com/wCNK6OpWgV

— Kiran Kumar S (@KiranKS) July 4, 2017
Let's take a dip in the sea of #NamoInIsrael memes
Israel PM Indian Pm And Indian CM all in one Picture #ModiInIsrael pic.twitter.com/QaqF3Ctirw

— तruna चोraria (@ChorariaTaruna) July 6, 2017
Netanyahu: Koi hum pe nazar rakh raha hai.....
Modi: Wahi Kejriwal hai, proof khoj raha hoga. pic.twitter.com/NkwaUKApwH

— Phd in Bakchodi (@Atheist_Krishna) July 6, 2017
Like every diplomatic writer, no comments
Close enough #ModiInIsrael #ModiIsraelVisit #IndiaIsraelFriendship #NetanyahuSpeaksToArnab pic.twitter.com/O1hRvIlGZ3

— Kunal Sehgal (@iambeingkunal) July 6, 2017
Behind the scenes ? #56inch pic.twitter.com/105kxbo8Ls

— Tempest (@ColdCigar) July 6, 2017
The road of this friendship has been smooooth AF
#ModiInIsrael
A series of events pic.twitter.com/mUfy0YPoxk

— अमित शर्मा (@_I_am_Amit) July 4, 2017
"Chal, bhool ja use dusri mil jayegi " pic.twitter.com/AgKfNkHbe4

— 007 (@James_Beyond) July 6, 2017
This only gets better with every Tweet!
And then I was like 'OMG AMIT. YOU CAN'T GET AWAY WITH THAT AND HE WAS ALL LIKE TOTALLY WATCH ME DO IT' pic.twitter.com/Yd3Fu39Ryd

— Sahil Shah (@SahilBulla) July 6, 2017
Aao Meena... Super Seena pic.twitter.com/QbJ1UvdjZj

— Godman Chikna (@Madan_Chikna) July 6, 2017
Trippy vacations be like….
This is great. #ModiInIsrael (from @Atimaharathi) pic.twitter.com/k0hHVJmZiV

— Dhruva Jaishankar (@d_jaishankar) July 4, 2017
Goa vacation be like.. pic.twitter.com/Q4VoKK8QaD

— Tempest (@ColdCigar) July 6, 2017
Na chode yaaariyannn ?
Aj blue hai
Aur din bhi
Ajao on the beach yara photo meri kheench
Phooti kismat hogi teri gar tu ne ye baat na mani pic.twitter.com/HjiKbfOYw7

— Imaan Sheikh (@sheikhimaan) July 6, 2017
Close Enough #ModiInIsrael pic.twitter.com/81AAwF9OA2

— Chicken Biryanii (@ChickenBiryanii) July 6, 2017
Silsila yeh chaahat ka na maine bujhne diya...oh piya...yeh diya...naa bujha hai...naa bujhega..meri chaahat ka diya.. pic.twitter.com/fHbTjdhciJ

— Zoombada... (@zoomphatak) July 6, 2017
Well, not all of us our blessed with such BFFS, you know who're the PM of another country and rich AF. Sigh!