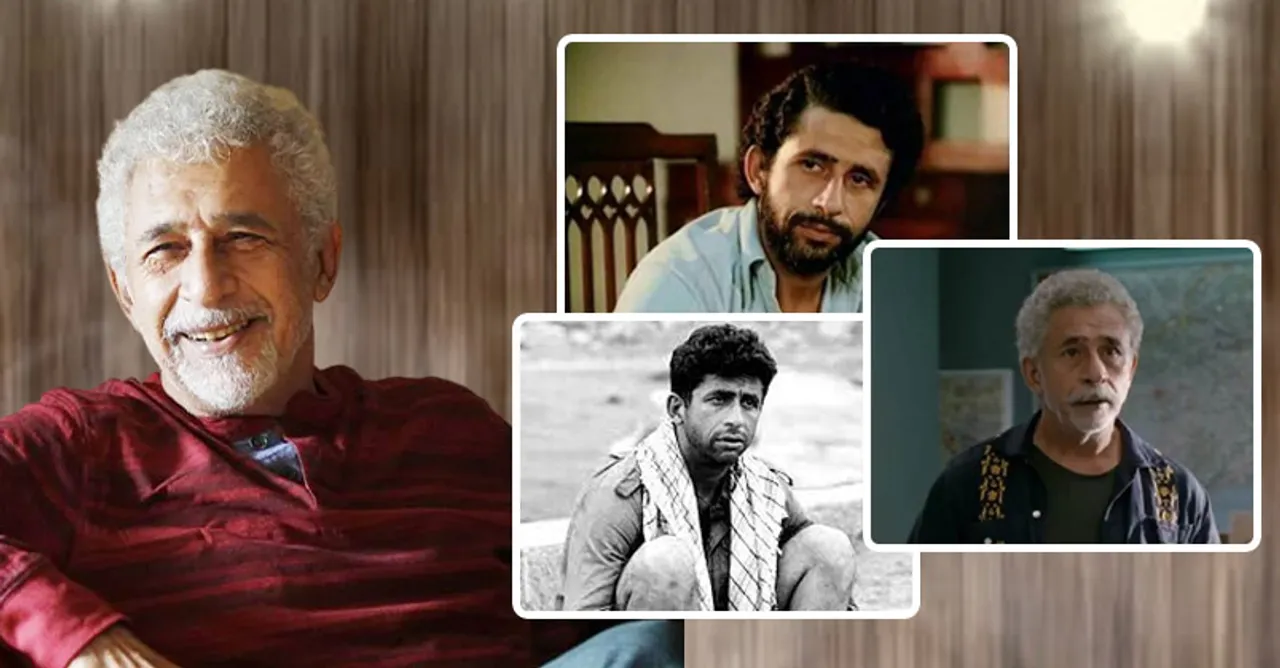 Picking out iconic roles of Naseeruddin Shah from his entire filmography is blasphemy in itself, but we are still attempting one to capture the pulse of his versatility!
Legendary actor Naseeruddin Shah turns 73 today, and his contribution to Indian cinema is vast and immeasurable. A career that has spanned almost 50 years, given how he's been active since 1972, he has portrayed innumerable memorable performances. The Padma Shri-Padman Bhushan award-winning actor is a highly notable industry personality who has also won three National awards. Majorly known for parallel cinema, he's one of the few actors who has helped bridge the gap between art house and commercial cinema. His filmography stems from working in films like Mandi, Bhumika, Jaane Bhi Do Yaaro, Mirch Masala, Ardh Satya to Ghulami, Vishwatma, Mohra, Chamatkar, to new era films like Iqbal, Maqbool, The Dirty Picture, Waiting, and much more! His filmography is vast, and his contribution is too valuable to cover it all. Hence keeping in mind his versatility as an actor, here are some of our picks that represent the many shades and moods of Naseeruddin Shah, the legend!
Mandi - As a single male part of a prostitute's home
In a film of 1983, Mandi depicts the trials and tribulations of prostitution as a profession in our male-dominated society, and Shah's character, Tungrus is the only male who is a part of this world from the inside. He depicts the plight of an abandoned boy who's taken refuge by Rukmini Bai who runs the brothel. He witnesses it all, does odd jobs around the house, and the girls yet aren't lustful at all. Directed by Shyam Bengal, this film is so rooted in the reality that it goes beyond being just a film!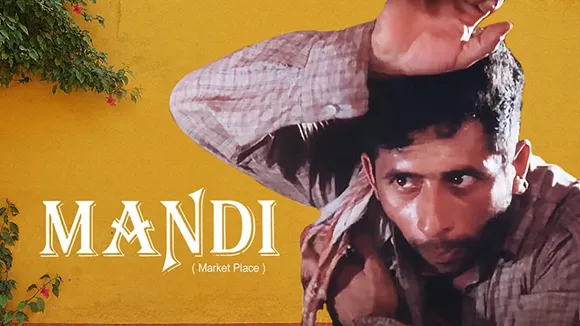 Ijaazat - A man torn apart in his duty and love
In Ijaazat, a 1987 film that explores the story of a separated couple that meet accidentally after a long time only to discover some truths about their lives that they didn't know, Shah plays the ex-husband, Mahendra. He's in love with his girlfriend Maya when he has to marry Sudha due to some circumstances. And while Mahendra and Sudha try to move on and find bliss in their marriage, Maya seems to always be in the picture. Directed by Gulzar, this film is conversational in nature and gives a full Dice Media's Little Things vibe!
Masoom - A dual nature of man, fatherhood, and husband
In Masoom, a 1983 film about a small kid, Rahul who is an illegitimate child as a result of Shah's character, DK's infidelity. DK and Indu are married with two daughters when he gets to know about Rahul after his mother dies. DK is torn between his feelings of fatherhood and husband as Indu finds it hard to accept Rahul. This Shekar Kapur's directorial debut is filled with the complicated relationship of a man as a father and a husband who has committed a mistake.
A Wednesday - A frustrated common man with a message
In A Wednesday, a 2008 thriller film about an unnamed man who terrorizes the entire city of Mumbai as he plants bombs at different places and in return asks for the freedom of some terrorists from the police. Directed by Neeraj Pandey, in this film, Shah's character is an unnamed common man who is frustrated as hell with the government, law, and order and takes the matter into his own hands and captures the pulse of the common man and the reality of a country.
Ishqiya and Finding Fanny - An age-old man who just has fallen in love
Ishqiya and Finding Fanny though completely different from each other, have one similarity - both of them have Naseeruddin Shah playing an age-old man who is irrevocably in love and wants to pursue it further. Both loves, though, are different from each other; one is a love that he found later in life, and the other is something that he found when he was still young but couldn't live up to it then, and now, after all these years, he wants to!
Monsoon Wedding, Gehraiyaan and ZNMD - Fatherhood and its many shades
In Monsoon Wedding, Shah in every real sense is seen as a troubled father who runs from here to there and is busy marrying away his daughter while a hurtful truth about what was happening in his family comes out. In Gehraiyaan, we see him as a non-judgemental and distant father who sacrificed and kept a secret hidden for the betterment of his family. In ZNMD his role as a witty and charming person but an unapologetic father who is true to his core is this most beautiful yet tragic depiction of the relationship between an abandoned son and his father. The various shades of fatherhood that he's depicted onscreen, nobody else has!
Bhumika, Maqbool, and 7 Khoon Maaf - Short roles but impactful ones
While there are actors who are legendary because they are heroes, Naseeruddin sir is one who lives and breathes acting and narratives. No role is big or small for him, it's just a role! In Bhumika, he essays the role of a director who comes into the life of this actress only to make her fall in love with him, but for him, she is just a muse. In Maqbool, he plays the role of one of the two corrupt police officers cum astrologers who open the film with the prediction of the rise and fall of Maqbool. Along with Om Puri, he's a perfect corrupt police officer that works the best of balancing forces with being actively involved in shaping events. In 7 Khoon Maaf, he is Doctor Modhu aka Allegory of Greed and one of the husbands of Priyanka Chopra's character, Susanna, who reluctantly marries him and kills him in the game of Russian Roulette before he kills her.
Bandish Bandits - Entering into a new era of filmmaking, web series
In Bandish Bandits, he entered into a new era of filmmaking i.e. web series on OTT platforms. He plays the role of Panditji, an exceptionally famous classical music artist and teacher to his student and grandson, Radhe. He's a strict, disciplined artist whose only dharam and pooja is music.
Rogan Josh and Half Full - Short films that shake your core
And it's not just films and shows that have the Naseeruddin Shah presence, even some short films that shake you to your core were graced by his acting prowess.
Since 1972, he has graced the screen and has given us wonderful performances and still continues to do so. Apart from onscreen acting, he's also a great enthusiast of theatre and time again and again performs on stage. While his roles always leave something with you, as a person and artist he never shies away from sharing his opinions on a matter at hand. He's one such actor who is an idol to many because of his innate love for acting, transcending everything which is depicted in his choices as well.
For more entertainment content follow us @socialketchupbinge