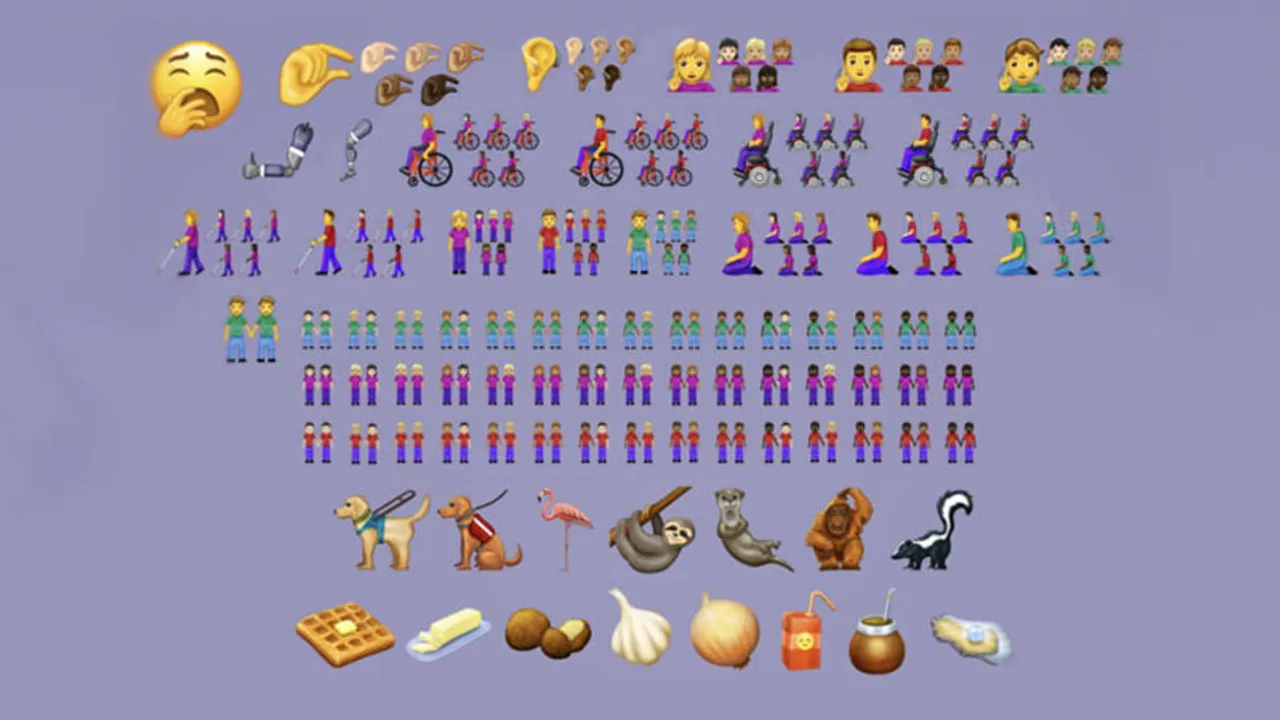 Its no secret that emoji's have been a part of social media to communicate your emotions, feelings with your loved one's. Soon consumers will be buzzing with new 230 emoji's which got released earlier.
So Unicode Consortium which is organization responsible for maintaining the global emoji standard, has finally released the list of emoji's for 2019 revealing 59 distinct new emojis; 75 when gender variations are taken into account; and 230 new emojis when all skin tone options are also included.
?? 230 new emojis coming to phones in 2019 https://t.co/40lHKWeBFj pic.twitter.com/GKGJvS1dJf

— Emojipedia ? (@Emojipedia) February 5, 2019
While new added emoji's are like service dog and guide dog, users can also utilize the ear with hearing aid, men/women in manual and motorized wheelchairs and men/women using probing canes. Not ignoring emoji's from same gender together to mix skin tone holding hand covering quite a sensitive topic.
Not forgetting to mention how "pinching gesture" is been trolled by twitter to use for small dick.
Excited for the "pinching hand" emoji #emoji12 pic.twitter.com/xd3mQnH9ah

— PGAG (@PGAG_PH) February 6, 2019
But out of all these emoji what grabbed our attention is the period emoji. The emoji itself is shaped like a drop, and unabashedly red in color. None of that sanitary napkins depicted with blue liquid mirage. It's big, bloody and real.
The arrival of the e-sticker follows the calls of more than 55,000 people for the introduction of a period emoji, which was led by global girl's rights charity Plan International UK, reports Vogue
We are thrilled to announce that we are actually getting a #PeriodEmoji!

It is through your support that we can now celebrate that the @unicode have announced that we will get our first ever #PeriodEmoji in March 2019 ?

Find out more here ▶https://t.co/dKd4WwEShX pic.twitter.com/CdyG5fapAx

— PlanInternational UK (@PlanUK) February 6, 2019
So guys think twice before you send a emoji to everyone in your phone list
✅ Approved in #emoji12: Mixed Skin Tone Support for Woman and Man Holding Hands (?) pic.twitter.com/jqJUqzLySb

— Emojipedia ? (@Emojipedia) February 6, 2019
✅ Approved in #emoji12: Mixed Skin Tone Support for Men Holding Hands (?) pic.twitter.com/APoF9en9Em

— Emojipedia ? (@Emojipedia) February 6, 2019
✅ Approved in #emoji12: Mixed Skin Tone Support for Women Holding Hands (?) pic.twitter.com/fbcfKmAiPa

— Emojipedia ? (@Emojipedia) February 6, 2019
✅ Approved in #emoji12: Deaf Man https://t.co/UKgIdSdSar pic.twitter.com/wgcx70xaTd

— Emojipedia ? (@Emojipedia) February 6, 2019
✅ Approved in #emoji12: Ear With Hearing Aid https://t.co/JVWXvLpsat pic.twitter.com/zRhowm9yj6

— Emojipedia ? (@Emojipedia) February 6, 2019
✅ Approved in #emoji12: Deaf Woman https://t.co/rcPDVKq1Yo pic.twitter.com/gYf9WLL5AN

— Emojipedia ? (@Emojipedia) February 6, 2019
✅ Approved in #emoji12: Man in Manual Wheelchair https://t.co/erWJrGIZyu pic.twitter.com/RwOB1eJeDr

— Emojipedia ? (@Emojipedia) February 6, 2019
✅ Approved in #emoji12: Man With Probing Cane https://t.co/07pUddbzeh pic.twitter.com/xCDLIIeFQB

— Emojipedia ? (@Emojipedia) February 5, 2019
✅ Approved in #emoji12: Woman in Motorized Wheelchair https://t.co/MndKZnooIM pic.twitter.com/lse8J1G8kF

— Emojipedia ? (@Emojipedia) February 6, 2019
✅ Approved in #emoji12: Man in Motorized Wheelchair https://t.co/8z7MfBJhtU pic.twitter.com/kLjRU31Fzm

— Emojipedia ? (@Emojipedia) February 6, 2019
Update: the wrong drop of blood image was shown in the previous version of this tweet. Here are the correct vendor previews for #emoji12 https://t.co/st1fxgOWmN pic.twitter.com/k2hUYmWHwP

— Emojipedia ? (@Emojipedia) February 5, 2019
✅ Approved in #emoji12: Pinching Hand https://t.co/g9P4Zdq7UW pic.twitter.com/WmNMSPa1dc

— Emojipedia ? (@Emojipedia) February 5, 2019
✅ Approved in #emoji12: Waffle https://t.co/g2AevaFec3 pic.twitter.com/WKR0pTaa84

— Emojipedia ? (@Emojipedia) February 6, 2019
✅ Approved in #emoji12: Drop of Blood https://t.co/ulSgmBVbex pic.twitter.com/15Sq9IFdAc

— Emojipedia ? (@Emojipedia) February 7, 2019
Which new emoji are you likely to use? Share your thoughts in comments