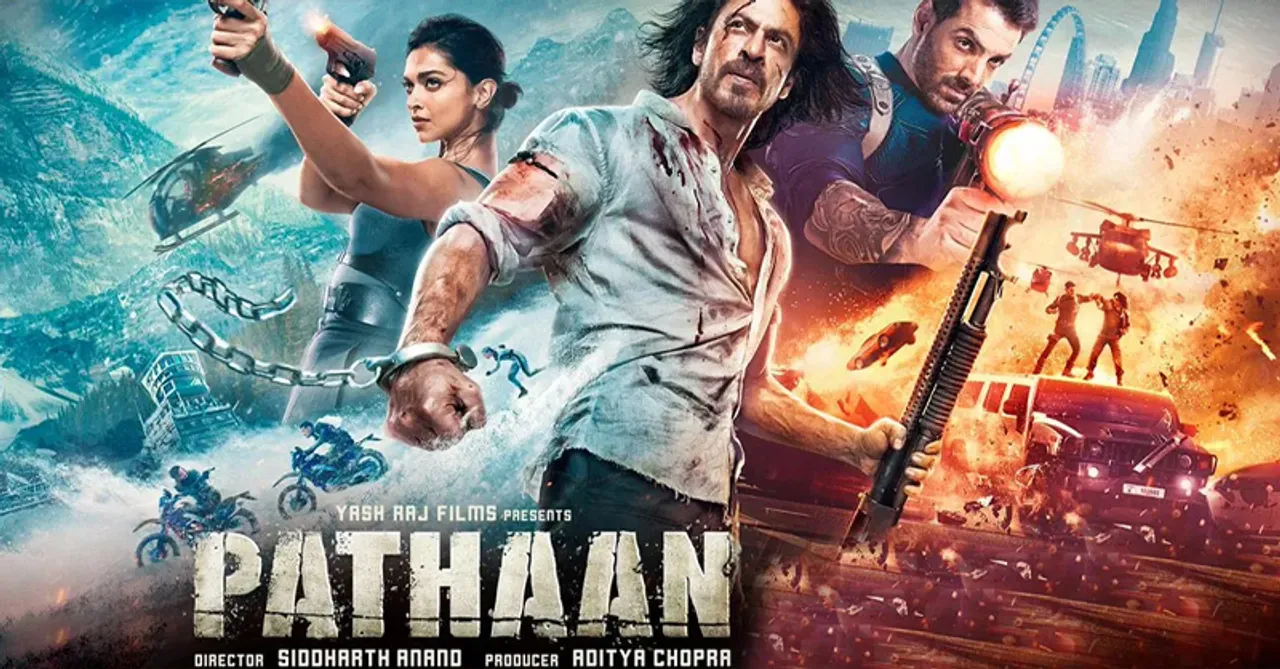 SRK was right when he said, "Kursi ki peti baandh lijiye." Pathaan is an unoriginal yet fun and exciting masala action movie that keeps you hooked.
King Khan is back, and how! Shah Rukh Khan's comeback "Pathaan" is numerous things- adventure, thrill, glamour, action, packed theatres, a celebration of SRK and Bollywood, especially in the face of rising boycott calls, and much more. However, it is most importantly a testimony that SRK is still here, our larger-than-life hero, still peddling dreams to many. It is a masala action movie done right, something Bollywood fans have been craving for quite some time.
When the Indian government repeals Article 370, Pakistan's General Qadir (Manish Wadhwa) asks ex-RAW soldier Jim (John Abraham), who now runs a private terrorist organization, to teach India a lesson. "Hindustan ko ghutno par lana hai," he says. Trying to stop Jim and save Bharat Maa is the ex-Indian soldier-turned-spy Pathaan (SRK). Joining him or rather calling him to her aid is Rubeena Mohseen or Rubai (Deepika Padukone), an Pakistani ISI soldier. Connecting these three is 'Raktbeej'. What is it? Where is it? Pathaan takes you on the journey. All the characters are cliché. Pathaan does cardio with metal plates inside his leg. Jim can send missiles to another country. Rubai skates on Serbia's Lake Baikal at the speed of light. They walk on buildings, fight on trains, jump from helicopters, and use machine guns like toys. "Where is the logic?" you might ask. However, the actors' finesse will give you the thrill that makes your question take a backseat.
Also Read: From slow motion action sequences to catchy songs, Varisu had it all according to the Janta!
Pathaan's first half is uninteresting and long. Dialogues like, "Kya dekh rahein hai? Cancer hai. Kisi khoobsurat khatoon ka Instagram nahi," and "Science is easy, love is hard," don't generate any laughs. The plot meanders from one country to another. The action scenes make the film look like a video game with exaggerated sound effects. Also, watching Pathaan in 4DX is a bad idea because it gets distracting with the chairs buzzing every second, even with Rubai's every dance move. They all look effortlessly sensual, but the glamour seems forced. SRK wears a jersey that only covers his belly while John roams around in white shorts. The most sexualized of them all is Deepika. This is perhaps the sexiest she has ever looked, and her confidence is infectious. However, the camera's male gaze is nauseating at times. And when SRK and Deepika come together(the pair that created history in Om Shanti Om), their chemistry seems forced at first.
The party truly begins during the second half. Perhaps the best part of Pathaan is Salman Khan's cameo bringing Tiger and Pathaan together. SRK is Pathaan's star, but Salman proves that no one can do action better than him. The two superstars fighting together on a train amidst the alps keep you joyously on the edge of your seat. It is also special since Salman's last few endeavors, like Dabbang 3 and Radhe, did not fare well, just like SRK's Zero. Deepika, too, emerges like a fireball in the second half. Her character gets more depth than just seducing men in the name of spying. John is not remarkable as a villain, but he delivers well. SRK is a treat throughout the movie, but the second half is where he shines. He has you rooting and cheering for him as he takes down the bad guys. He has you laughing and crying along with him. He becomes the mesmerizing SRK that fans have missed, the same SRK who can carry the weakest dialogues and plot with flair in his acting and charm in his eyes. The second half is also when dialogues get impressive in a believable manner.
The film has numerous illogical blunders and even a few vices. For instance, there is enough sexism. Pathaan and Jim have heroic entries while Rubai enters the movie dancing sexily. She constantly lures men to get her way. The plot is unoriginal. The film is full of violence which supposedly makes you look cool. People with villainous qualities, Colonel Luthra (Ashutosh Rana) and General Qadir, have a scar and Cancer, respectively, reinforcing the notion that disabled people are wicked. Pathaan uses the age-old trope of sacrificing women to motivate men to fight. However, Pathaan is distinguishable from other Bollywood action movies in its commitment to progressing in every area. Rubai's character is always one step behind the hero, but her character is quantitatively as well as qualitatively significant in the movie. Pathaan has better and improved action scenes. Romance gets an appropriate amount of footage with both the characters, especially Rubai, being individuals in their own right.
Most significantly, Pathaan brings a noteworthy commentary on religion in the current politically polarising atmosphere. Even during rising Islamophobia, SRK held on to his Muslim identity in the film. Even though the film need not talk about any social message, it gives one- that of not vilifying anyone based on religion or nationality. Instead of blaming religions or nations, the focus is on what turns people evil, implying that no one is born evil; circumstances shape people. However, naming the antagonist 'Jim' in a country where Christians are a minority doesn't seem like a bright idea. Pathaan has also impressed people by bringing a lot of fans to theatres. However, audiences turning to the theatres only for hyped visual delights or their favorite star's comeback might not be great for other smaller-budget movies.
Pathaan is imperfect, but it is progress. It is as responsible as it is fun, currently a rarity in Bollywood. Even if you are not an SRK or Yash Raj Films fan, Pathaan might turn you into one.
Pathaan is currently streaming in theatres.