Take a look at some of the people who went on to become viral memes and popular faces during previous IPL matches.
It's true, cricket is a magical game. You can never know what surprises the game can hold. What makes this game even more interesting is the fans who stay loyal support their favourite team. The Indian Premier League, IPL is one tournament that is nothing less than a celebration.
Apart from the interesting matches that we get to witness, there one thing that manages to makes news during the IPL, the fans. With social media becoming a major part of our lives one cannot imagine when someone might become famous. And the cameramen during these matches manage to capture and focus on some unique people who go on to become famous. There have been some such people who unknowingly became famous during IPL matches.
These are the people who became famous during the IPL:
Deepika Ghosh – The RCB Girl
Match:
RCB vs SRH on May 4, 2019
Who is she? 
Deepika Ghose is a stylist and as a dancer, teacher and an entrepreneur who rose to fame after she appeared frequently during the IPL match.
Prayer aunty
Match:
The finale of IPL 10, MI vs RPS 2017
Who is she? 
She is none other than the winning team, Mumbai Indians' owner Nita Ambani's mother Purnima Dalal who is also fondly known as 'Nani' and came to be referred to as the lucky charm!
Aditi Hundia
Match:
MI vs CSK, 2019
Who is she? 
Model and former Miss Diva Supranational, Aditi was spotted about the Mumbai Indian fans and became an instant hit from then.
Kavya Maran
Match:
Auction and Sunrise Hyderbad's matches
Who is she? 
Daughter of Kalanithi Maran and the owner of Sunrisers Hyderbad, Kavya soon became an internet sensation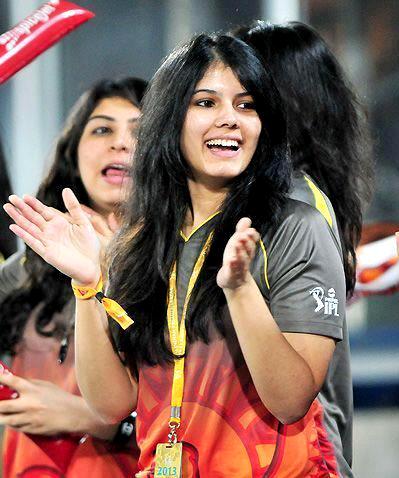 Madonna Tixeira
Who is she? 
Indian model and actress Madonna Tixeira was last seen in the Bollywood movie Direct Ishq back in 2016. She is the also the anchor of the KKR team.
Shivani Pathak
Match:
RCB vs CSK, 2018
Who is she? 
She is a medical student who made it to the screen and into IPL fans' mystery girl list.
Jhanavi Mehta
Who is she? 
Daughter of actress Juhi Chawal and the owner of KKR,  Jhanvi made people talk after she apppeared at the auction ceremony.