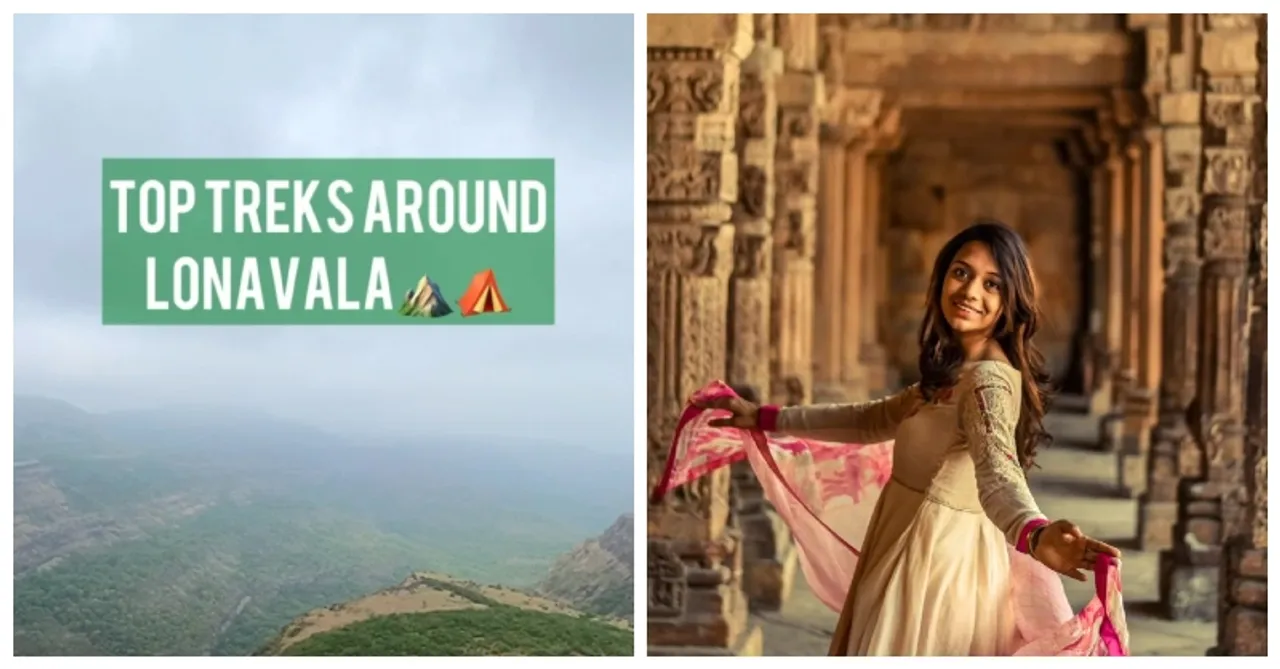 Sudha shares a travel blogger's guide on places to go trekking in Lonavala to relish in Mumbai monsoons.
There is no better time to explore the beauty that nature has to provide than monsoons. It is also the time when every Mumbaikar excitedly looks forward to the weekend so they can leave the hassles of the city to go be in the woods. Trekking becomes a huge part of our personality during this time of the year with nothing stopping us from posting these adventures on Instagram stories. Social media becomes all about waterfalls, mountain peaks, forts and everything green and fresh. While we have friends making plans for us, it is always nice to be able to contribute or even drop your suggestions on places to go trekking. Lonavala has always been everyone's favourite getaway spot and it has a bunch of places that trek lovers can visit. 
To help us out on finding the perfect places to go trekking in Lonavala, Indian travel influencer Sudha has made a list that one can refer to. From the cultural significance to the highlights of the place, she made a detailed list of why one should visit these places.
Here are some of her recommendations:
Korigad Fort: A perfect spot to enjoy a simple and perfect monsoon trek, Korigad (also called Koraigad, Koarigad or Kumwarigad) is a hill fort located about 20 km (12 mi) south of Lonavla in Pune district, Maharashtra, India. Its date of construction is not known but likely predates 1500. It is about 923 m above sea level. The interesting part of the fort is that its wall is completely intact and one can walk along its entire perimeter(about 2 km).
Kataldhar Falls: Kataldhar waterfall, though a beautiful place to hike is an offbeat route and one may not find a lot of trekkers on the way. The chances of getting lost in the dense jungle are fairly high even though there are ribbon markings on the trees to guide you. One should also watch out for the cairns (stones placed on top of one another) to guide you through the route. It's however recommended to take this trek with expert guides, as it's extremely easy to lose your way through these forests.
Lohagad Fort: Also known as Iron Fort, Lohagad Fort is located 70km from Pune and 100km from Mumbai in the Sahyadri mountain range near Lonavala in Maharashtra, India. With a rich history dating back to the 18th century, the fort has served as a strategic stronghold for various dynasties. Its impressive architecture includes sturdy walls, bastions, and intricate gateways, complemented by an extensive system of tanks and underground chambers. Visitors can enjoy trekking to the fort, taking in the breathtaking views from the Vinchu Kata ridge, exploring the nearby Bhaja Caves, and admiring the beauty of Pawna Lake. Lohagad Fort is easily accessible from Mumbai and Pune, making it a popular destination for history enthusiasts and adventure seekers alike.
Tikona Fort: Tikona meaning "triangular" otherwise also known as Vitandgad is the dominant hill fort in Maval in western India. It is located near Kamshet around 60 km from Pune. The village nearest to the fort is called Tikona-Peth. The 3500 ft high hill is pyramidal in shape and the name Tikona 
Dukes Nose: It's an ideal getaway from Mumbai or Pune for people looking for a one-day trip. There are two trekking routes to reach Nagphani, one is from Khandala railway station and the other is from Kurvande. The first route takes nearly 3-4 hours (around 6 km one way) while the second one takes 1.5 hours (2 km) to reach the top and is the easiest route. There is a *small temple* on the hilltop. Visitors can get amazing views of the Mumbai-Pune road and rail corridors, Khandala and the surrounding Sahyadri peaks.
Sudha who has been to a number of treks before also lists down the things one should take care of while going on treks. She suggests that people should wear full-sleeved T-shirts/shirts and full track pants to avoid any injuries from sharp thorns, bushes and attacks from mosquitoes and leeches. Being in nature requires us to also consider our safety and be respectful towards it.
The travel influencer realises the high that people want to experience while going on treks. For people who are truly there to explore she says, "I think if a person is really an explorer then they should avoid going on weekends. These places are now losing their charm and beauty because people are rushing there on weekends." She herself prefers to go early morning on weekdays.
Hope this list helps you plan a happy and safe trek with your friends!
For more content-creator-related news follow us on @socialketchup