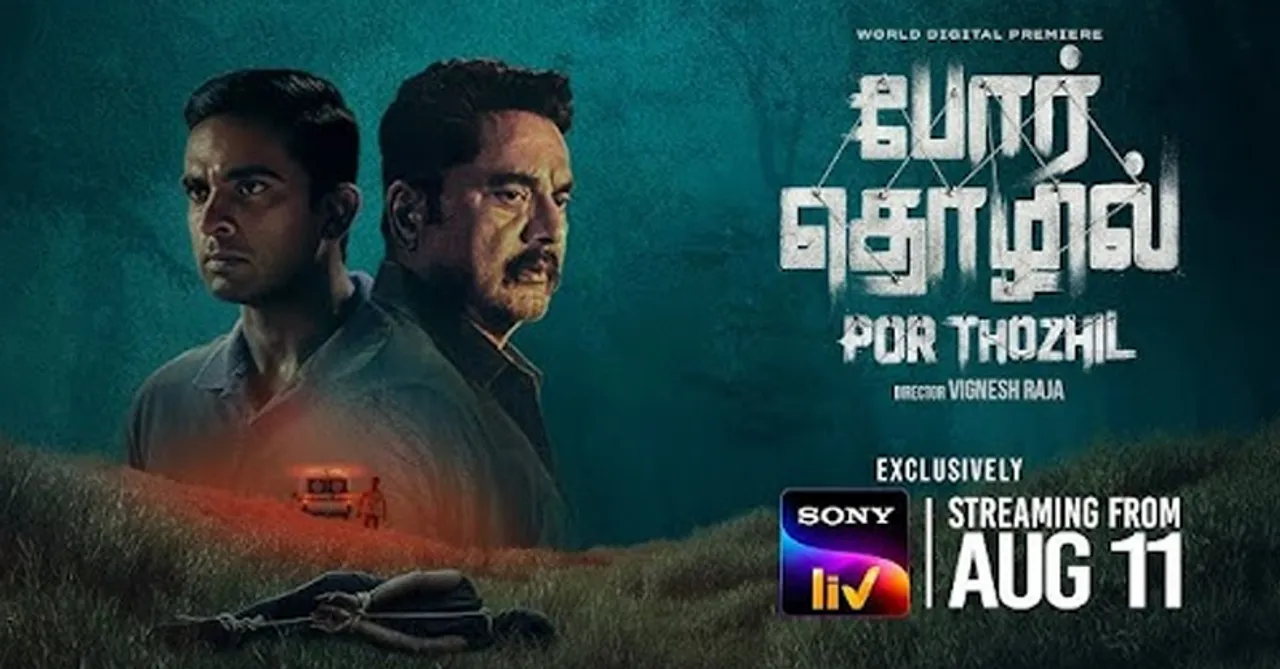 In our Por Thozhil review we talk about how the movie is a suspenseful whodunnit while also addressing issues of undealt trauma and abuse.
Por Thozhil review: DSP Prakash (Ashok Selvan) a newly appointed inspector is asked to work under SP Loganathan (Sarath Kumar) a strict yet veteran police officer who has his own ways of solving a crime and is definitely not interested in taking anyone under his wing. But the two are put together to catch a ruthless serial killer who has been killing young women in the same exact pattern. The number of increasing cases in the town of Trichy, Tamil Nadu, really starts worrying them and the two have to strategise to stop another woman from falling victim to his heinous crime. Prakash likes doing everything by the book, and Loganathan goes with his instincts and the experience he has gained so far. Will the combination of the two be able to find the killer before it's too late is what one might think the crux of a story like this would be. But it's so much more than that! It unfolds layer after layer and there are plot twists at every point that left me shocked and even surprised by the fact that it managed to prove me wrong given that one can easily tell what happens in movies like this. 
As Loganathan accurately explains the motive of the serial killer, it's not for money or sex. He is a psychopath and a sadist. He enjoys seeing life leaving the victim's soul through their eyes and the only motive really here is that he is trying to seek revenge on his past trauma or letting out the anger that he has on someone else. Digging deeper into the investigation, the cop duo also find out that these killings go way back to 1973 where these kinds of killings happened up until 1979 and then stopped and started again recently. The visuals of the victims are quite graphic and need trigger warnings as it might not be easy for everyone to fathom. We as an audience unravel every hint, evidence and information in the story along with the two cops which makes us feel just as part of it as they are. While hunting for the killer, as they learn new things in the plot it starts building tension and suspense and often leaves you with goosebumps.
The movie talks about how physical and mental abuse by a parent or a partner, if not dealt with at the right time can lead to severe mental health issues that indeed create these monsters in our society. Of course it in no way is justifying the killer's behaviour, it in fact tells you that hurt people don't have to choose hurting other people. They can seek help and we can do better. Toxic masculinity does not have to be passed down for generations to come. It does show you the backstory or the making of a serial killer as the flashback stories show you the psyche of a murderer and it's icky, eerie, sad and scary at the same time. And I say scary because certain parts of the film give you a very horror movie-like treatment which indeed works best to make this a spine chilling thriller. You feel like things are coming to an end but it throws curveballs at you till the last minute. 
Sarath Kumar and Ashok Selvan are the two characters that have maximum screen time in this film and through their acting they do justify why they deserved to helm this story. Production design in Tamil movies is always something that I have loved as it feels authentic and reminds me of my native home in Trichy. It's exactly like the houses there and because it feels too real, it adds to the feeling of us connecting to the story better as well. 
What I did not like though was how when they had Veena (Nikhila Vimal), a female cop on their team, she was barely utilised and even though her character is an MIT Cambridge graduate, she is often just mansplained about things by Prakash or Loganathan. Her character had so much more potential than just being a damsel in distress and that really wasn't explored given that the movie centres around saving women and living in a safer society. 
With a long duration and a few things in terms of story and the antagonist's melodramatic acting which could've been approached way better, Por Thozhil, directed by Vignesh Raja will still want you to flip the page till the climax to know who the killer is and why he really does what he does. I watched this movie while traveling home from work and even while stuck in Mumbai traffic, one of the scenes where you feel like someone is standing behind the protagonist, makes you feel a part of that scary room as well, which, at the end of the day, is a goal well achieved by a suspense thriller. 
Poz Thozhil is currently streaming on Sony LIV!
For more entertainment content follow us @socialketchupbinge