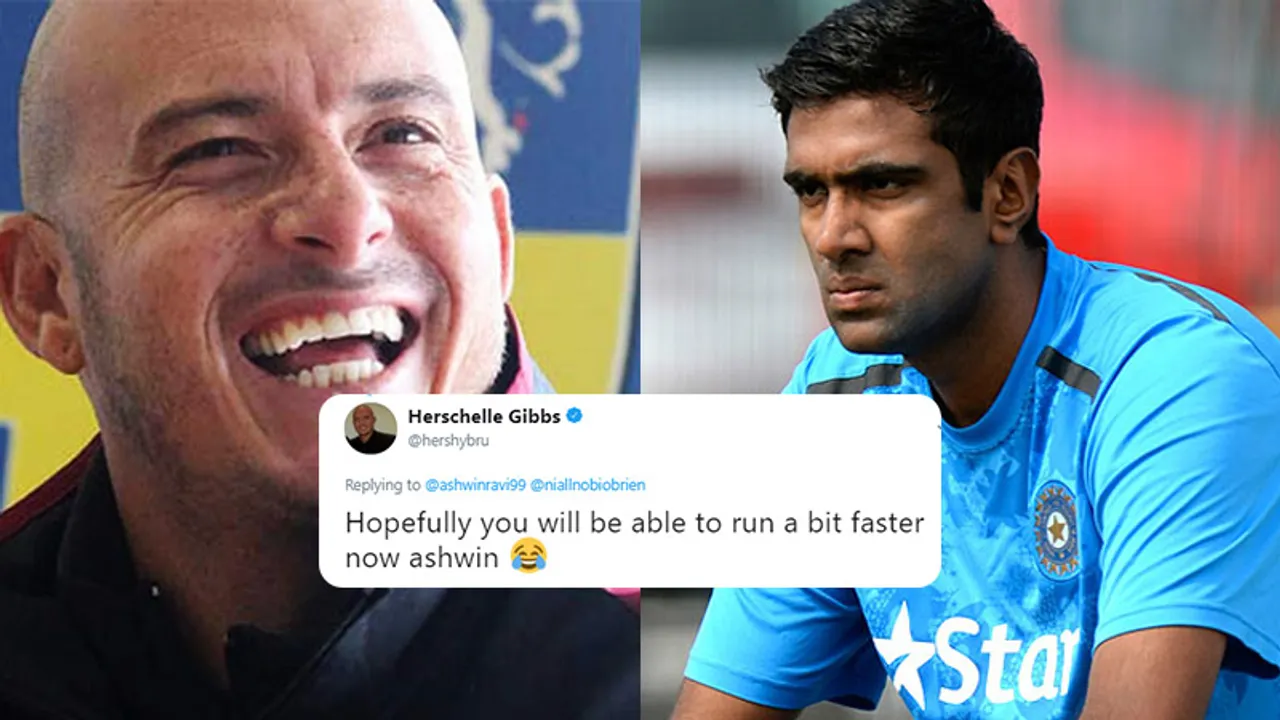 R Ashwin and Herschelle Gibbs, got involved in one of the most unlikeliest Twitter spats that I have ever witnessed and I don't know how I feel about this.
All was well as no trouble had brewed on Twitter for several hours, and just as I was wondering things were too calm, R Ashwin and Herschelle Gibbs just went right at each other as things escalated waaayyy beyond they should have.
So here's how it went down.
Hey Guys! Just got my hands on the new NIKE React. It's got a stunning design and the foam technology used makes it light and comfortable to use. Undoubtedly, the best running shoes I've stepped into, can't wait to flaunt them.
#NikeReact #InstantGo #teamNike pic.twitter.com/SmspLkw2dA

— Ashwin Ravichandran (@ashwinravi99) February 19, 2018
It was a routine marketing post by Ravichandran Ashwin's Twitter account for the brand that sponsors him. Nike's new pair of React, which uses foam technology and is super light and stuff, that is what Ashwin tweeted.
Now out of nowhere, Herschelle Gibbs popped up and replied to his tweet by taking a dig at Ashwin's running speed and boy did Ashwin hate that.
Hopefully you will be able to run a bit faster now ashwin ?

— Herschelle Gibbs (@hershybru) February 19, 2018
Not only did Ashwin reply, he literally brought a gun to a knife fight as he went straight for Herschelle Gibbs' match-fixing allegations and Twitter users were just standing there like this.
This is what Ashwin had to say.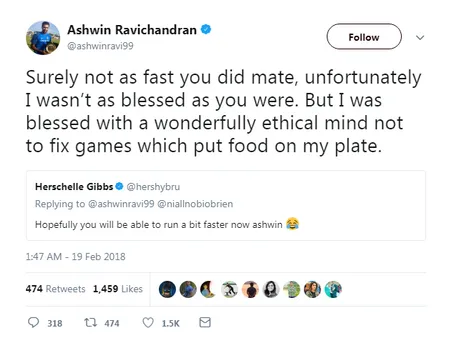 Ashwin appears to have deleted the tweet now.
Perhaps he understood the fact that it was too harsh and went just a little too far with the comeback which could have been graceful and sarcastic, and instead turned out to insulting and petty.
True, Gibbs and Ashwin have never played together and the banter was uncalled for, but Ashwin shouldn't have hit Reply on that one.