Red, White & Royal Blue is a fair attempt at being regal and queer, a story to be told, but it falls flat in its adaptation and exploring the story well, leading to disappointing progressive predictability!
Right queer representation is what we've been talking about for years now. But talking about it doesn't seem to make a difference as we are still lagging when it comes to the kind of stories that need to be told. After watching only a zillion queer stories, very few have shown the kind of representation and diversity that gets ignored in movies otherwise. And Red, White & Royal Blue isn't one of them! Though both, the book and the film are a refreshing start to initiating the conversation of the much needed tale of royal folks keeping their queerness under the wrap, we have miles to go before the tale reaches a million ears.

You're telling me that a story where a privileged white boy who isn't allowed to be gay because of his royal status eventually falls in love with another privileged boy, the son of the president of America, and this is a new age coming story? In the words of Taylor Swift, I think I have seen this film before and I definitely didn't like the ending! Based on the cult queer novel, with the same name, Red, White & Royal Blue, the movie unfortunately ends up being nothing short of just a rom-com with an enemies to lovers story as the plot line.
The movie deals with a love affair between Alex Claremont-Diaz (The Kissing Booth 2's Taylor Zakhar Perez), and Henry Fox-Mountchristen-Windsor (Cinderella's Nicholas Galitzine), the only problem being that they cannot openly accept their relationship in public except being good friends because of the upcoming elections in US and the royal restrictions in UK. When we think of a royal story, our minds go to palaces, unwanted chaperons and filthy rich characters. While Red, White & Royal Blue embodied, there was so much they could have done in the direction. The movie seems to be a good attempt at showing their true forbidden love. But the scenes seemed rushed leaving behind the nuances and expressions that lead to them being enemies, their friendship, Alex's self discovery, the lust and love of their relationship, how they navigate through their love amid political relations and media pressure.

The chemistry between Alex and Henry is to die for but if I just wanted to watch two hot guys falling in love, I'd probably watch TharnType. The political and media pressure coming in between their coming out story is a tale to be told several times to normalise conversations, but the treatment of the film reduced it to the wannabe regal drama.
As someone who read the book, I felt that the important characters that made the story strong have been left behind, like his sister June, who sacrificed her career to take care of her brother, didn't even get a mention in the story, and much of the US political system that was equally important in Alex's life was added in the story rather late, and his time at his political campaign also had the voice over of his and Henry's conversation that didn't do justice to Alex's character.
Also Read: 5 things you didn't know about queer friendships
While the story is not vey far from the novel, or from any cliché love story, but from a film based in 2023, the expectation is to only take the conversation ahead and not restrict it to a rom-com. RW&RB excels in breaking stereotypes like two masculine men being together and bisexual people deserving the love they always crave for. Fighting for love is a concept that is getting more and more green light in recent queer stories, and I am here for that. The major stereotype being "gay relationships don't always work out" is broken perfectly because gay relationships do work if there's love and like the classic saying goes - love is love, everyone deserves someone to love. And this time the gay relationship has to work out in a royal drama.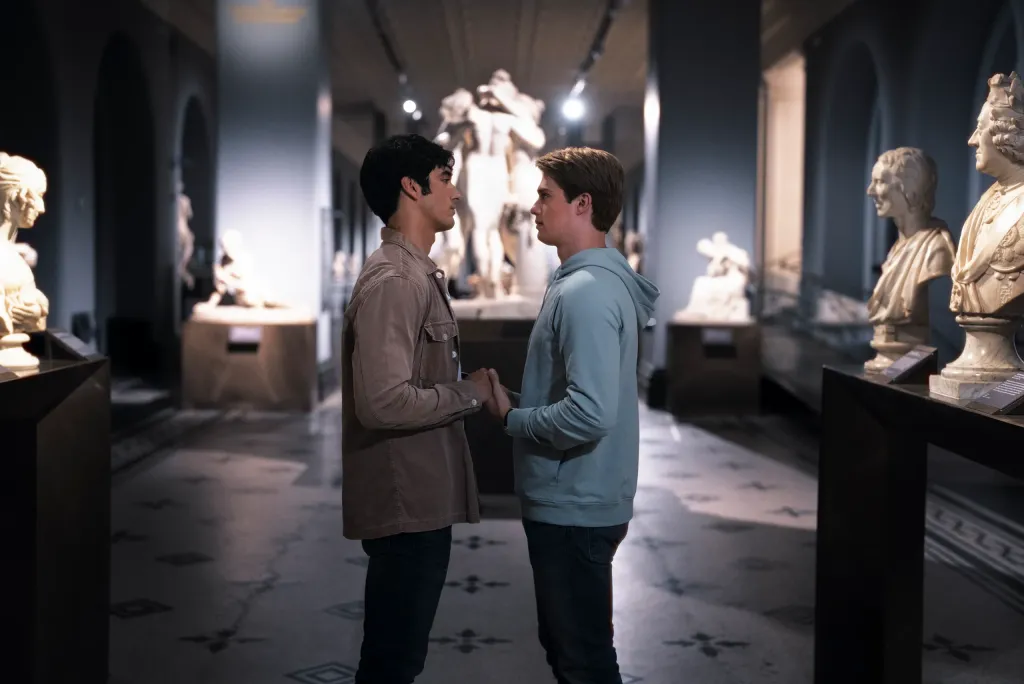 Music did wonders in this movie and directors' vision on visualising songs to the scene is bellissimo at its finest. Like when Henry takes Alex to his childhood escape and dances to, I Can't Help Fallin in Love really holds the moment in our heart, and then it starts to click that all along there was an invisible string tying us to them, and as the movie progresses it gets closer and closer.
Overall, I felt a little disappointed as someone who loved the novel, but didn't like the adaptation. Both novel and the movie Red, White & Royal Blue masters in breaking boundaries and stereotypes that are commonly used in/within the community. While this movie has been a nice representation for the queer folks, I can't help but think that we need more stories of queer elite representation to be told so that masses start to accept. But overall, it is a good addition to the queer films, but we still need more representation both in elite and non-elite sect of the society.

Red, White & Royal Blue is now streaming on Amazon Prime Video!

The review is co-authored by Mrinil Mathur Rajwani and Raj Naik.
For more binge reviews, follow us @socialketchupbinge.