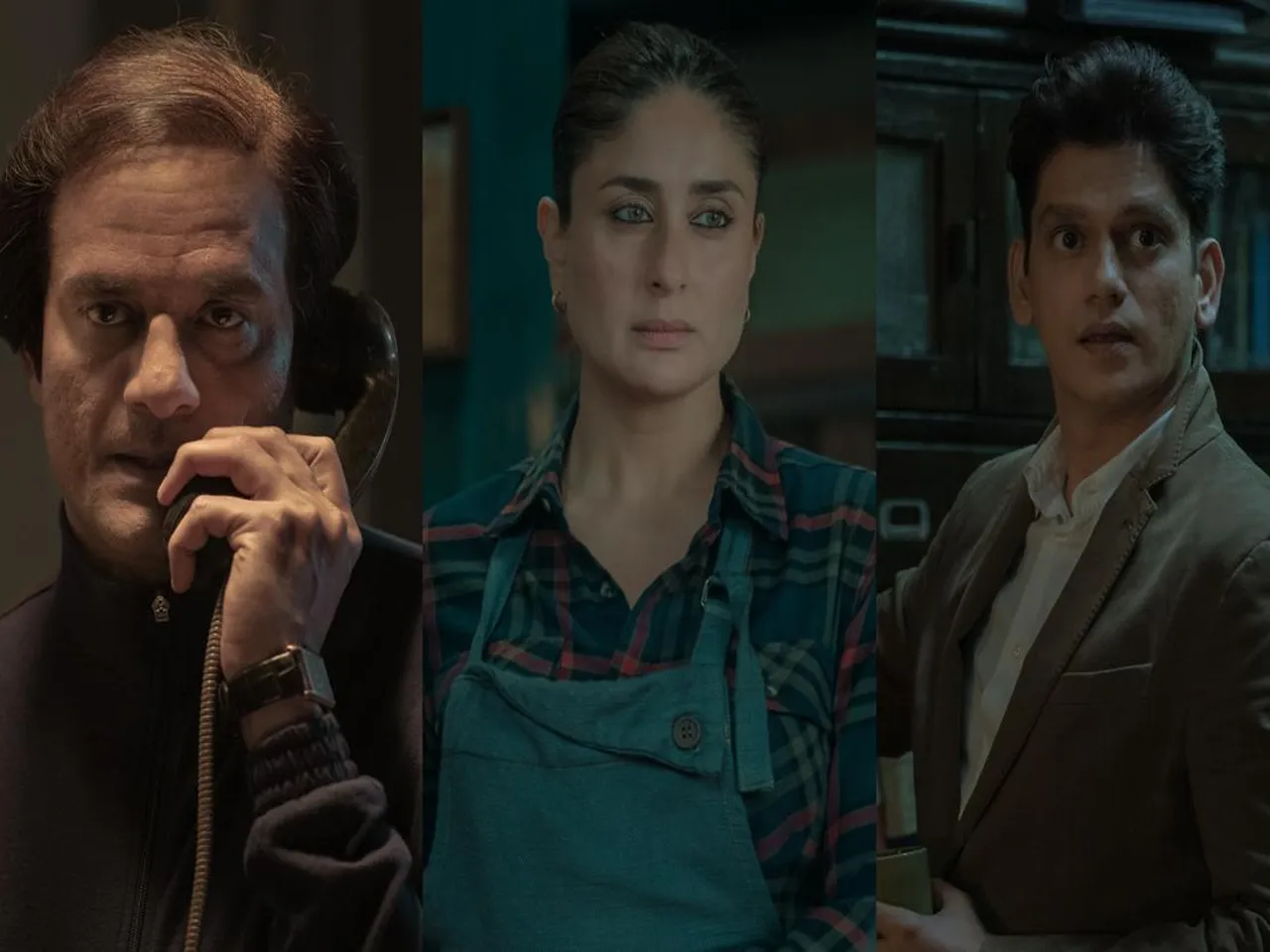 In our Jaane Jaan review, we talk about Kareena Kapoor Khan acing her OTT debut and her on-screen camaraderie with co-stars Jaideep Ahlatwat and Vijay Verma!
Jaane Jaan review: Adapted from Keigo Higashino's novel Devotion of Suspect X, Jaane Jaan is yet another mystery thriller by Sujoy Ghosh who has simply lucked out with an extremely talented cast this time around. The name of the film 'Jaane Jaan' comes from the 1969 cabaret song 'Aa Jaane Jaan' from Intaqam. The song connects to Kareena Kapoor's character in more ways than one if you think about it. The film is set in Kalimpong which is a hill town in the Himalayan foothills of West Bengal. The weather, the houses, and the town itself sets the tone of the film from the very beginning. It's spooky and there's barely any sunshine. 
And right in the middle of it lives Maya (Kareena Kapoor Khan), a single mother who resides with her 13 year old daughter, Tara (Naisha Khanna). She runs a cafe and wants to give her daughter the life she couldn't have. But when her long lost abusive husband, Ajit (Saurabh Sachdeva) somehow finds her after 14 years, she immediately knows chaos will follow her soon. When the two get into a ruffle, she ends up murdering him. This is when Naren (Jaideep Ahlawat), her neighbor, a respected math teacher of the town, and Maya's silent admirer enters the picture and decides to help her out with the aftermath of the murder. The two know there will be police sniffing around soon enough and they weren't wrong because police investigator Karan (Vijay Verma) who is in search of Maya's husband reaches Kalimpong all the way from Mumbai, where instead of finding Ajit, he now has to solve his murder mystery. To thicken the plot even more, Naren and Karan go way back since they went to the same college and while Karan feels great to see a familiar face in a suspicious town, Naren fully uses this to his advantage.
Also Read: Kareena Kapoor Khan and the versatility of her on-screen characters
Watching Jaane Jaan felt like I was one of the kids in a pied piper story. The cast was the pied piper who pulled me into this world with their solid craft. Kareena Kapoor Khan who has iconic characters like Poo from K3G and Geet from Jab We Met, is the same person who plays an intense Maya in Jaane Jaan. A worrisome face, tensed eyes and lines on her forehead were constantly seen and rightly so given that she's covering up a murder. Jaideep Ahlawat as Naren was one of the main highlights of this film. He is so believable as this genius Math teacher who calculates literally every move in his life and is one step ahead of everyone. He loves Maya and goes to her cafe everyday because that's his introverted way of expressing his feelings. Slight hints of a smile and a voice that never goes above a certain decibel, helps create this mystery around him. The fact that everyone calls him 'teacher' and not by his real name shows that he is more of a concept than a person. On the other hand, Vijay Verma was seen as the cop for once and not a monstrous antagonist like in Lust Stories 2 and Darlings. He brings his own easy going yet 'focused to catch a killer' attitude who gives Maya and Naren tough competition. The best part is how these two men look into her 'damsel in distress' eyes and forget about everything. Karan is often distracted by his lust for her and Naren is clearly ready to move heaven and hell to keep her safe. 
Kareena Kapoor Khan, one of the leading ladies of mainstream cinema joins the world of OTT which Vijay Verma and Jaideep Ahlawat are champions of and how they blend into the mainstream charm that she brings into this film gives us the best of both worlds. This chess game of team Karan vs team Maya-Naren out leading the other is what keeps you hooked throughout the film. There is a sequence in the film where Karan literally imagines all of Maya's alibis in his head and you go into that day along with him, but everytime she breaks the fourth wall and looks directly at him in this imagination, it's basically him trying to stop his sleazy thoughts about her, but as an audience, it's a bit scary to watch. Jaane Jaan really works on many jump scare moments that make you feel like you are with these characters and the mystery they are building. This is not a typical whodunnit where you unravel the murderer at the end. You already know the killer but it's how they will try to save themselves from getting caught that holds your attention.
But then comes the climax that dissolves the whole pied piper effect and you start seeing the film for what it is. There is a scene in the film where Naren plays a trick with one of his students everyday. It's basically keeping one fist on the other while Naren hides a coin in his palm and the student tries to take it from him when their fists exchange positions. The student loses every time and Naren tells him 'you're focusing on beating me rather than saving the coin' and ironically that's exactly what the ending is like. In an effort to beat the predictability factor, the film forgets to tie up the loose ends in the story which leaves us confused as an audience. Certain things just don't add up in the end and you just don't want to buy the whole story that is being cooked up as easily as Karan does. 
Jaane Jaan might not be one of Sujoy Ghosh's best works but you definitely cannot skip the film given the cast and it being a movie that totally passes the vibe check for an eerie weekend binge. 
Jaane Jaan is currently streaming on Netflix!
For more such content, follow us @socialketchupbinge.