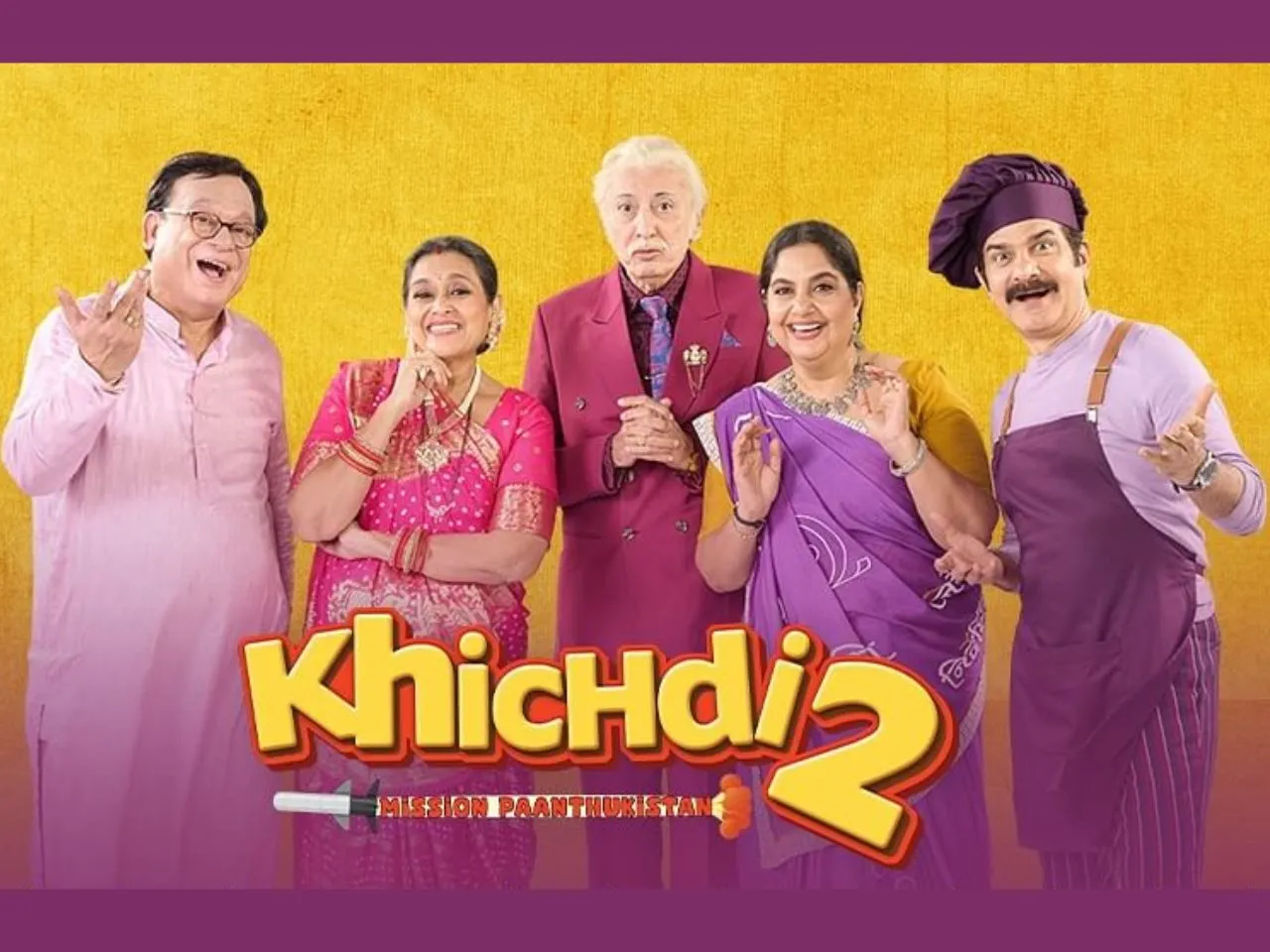 Khichdi 2: Mission Paanthukistan brings back the famous couple Praful and Hansa Parekh and their family, this time to save a nation from the clutches of a dictator. 
It's close to the end of 2023, and I am tired of watching action movies with politics and nationalism. Sure, this year gave us a lot of hits, and I'm grateful for that. However, too much of one genre can be tiring. Hence, I excitedly went to watch Khichdi 2: Mission Paanthukistan- the second film of the good old Khichdi universe. While Khichdi has incorporated politics too, it does so on a lighter note and brings you what it promises- laughter.
The brutal Shahenshah of Paanthukistan (Rajeev Mehta) has held an Indian scientist captive and ordered him to make a robot missile. Coincidentally, the iconic Praful Parekh (also Rajeev Mehta) looks exactly like the Shahenshah. Hence, the TIA, Thodi Intelligence Agency, hires the Parekh family, including Praful, Hansa (Supriya Pathak Kapur), Jayashree (Vandana Pathak), Bapuji (Anang Desai), and Himanshu Seth (Jamnadas Majethia) to go on a mission to free the scientist. The story is straightforward, and none of it makes sense. But isn't that what has always made us love Khichdi? The script might not be innovative, and the dialogues are hits and misses, but the real force of the film is its iconic characters, especially Hansa and Jayshree. All the characters, in fact, can take the most done-to-death jokes and orate them in a way that will have you shaking your head and laughing at the same time. 
Also Read: Tiger 3 Review: A Subpar Sequel Struggling to Roar Beyond Formulaic Tropes and Unexplored Potentials
However, there are a few problems in the Khichdi world too. While the jokes will make you chuckle, they don't have the strength of the earlier movie or series. There are two absolutely unnecessary and cringeworthy songs. And while the film preaches democracy and liberty, it comes off as Islamophobic. Its idea of a dystopian nation is Paanthukistan, a country whose setting looks like the stereotypical portrayal of Islamic countries, where the king has the Islamic title 'Shahenshah,' the queen is dressed like a Persian princess, her brother has the title of 'Wazir' and a stereotypical Arab tune plays every time the king enters the scene. 
Khichdi 2 has faltered in its politics and comedy alike. It is not better than its earlier versions. However, no matter how illogically, it still manages to retain its essence and entertain you. It makes you want to go back and binge-watch the old episodes or the good old nostalgia. 
Khichdi 2: Mission Paanthukistan is currently playing in theatres.