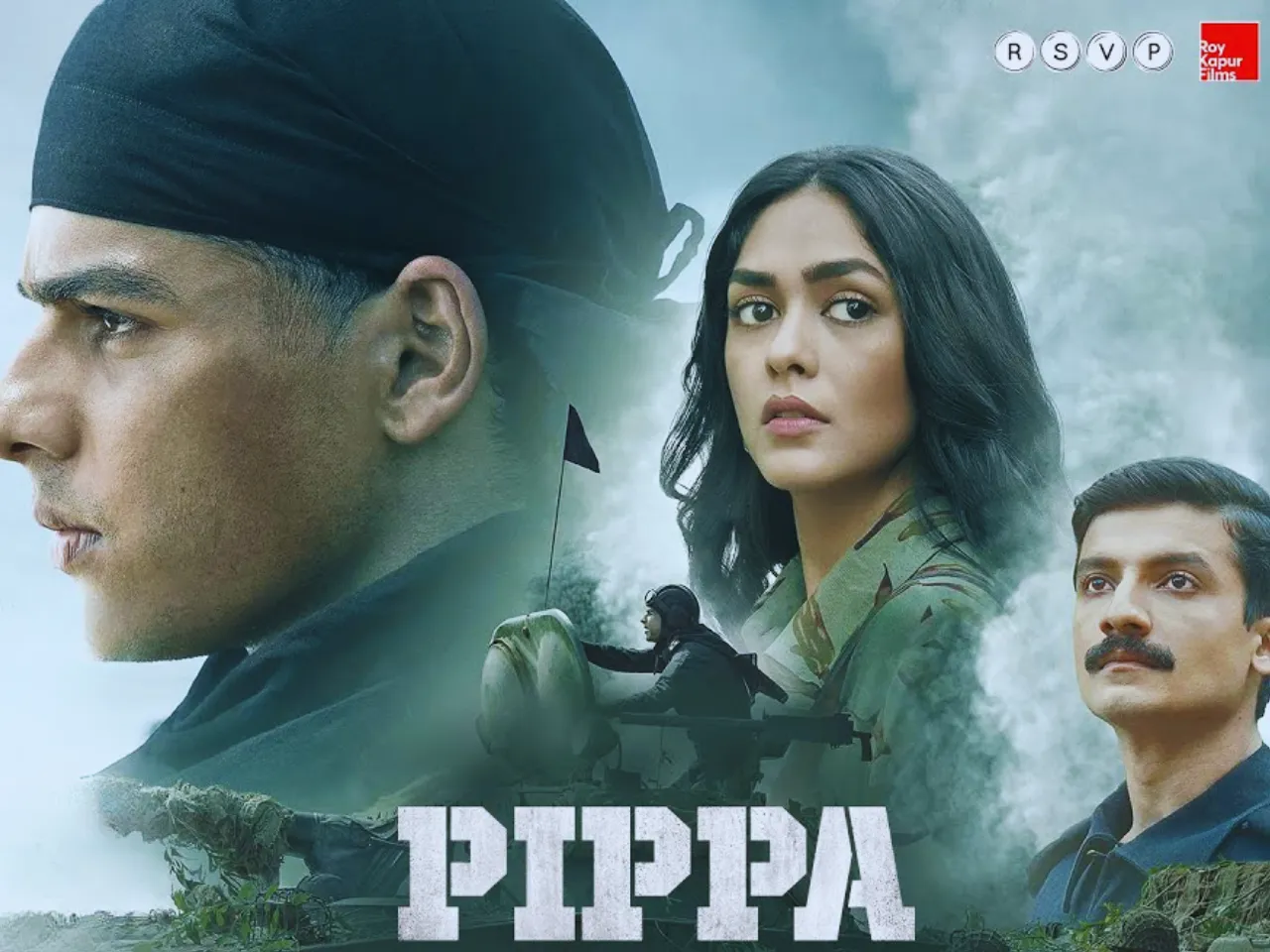 Pippa review: Starring Ishan Khatter, Priyanshu Pianyuli, and Mrunal Thakur in pivotal roles, this two-and-a-half-hour film is an uninspired war drama based on real facts! 
Pippa review: In a war drama, it's never just about the facts but how those are wrapped inside an emotional story to give you the feeling of nationalistic pride. Pippa is wrapped as a coming-of-age war drama where the Bengal Liberation War that led to the formation of Bangladesh parallels with Brigadier Balram Singh Mehta growing up. But the film neither does justice to his coming-of-age arc nor the war where India played a huge part in fighting to free another country. 
Directed by Raja Krishna Menon (Airlift), the film is an adaptation of a book by Brigadier Balram, The Burning Chaffees. With three points of view of the war provided by the three siblings, Balram (Ishan Khatter), the youngest and a mischievous man who is a part of the Indian Army in the 45 cavalry regiment and drives amphibian tankers (travel in water), belovedly called Pippa (in Punjabi: empty ghee can), his elder brother Ram (Priyanshu Pianyuli), a celebrated war hero turned undercover spy and his sister Radha (Mrunal Thakur), a medical student turned coder, a member of India's research and analysis wing, this film tells you the story of India helping liberate East Pakistan from the clutches of the West to finally become Bangladesh.
Strategically the film covers its ground on all fronts but the problem is the structure of the story. It opens with a history lesson as an animated backstory that suddenly shifts its gears to unanimated sequences of Bengalis protesting in East Pakistan being killed by Pakistani soldiers, and then suddenly moving towards Pippa tankers being tested in water in India. This sets the tone of the film where situations are all incidental with no sense of rhythm or rooted cultural context. All the muddled-up war sequences including the 1971 battle of Garibpur where Balram becomes a leader, Ram's interaction with the Bengali rebels as an undercover agent, Radha's stints with R&AW, or the emotional strenuous bond between the three siblings and their mother (Soni Razdan) fell completely flat. Even the death of the soldiers and the triumph of winning the war have no effect on you whatsoever. Instead, it feels silly because there is no proper build-up to any of it!
Irrespective of Balram's voice-over throughout the film, archival footage, and A R Rahman's background music which seems so not in sync with the emotionless craft of the sequences, the film neither instills a sense of pride nor registers its historic impact. The ode to refugees also feels like a footnote in the story because it's used as a decorated inconsequential distraction just like the Pippa tankers.
Pippa feels like taking a walk in a war museum while listening to the audio guide that gives you a lesson in history with no emotion, impact, or drama. I get that bravery has to be applauded, the valor and the sacrifice of our soldiers have to be recognised, and history has to be told but does our nationalistic pride have to be about stereotyping and villainizing a country? After all, war is complicated so why can't our films also show that? Leaving you with some food for thought!
Pippa is currently streaming on Amazon Prime Video! 
For more entertainment and updates, follow us on @socialketchupbinge