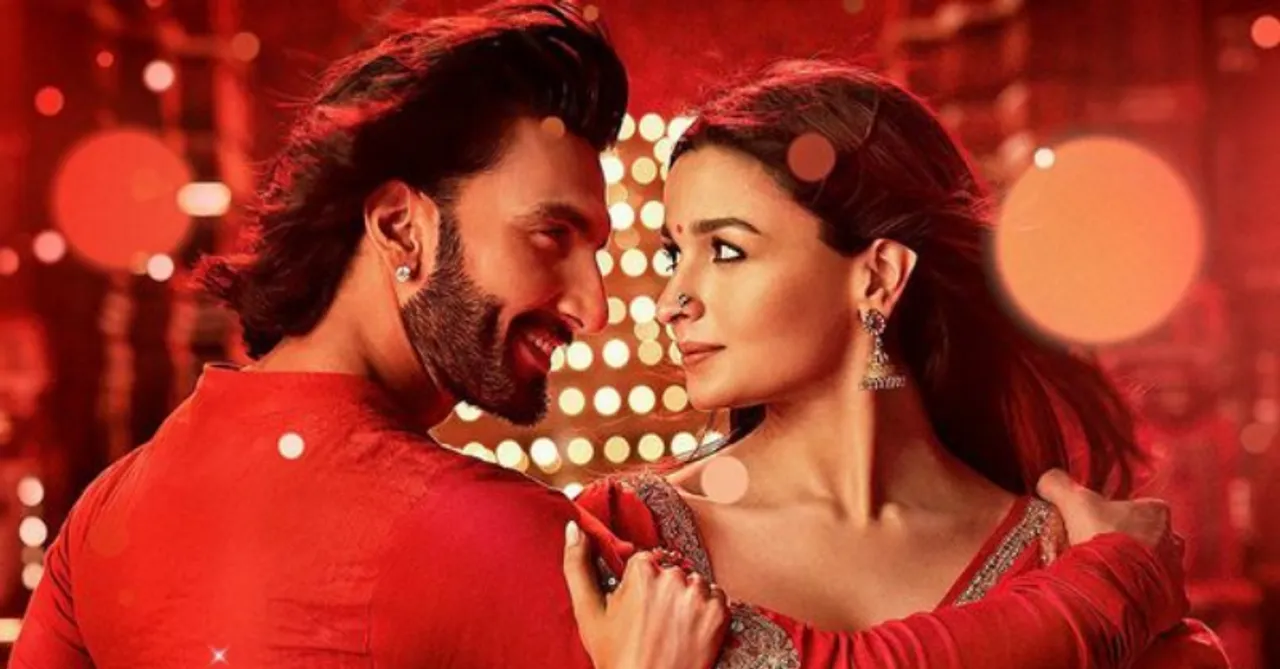 Rocky Aur Rani Kii Prem Kahani review: If pop culture references and powerful messaging came together and were draped with a magnanimous KJO-style Bollywood film, it would look like RARKPK!
Rocky Aur Rani Kii Prem Kahani review: Alia Bhatt, Ranveer Singh, and Karan Johar deliver all things Bollywood - romance, comedy, drama, and dher sara family entertainment in this one! It doesn't recreate that magic of Kabhi Khushi Kabhie Gham yet comes very close to it!
Above and beyond all the shine, glitter, and grandness of costumes, sets, locations, star power, music, and everything else, this film does have a beating heart. It tells you about how love is the only thing that conquers everything even khoon ke rishte bina Mohabbhat ke adhure hai! While staying true to familial roots, Johar teaches one other thing that we should love each other without letting in judgment as ye cancel culture ke chakkar mein we'll forget about how unlearning and learning is more important without which no one could get a chance to grow. The only thing is that you have to bear a little with the overpowering loudness of the film as the screenplay is oversimplified so the flashiness fills up the gap hence it takes time to get attached to the message. But hey it is a massy film aka commercial cinema that is made classy!
The first half in spite of its fun, frolic, flirtatious, and full of comedy tests your patience. Johar has confessed his love for old hindi filmo ke gaane but their interjection every two seconds makes it hard to jot it down. I get the idea that an older couple reuniting is depicted hence the collaboration with Saregama came to fruition but this much music only makes me feel that they took 'say it with a song' quite literally where it felt like nobody wanted to talk or say dialogues! And while I enjoyed the idea of chance romance in the olden days resurfacing but an intimate scene between Dharmendra and Shabana Azmi, kinda threw me off! Now, if anyone could create something like a fantasy land inspired by the real world and connect it to its issues of it, KJO would be a highly trustworthy person to do so! His world always exists in a different universe altogether with everything only existing for its namesake, whether it is Delhi or Alia as a TV journalist! But the irony of the film is that while it asks you to not to put people in boxes and stereotype them yet it itself takes leeway in doing that! Randhawas vs Chatterjee is a Bengali vs Punjabi done to a very stereotypical representation where it comes across as intellectualism vs regressive thoughts. Though this isn't bothersome, annoying, or nauseating as such and caters to the point that RRKPK is trying to keep.
So with this, the second half of the film finds a real hook and forms an emotional connection in all its drama and seriousness with one powerful hard-hitting message after another, from body shaming, repressing women to cancel culture, and the hypocrisy of so-called liberals! It's the time when these two decide to stay with each other's families for three months as shaddi ki gaddi ke front seat pe koi bhi ho gaddi to family hi chlati hai back seat se. Rani is a fiery strong bold Bengali girl who is a highly unapologetic and opinionated TV anchor, one who doesn't even let go of hypocritical politicians without schooling them. She has to live with a regressive traditional Punjabi family where change is hanikarak and in the name of respect everyone has forgotten that they have a spine. Then there's Rocky- a protein shake all-natural bodybuilder, West Delhi Punjabi party boy whose English is faulty, his visiting card is gold plated, he owns a Ferrari and in the name of culture, he knows that #BlackLivesMatter. He has to live with an overtly intellectually high, and culturally rich family where freedom of speech isn't an expression but a reality, and gender norms don't exist.
The cracks and the learnings through the culture shock are what make up for a good comedy and an enlightening drama where Rocky is made to understand that if he touches a bra, he won't get COVID-19 as women have been washing their husband's underwear since forever. And Rani liberates everyone from the shackles of patriarchy, even the matriarch of the family who got so busy teaching her son how to be a man that instead of giving him sanskar she only ended up giving him ahankar. Apart from Rocky and Rani's romance that started as a fling and led to full rebellious mode, they teach the biggest lesson of all to each other! Because if she helps him get exposed to a different world altogether which leads him to let go of his conditioning as a man, he also teaches her that we shouldn't ride so high on our moral and ideological horses that the rest of the world starts to seem somehow lesser!
This is the 25th anniversary year of Dharma Productions and KJO who is a massive fan of Yash Raj and old films and he's clearly decided to celebrate it with this film. As there is no point where he has not made a reference to his successful stints and what he is passionate about. From 'Rahul naam to suna hi hoga, keh diya na as keh diya' to that funeral scene in K3G. And as for pop culture references, there is no dearth of them either. The film practically borrows from everywhere but most importantly, it doesn't lose its own voice in the middle of it all! Some things though come down as downright preachy as this is not a film with an understated tone. Another strong effect of Dharma films is their music, and there is full use of it especially the background music. Even though it is not as impactful as K3G, KKHH or Ae Dil Hai Mushkil, it has substance. While Jhumka Gira, and Tum Kya Mile are missable in the film because of their placement but Dhindora and Ve Kamlaya hit the right mark with their revenge and aching hearts.
Even though Alia is not credited first yet I want to talk about her first because as Rani Chatterjee, she is the glue for me when the film feels like stretching it too far or drab. And for the love of god, you cannot take your eyes off Alia and how stunning she looks in each scene with dead-on-point expressions. Uff! Alia in Manish Malhotra's sarees literally over anything! Ranveer is the befittingly embodied flashy Rocky Randhawa who brings the element of comedy with his absurdities! His bare chiseled chest, wide-open neck shirt, and his so-called Poo-style entry almost make him a mimbo like Ken to Barbie until he isn't. Dharmendra reigns in this old-school elderly charm while Shabana Azmi and Jaya Bachchan are quite the contrast to each other. Both are the matriarchs of the family who didn't get the love that they deserved. While Azmi is sweet, and sounds like wisdom and poetry, Jaya is a mix of Amitabh Bachchan in K3G and Mohabbatein is toxic. Though I wish there was more to her character, I still liked how she isn't shown as redeemable. Aamir Bashir as this emotional son stuck with a patriarchal mother is definitely a scene stealer. Tota Roy Chaudhary as this Kathak dancer and liberated father who married Churni Ganguly (I had a hard time understanding her), a fun DU English professor, Anjali Anand and Kshitee Jog as Rocky's sister and mother hold their ground when it comes to it!
What started off a little on the wrong foot ended up being a heartwarming film with a powerful message at its hands! With the audience in my theatre ranging from children to adults who by the end were singing with the characters as compared to walking in and out of the theatre in the start is a win for the film! Rocky Aur Rani Kii Prem Kahani with a refreshing new take in a Bollywood stylistic packet of escapist family entertainers with emotional value! I wouldn't say that it is the epic Bollywood rom-com we deserved but it is definitely something that for a long time we were waiting for Bollywood to come up with! And with sincere hope, I genuinely wish that Rocky Aur Rani's wardrobe is made to be available to us!
Rocky Aur Rani Kii Prem Kahani is currently streaming in theatres!
For more binge-centric content and reviews, follow us on @socialketchupbinge.