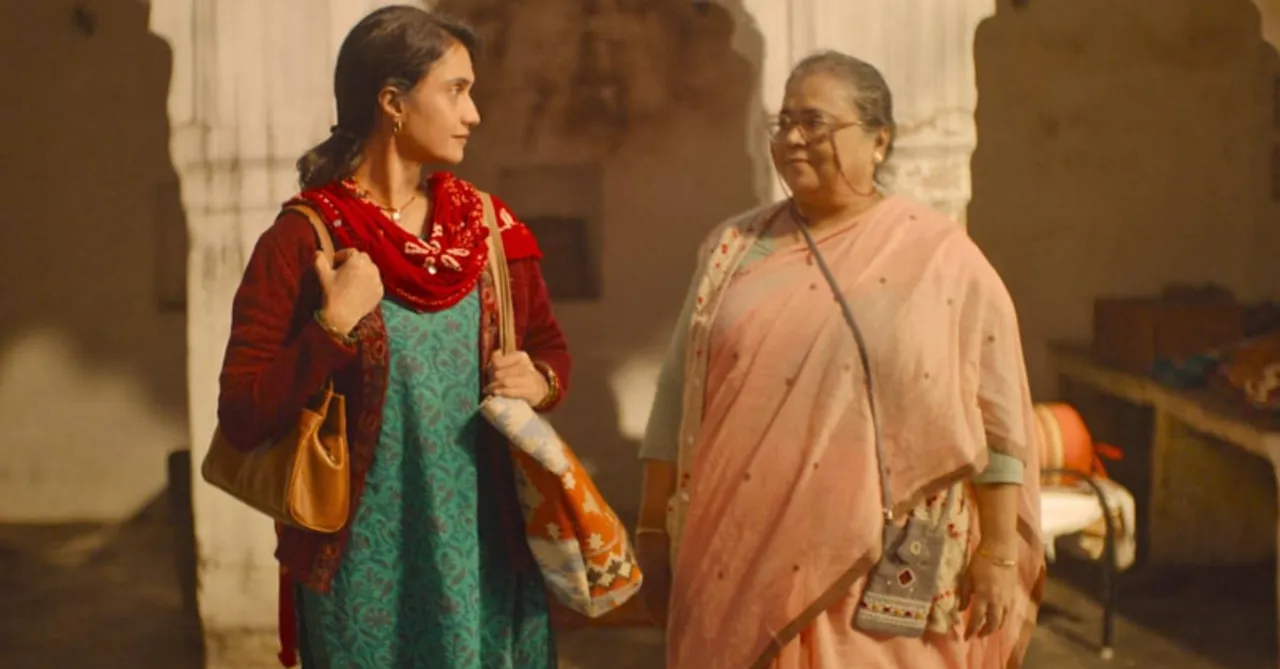 Another TVF production, Saas Bahu Achaar Pvt. Ltd. doesn't really feel like the usual TVF kinda content and is rather like a long dramatic musical with a strong premise but a flawed treatment.
The opening sequence of the show is so aesthetic that I got lost in it until my mom, who was watching this with me, asked about why she was wearing a sweater and if it was winter, how was she getting mangoes and that's when I realized that logic and reality was amiss. But that doesn't mean that you don't like watching what's being shown and that dilemma of liking Saas Bahu Achaar Pvt. Ltd while noticing the flaws carries out throughout the series. If TVF is known for anything, it's for being rooted in reality but somewhere in this series, that seems to be compromised for a dramatic tone. Saas Bahu is different from usual TVF productions, instead, it's more like a well-dressed, structured show whose emotional value point is raised by a kilo and realism cut by half, but it somehow manages to find balance on the scale.
It's a show about the struggle of an uneducated woman, Suman (Amruta Subhash) who is recently divorced and wants her two kids back to living with her so she goes on a mission to start her own achaar ka business with the help and support of her ex-mother-in-law, Amma (Yamini Das), and Shukla Ji (Anandeshwar Dwivedi). Suman's ex-husband, Dilip (Anup Soni) remarried Manisha (Anjana Sukhani) who takes care of her kid as well as Suman's kids while trying to understand and decipher the complicated man that Dilip is. Since it's a show made by the creators of Pitchers, every episode is a step into learning the art of making a business in a Karan Johar style. Each episode starts with a problem and by the end, it ends up being solved with enough emotional drama in the middle of it all while it's lifted up in spirits by the dhansu on-cue background music.
Directed by Apoorv Singh Karki, the show has caught the pulse of the gali-gali mauhala's of Old Delhi in kardkedar sardi. And this takes you through a nostalgic lane with going to school in a rickshaw, kids' schoolbags, photo albums, crazy shouting media anchors, door-to-door salespeople, and much more! And even though Saas Bahu is a step away from the usual paradigm of TVF because of the exploration of a sensitive matter tapping into seriousness, they still try to keep the innocent humor that's the core of TVF intact even if only in small quantity. But the flaw of the treatment is that it's heavily designed and dramatizes the premise that is otherwise so solid which drives away from keeping forth the reality and the long-lasting impact of the point. Though the effect isn't completely lost, it just suffers minor setbacks because of very easy resolutions. But with the cinematography, production design, and music, it shows an everyday woman, as simple and plain with all emotions that she has and goes through, who is neither Alia Bhatt nor Gangubai Kathiawadi and still becomes a heroine of SLB's films with a pinch of the dramatic flair mixed from Karan Johar.
It's clear that the women's power runs the show! Amruta Subash's face is one of a simple everyday woman, so much so that she reminded me of a family member who's going through something more or less similar. But it's her diligent acting as Suman, a sadharan si gharelu aurat who knows nothing of business or entrepreneurship but can go to any length for her children that wraps you up with the story. Yamini Das who plays this cute and sweet-looking but bold saas is a dhanshu support system for her ex-bahu and she adds that chatak flavor to the story. Anjana Sukhani perceptively performs Manisha, an empathetic and mature woman who understands and builds a strong relationship with Suman's daughter, Juhi which is so heartwarming to watch. Even the kids' arcs and performances are phenomenal; Juhi fighting for her mother to accepting and adjusting to her new reality, her brother, Rishu from being a sweet simple boy who has this stupid idea of running away from home, becoming an actor to taking to drugs, we get to witness it all!
All performances are endearing to watch including Anup Soni as a complicated man of society who is struggling to understand his roles, and Anandeshwar Dwivedi, the humor heart of the story who is a struggling entrepreneur that strikes luck with Suman Ji. It's the show's effective portrayal of characters being an extension of their circumstances rather than painting someone black or white that works wonders. And even while setting up an achaar business and kickstarting an entrepreneurial journey with just a pure-hearted intent might not be an easy one in real life, all of that happening in just 6 episodes is surely inspiring!
To be honest, I do sometimes crave drama with a heavy flair of dramatics that also makes sense. And on that scale, Saas Bahu Achaar scores very well but considering the magic that the TVF shows usually create, this show does seem to lack in that aspect. Nevertheless, this feel-good dramedy with all its easy resolutions provides hope and escapism to the bleak, dark world of lower middles class women who are struggling to stand on their feet but just can't find the courage. Just like the saas, this show is a strong believer and supporter of those bahu's out there who are figuring it all out alone, and sometimes a hopeful push is all one really needs! Sure it paints a dreamy world but is that so wrong once in a while?
The show is currently streaming on Zee5!
For more entertainment content follow us @socialketchupbinge