A lot has been said about Sanjay Leela Bhansali and Padmavati, his latest historical epic that revolves around three pivotal characters has led to protests, manhandling, property damage and ban threats. Today, the multiple award winning director took to social media to 'clarify' things.
The video posted on the film Padmavati's official Facebook handle, has Sanjay Leela Bhansali speaking to the people of India, for the first time about the entire fiasco that saw his shoots being disrupted, equipment destroyed, and even him being physically assaulted by the Rajput Karni Sena, a Rajasthani religious outfit.
The video has racked up more than 530k views since it was posted, 16 hours ago, with the film's cast helping Sanjay Leela Bhansali's voice reach millions by sharing the video through their social media handles.
Rumours around Padmavati have been circulating ever since the film went into production about a certain dream sequence which involves a romantic scene between Deepika Padukone and Ranveer Singh's characters, the highly revered Rani Padmavati, and Allauddin Khilji, historically enamoured by her beauty and villainously portrayed.
Social media has once again aided the film fraternity to speak up, and dispel rumours and other propaganda that is pushed in the name of nations and religious sentiments. Perhaps the safest medium of communication for Sanjay Leela Bhansali to reach millions of people, and express his side of the story, turning the tide of public sentiment into his favour.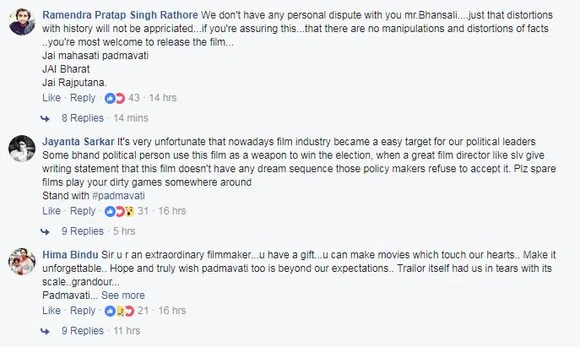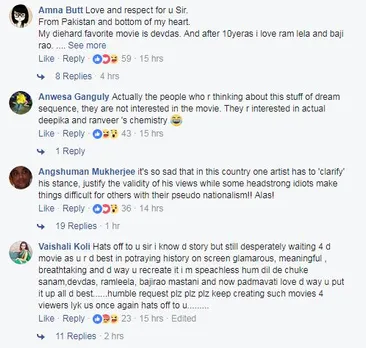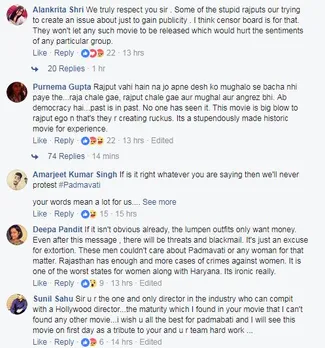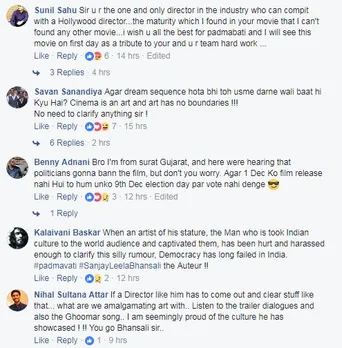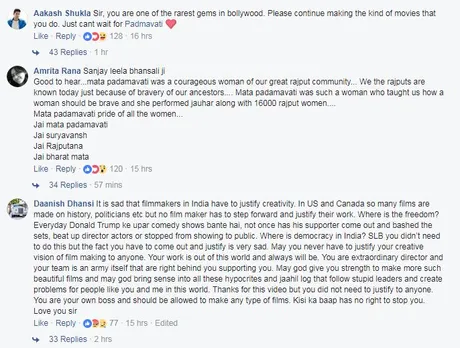 Politicians and anti social elements had previously taken the centre stage, condemning Sanjay Leela Bhansali and Padmavati the film for distorting history and disrespecting Rajput legends and figures. Although all the vandalism and mindless violence was incited and carried out withouth an ounce of proof, silence from the director had demonized him and his work even further.
By setting the record straight, Sanjay Leela Bhansali and Padmavati the film have begun to dig themselves out of the controversial hole they found themselves in for months. Public sentiment has reflected positivity with many social media users applauding the filmmaker for speaking up and many have expressed their support and admiration for the man.
Similar incidents had been previously witnessed in Bollywood in the recent past when Karan Johar's Ae Dil Hai Mushkil, and Shah Rukh Khan starrer Raees had landed in hot water for casting Pakistani actors.
The Uri attacks had fueled protests from multiple political factions that asked to ban Pakistani actors, and ban movies that cast Pakistani actors in them. Fawad Khan, and Mahira Khan were cast and worked in Ae Dil Hai Mushkil and Raees respectively, months before the unfortunate Uri attacks took place.
Fearing violence and financial losses, Karan Johar too had to speak up and clarify their side of the story, and pacify the irate political opportunists and common public.
Here is Karan Johar speaking to the people who had felt hurt and angered by his decision to case Fawad Khan in his film, for the release of which he had to donate 5 crore INR to the Army Welfare Fund.
Shah Rukh Khan had to visit Maharashtra Navnirman Sena chief Raj Thackeray at his home, and convince him to retract his protesting workers, reassuring Thackeray that Mahira Khan won't be promoting the film, and that he won't work with Pakistani actors in future. A man who holds no Government Office forced an artist to 'reassure' him and 'convince' him of things.
Siddharth Bhatia from The Wire had written a scathing piece on Bollywood and it's lack of a spine where he said, "This time round, Khan cut out the middle man and went straight to Thackeray, giving him not just a photo-op with a star – something that netas of all hues love – but also a chance to get into the headlines at a time when the crucial civic elections in the city are just a few months away."
Succumbing to threats of violence and huge monetary losses is only natural as no filmmaker intends to lose money or tank his career, although Sanjay Leela Bhansali appears to have braved the storm and cast away all aspersions just in time, not being forced to donate money, or apologize to and reassure any political mafiosos.