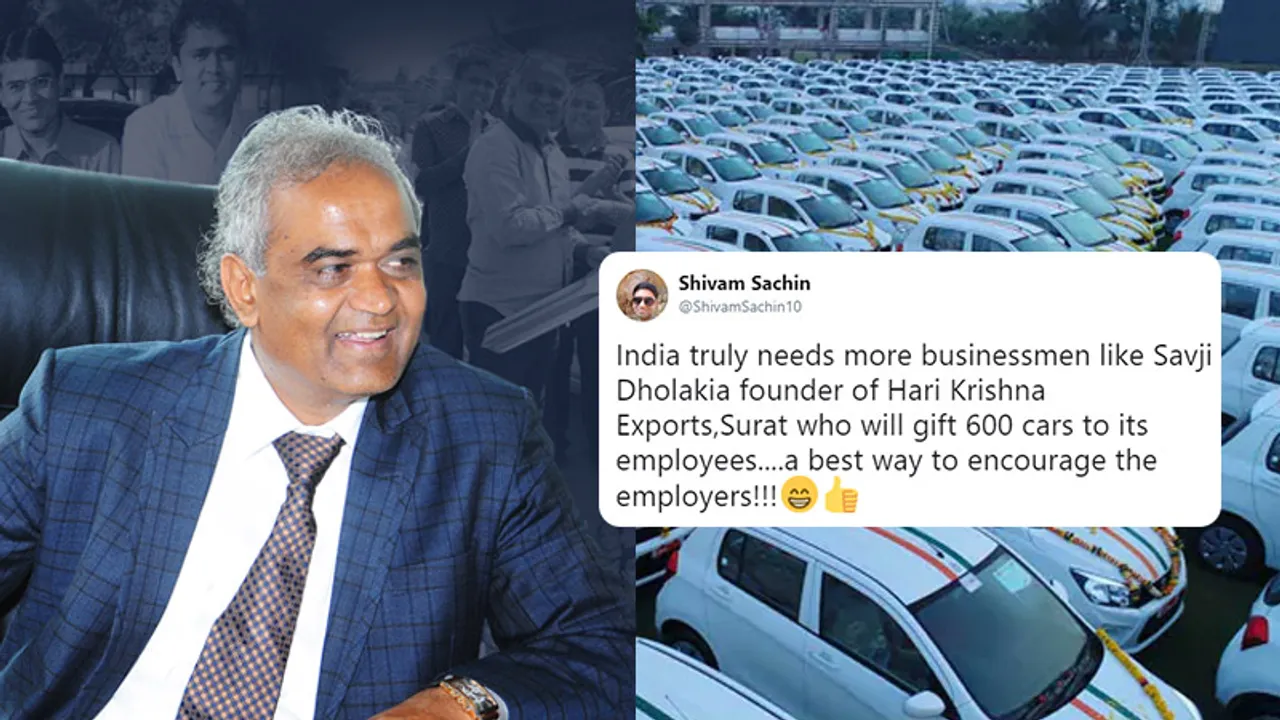 Surat's billionaire diamond merchant, Savji Dholakia, known to give out luxurious gifts to his employees on the occasion of Diwali is back!
On 25th October, the business tycoon gave out 600 cars to his employees as Diwali Bonus and our heads are reeling! The given out cars are Renault KWID and Maruti Suzuki Celerio, both of which cost up to Rs 4.4 lakhs and Rs 5.38 lakhs respectively. The bonuses are supposed to go out to approximately 1700 diamond artists and engineers.
Mr. Dholakia shared a post on Facebook regarding his Skill India Incentive Ceremony 2018 where PM Narendra Modi gave his blessing via live video conferencing.

This is not the first time the billionaire is seen to be generous though. In 2016, Mr Dholakia gifted 400 flats and 1,260 cars as Diwali bonus to his employees; in 2015, 491 cars and 200 flats were handed out as gifts. He skipped the tradition last year but is back with a bang this year!
Twitter was full of love and appreciation for him and didn't shy away from expressing it. Check it out:
India truly needs more businessmen like Savji Dholakia founder of Hari Krishna Exports,Surat who will gift 600 cars to its employees....a best way to encourage the employers!!!??

— Shivam Sachin (@ShivamSachin10) October 26, 2018
I congralute Shri @SavjiDholakia on occasion of #SkillIndiaInitiativeCeremony at Hari Krishna Exports Pvt. Ltd.
My heartfelt wishes are always with you. #entrepreneurlife #entrepreneur #narendramodi pic.twitter.com/qsOvi2UY8S

— Uttam Trasadiya (@uttam_trasadiya) October 25, 2018
#Surat-based billionaire #Diamond merchant Savji Dholakia is yet again in news for his too-good-to-be-true #Diwali gifts 600 Car To #employers

— S@NTOSH (@SANTOSHSAHU1990) October 25, 2018
Undoubtedly, a highly commendable gesture by the wealthy businessman, Mr Savji Dholakia!

The employees of every successful enterprise, of every profiting Institution, or of every happily growing group/family deserve respect and appreciation from... https://t.co/f7bHV7ERZZ

— Neer Nayan (@neeronly) October 26, 2018
Yet Again Surat Based Diamond Merchant Savji Dholakia Gifted Around 600 Cars, Flats, Fixed Deposits To His Employees As Diwali Gift.

Bhagwaan Aise Boss Sabko De ??? pic.twitter.com/dfzgT63L16

— Sir Ravindra Jadeja (@SirJadeja) October 25, 2018
#Gujarat #HappyDiwali ?
Surat based diamond merchant Savji Dholakia today gifted around 600 cars to his employees as Diwali gift. PM @narendramodi also attended it via video conferencing. pic.twitter.com/6Sfu2aYfgg

— DINESH CHAWLA (@dinesh_chawla) October 25, 2018
Diamond King Of Surat @SavjiDholakia gives Car As Diwali Gift To 600 Employees. Total 1700 Employees To get Incentives in form of House, Car & Jewellery. pic.twitter.com/IyqSLGJEbQ

— Arun Sharma (@ArunSharmaLive) October 25, 2018
@SavjiDholakia @hkdiamonds@DravyaDholakia@gddholakia

Sir @SavjiDholakia You are just Great ?
I wish everyone have Boss like You

We don't have any good companies or industries here in BHAVNAGAR GUJARAT

i wish 1 day sir me be You will like to start New venture in Bhavnagar pic.twitter.com/YVLtJNdjGk

— Rajveer (@RkRajveer) October 25, 2018
Don't you suddenly wish you had a billionaire generous boss? Also, this is what keeps humanity going!