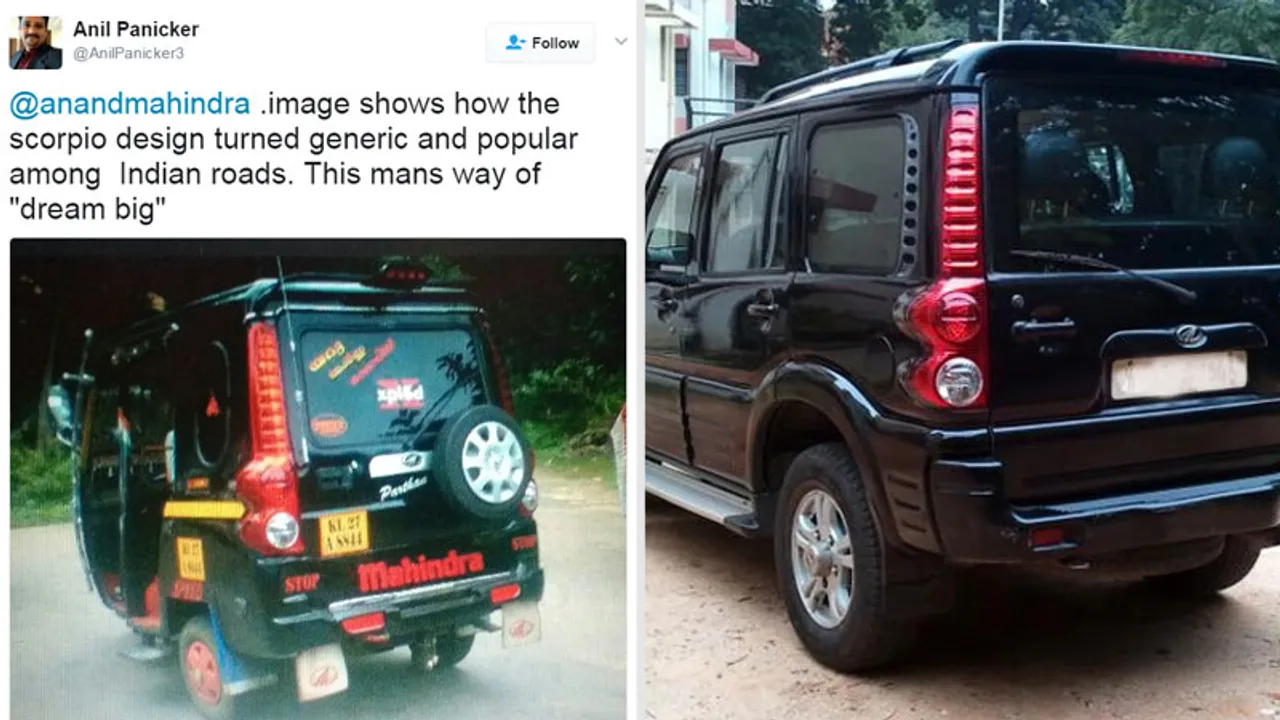 How many times can a tweet get you a four-wheeler? Twitter, as we perceive is an unusual portal, where the world connecting under one roof has millions of stories, incidences and conversations unfolding each day. Today an incident occurred with Anand Mahindra, the chairman and managing director of Mahindra Group and Twitter can't get over it.
It all began with one tweet, when a person named Anil Panicker spotted a distinct auto rickshaw which had the exact design of the Mahindra Scorpio from the back and shared that picture on Twitter by tagging Anand Mahindra in it.
@anandmahindra .image shows how the scorpio design turned generic and popular among Indian roads. This mans way of "dream big" pic.twitter.com/jMoJiB5gGs

— Anil Panicker (@AnilPanicker3) March 19, 2017
Fortunately, in the cluster, Mahindra noticed this tweet and in fact was impressed by this innovative vehicle so much so that he requested Panicker to help him locate the owner of this auto to buy it for his museum and in return give him a four wheeler.
Iconic. A way to 'Rise.' Thanks for sharing this.Can you help locate him? I'd like to buy it for our museum & give him 4 wheels in return.. https://t.co/uwQ5wYcDpW

— anand mahindra (@anandmahindra) March 19, 2017

Keeping Twitteratis updated of this anecdote, Mahindra shared a tweet saying that they had finally located the man and acquired his auto in return of a car. Later, sharing a picture together
Remember this request?Our team managed to locate him! And we acquired the 3 wheeler from him..Gave him a 4 wheeler in return (1/2) https://t.co/mJ7tDdRhTQ

— anand mahindra (@anandmahindra) May 3, 2017
Here's Sunil, the proud owner of the 3 wheeler 'Scorpio', now a happy owner of a 4 wheeler. All thanks to you twitterati! (2/2) pic.twitter.com/5nb12j2dnj

— anand mahindra (@anandmahindra) May 3, 2017
This incidence is one of those that clearly assert how Twitter has somehow made influential people far more reachable and miracles more probable.