30 years in films and we still get weak in our knees watching the magic that is Shahrukh Khan and the sherwani.
From being everyone's crush to ruling Bollywood with his romance, wit, hands in the air, and style, if there is anyone who continues to be a generational actor, it's our very own Badshaah. Finding adjectives to describe what Shah Rukh Khan is to millions of fans can be hard but not impossible. For years he's had us all heart-eyed with his characters and aura that radiates each time we see him onscreen. The fact that he can make people go gaga even today with a simple wave or a salam is not even surprising anymore. He personified the kind of Rahul, Raj, and Aman we need to fulfill our love lives. He's the face of every Indian romance and that will never go away. But one thing that also makes Shah Rukh the king is his style. Be it a tuxedo or a sheer shirt, he looks like a dream in all of them making every designer's work look 100 times better. But if there is one combo that always takes the cake, it's Shah Ruk Khan and the sherwani.
Apart from giving us unrealistic expectations of our love life, his way of wearing a sherwani leaves us weak in the knees. Because come on, even Banno knows it wasn't fair for Rahul to show up looking like eye candy in that black sherwani and hit on her friend during her own wedding.
Now that I re-watch some of his iconic movies with a dance sequence and a celebration, all I can do is admire Shah Rukh Khan and his sherwani. There is an extra giddiness we get when he's in Indian attire, and god do we need more of those! There's nothing better than watching SRK in a sherwani or even a plain white kurta. From the double shawl over his kurta to the long sleeves, he has been a fashion icon for quite some time.
He has given men the ultimate mark to achieve and the ways one can rock an Indian sherwani. In his 3 decade-long career, there are some iconic SRK in a sherwani looks that we simply can't ignore.
Ladies and gentlemen, Mr Shah Rukh 'Are you trying to romance me cos it's working' Khan!
The black sherwani and the slight smirk does it for me!
Aman being the death of us with this maroon kurta, like literally!
Uff! It's King Khan and not Kaan

We'll leave it right here.
Talk about doing the smallest cameo with the biggest impact. Only SRK can ace this look though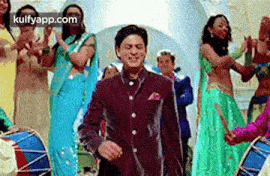 Sad, happy, drunk, we will take SRK in Indian wear anytime, anywhere!
The red jacket that became iconic!
What is your favorite SRK in a Sherwani look? Let us know in the comments below.
For more entertainment content follow us at @socialketchupbinge