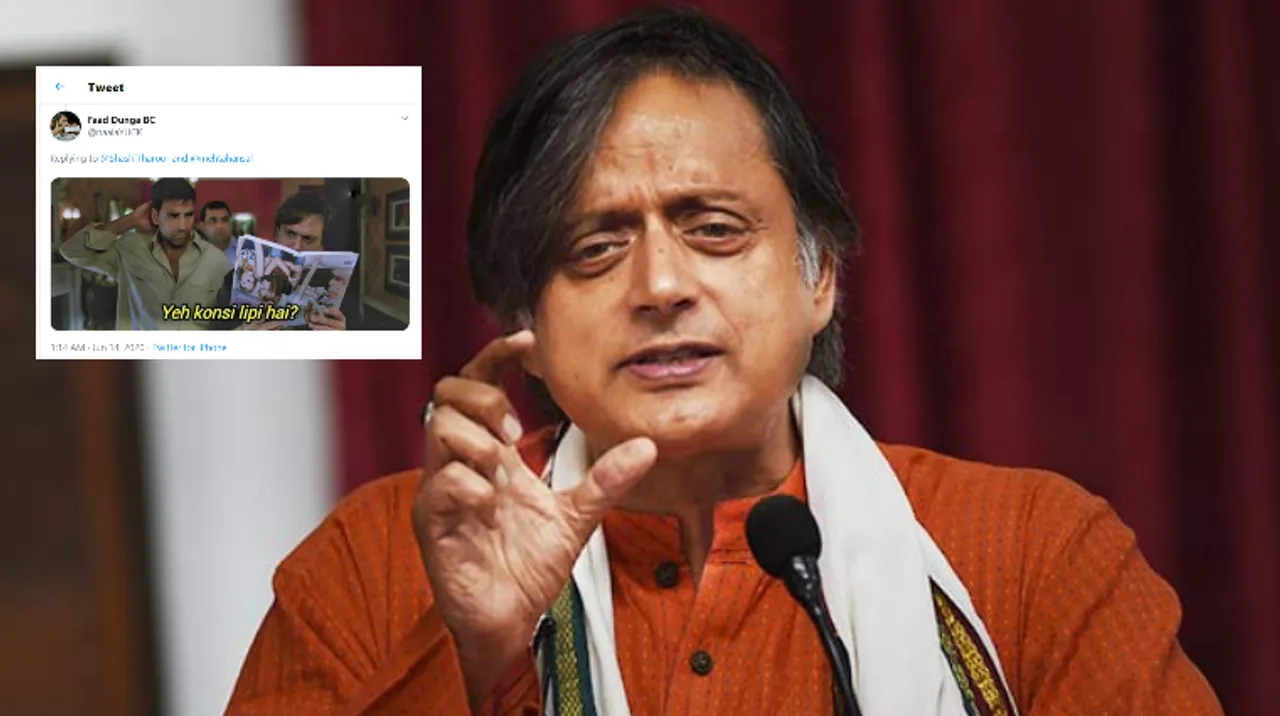 Shashi Tharoor recently replied to upcoming content Creator Saloni Gaur or Nazma Aapi who the Internet knows her. The tweet made it to the meme list after he dropped in three new words from his dictionary.
Nazma Aapi aka Saloni Gaur recently uploaded a video on Twitter taking a dig on both Shashi Tharoor and Chandrachoor Singh who recently made his come back in acting and debuted on Hotstar's show Arya along side Sushmita Sen. The comedian made a video pointing out one of the Chandrachoor Singh's character has a coincidental similarity with the MP.
Is Chandrachur Tharoor or Tharoor Chandrachur?Nevermind. pic.twitter.com/gUU3BeqPgu

— Saloni Gaur (Nazma Aapi) (@salonayyy) June 13, 2020
Saloni's tweet reached the timeline of Shashi Tharoor and he replied to it in the classic Tharoor way. In his tweet, the MP has dropped three new words 'hippopotomonstrosesquipedaliophobia', 'garrulous', and 'sesquipedalian'. (PS. Hippopotomonstrosesquippedaliophobia is one of the longest words in the dictionary — and, in an ironic twist, is the name for a fear of long words.)
Known for his great use of English words that are difficult for any lane man to understand, Dr. Shashi Tharoor is Internet's favourite. Tharoor and his unimaginably long words have fallen prey to memes a number of times in the past. And his reply to Saloni's video has made to the list. Twitter had a bunch of funny reactions t Shashi Tharoor's words. Ever since he posted the tweet, people can't help but wonder about what these three words mean leading to a number of hilarious memes.
Take a look at these memes on Shashi Tharoor's words:
Flattered by the comedic imitation. However, I would like to believe that I am not such a garrulous sesquipedalian... Clearly the artiste on the screen does not suffer from hippopotomonstrosesquipedaliophobia!

— Shashi Tharoor (@ShashiTharoor) June 13, 2020
— Disney+HotstarVIP (@DisneyplusHSVIP) June 14, 2020
Modi ji arter seeing such words exist pic.twitter.com/nLKWZBr9e6

— Ram jee (@Majbootladka) June 13, 2020
samze na samze hamko sune k accha laga pic.twitter.com/dweTP2vsu0

— Rohit Dere (@Rohit__Dere) June 13, 2020
Why do you indulge in Floxinoxinihilipilification kind of tweets...
You can do better!!

— Rishita Kabi (The Banker) (@RishitaKabi1) June 13, 2020
Every one who read above tweet pic.twitter.com/bDSLG6SfKs

— भाई साहब (@Bhai_saheb) June 13, 2020
Me trying to find the meaning of those two word pic.twitter.com/jAYZZopxHQ

— Folitically (@folitically) June 13, 2020
— Stree (@goal_digger__) June 13, 2020
और फिर डिक्शनरी रो पड़ी ।

— Donaldendra Trumpodi (@iamrohiiitttt) June 13, 2020
— Folitically (@folitically) June 13, 2020
— dimaagkoshot (@dimaagkoshot) June 13, 2020
2 aur word ka meaning dictionary mein dhundna hai kya pic.twitter.com/Ico9cthd11

— Nutcracker Shah♂️ (@beeing_shah) June 13, 2020
— प्रोफसर Raja babu ?? (@GaurangBhardwa1) June 13, 2020
Hydroxychloroquine be like : pic.twitter.com/qZM0ACttAk

— Monica (@monicas004) June 13, 2020
hippopotomonstrosesquipedaliophobia to garrulous sesquipedalian pic.twitter.com/X4ccWm9lp7

— Lazy Cat ? (@uPoliticat) June 13, 2020
— Faad Dunga BC (@naalaYUCK) June 13, 2020
After seeing such difficult words ? pic.twitter.com/nOtHOUyOWd

— Abhishek kumar (@mpbsvs) June 13, 2020