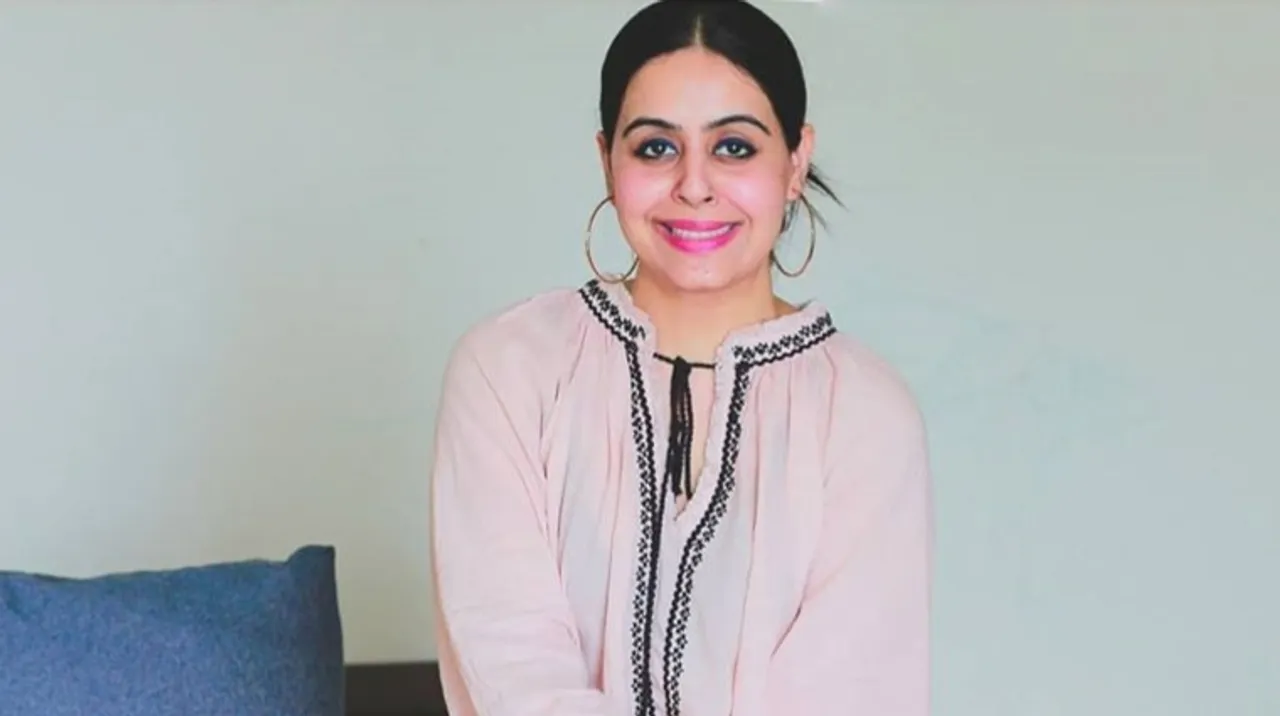 Take a look at what Indian mom blogger and photographer Shweta Tanwar Mukherjee had to say about her passion and everything that encouraged her to create content for young moms.
Blogging has widened its horizon over the years and it is not just about Fashion and Beauty. The purpose of helping people with a similar concern, however, remains the same. Social media has given people an opportunity to talk about issues that are considered important but given less attention too. The problems that new mothers face is one of such problems. An English literature graduate & an MBA in Marketing and Advertising Indian mom blogger Shweta Tanwar Mukherjee is making the most of her education to address the concerns that young moms might be facing. Shweta who worked predominantly around affinity marketing and Brand Development is pursuing her passion for Photography (Fashion and Concept) as a Profession.
She has always been very gripped by the psychological and emotional development of the child. At every stage, her son Shiven inspired her to learn and unlearn the right way to raise the child. Shweta Tanwar Mukherjee has always been vocal about the methodology, choices, and preferences of being a mother. She has taken it up as her profession and hopes to render her support and assistance to concerned mothers. In our recent interaction, she shared her insights on everything that drove her to create content online.
Here are excerpts from our interaction with Shweta Tanwar Mukherjee:
What made you start creating content? And when did you start creating content?
"Being in marketing my job demanded extensive travelling. I had to quit the job when I was expecting Shiven. Photography has always been my passion since college days, so I thought of trying my luck on social media platforms predominantly Instagram. I started sharing images.
Later when Shiven was born, it came to me quite organically to share my #NEWMOM experience along with 'Lost Womanhood (that's what I felt at that time) it took me roughly two years to settle down with my thoughts and foreseeing the scope of an influencer in Marketing and understanding the dynamics of it. I got my first Brand collaboration in 2018 and since then my marketing genetics got reactivated and there is no looking back. Touchwood!"
What according to you makes your content stand out?
"I think it's the right blend of thoughtful visuals, mindful stories weaved with honest experience and the reality of life. Being relevant to the time and the current state is also a prerequisite for me while developing content. I don't believe in following any trend but creating one. Moreover, I am vocal about my preferences, school of thoughts and disagreement."
How do you choose what to promote on your feed and what not to?
"If I  have used the product and loved the experience or if it is a part of my healthy lifestyle and routines, I am happy to promote it. I generally don't promote chemical skincare or preservatives loaded food."
One instance/experience that made it all worthwhile?
"On Dec 30, 2019, I was in Pattaya to celebrate the New Year.  We landed early morning and were waiting for our hotel room. I was walking with my husband towards the beach when I saw one lady walking towards me wearing a big smile, and with open arms, she said, 'OMG OUR VERY OWN MOM BLOGGER." She embraced me and said that she loved my work.  "I follow you and I saw your story that you were travelling to Pattaya. I am also staying here we should catch up!"
I was elated but surprised as it was least expected of someone sitting 4000 km away to shower me with delightful words. And not to miss that my husband witnessed it (laughs)"
What does a regular day look like for you?
"I generally start my day early so that fruitful routine works like massage, meditation followed by mom duties are done. I then finish some of my work priorities including making important calls and, when Shiven takes a nap then I complete a major portion of content making. The shoot days are a little haywire and messy as too much goes into it but those are the fun days.

Evenings are more relaxed and family-centric. We enjoy having a close conversation, listening to music and post-dinner strolls. I really believe in maintaining the balance between social media and social life."
How do you make moolahs?
"I am a marketing professional so this works quite as an advantage in terms of proposing brands with affinity marketing proposals or social media boosts with content. Being a photographer helps me design some quality works for brands that they can utilise on social media. Social media Marketing /Influencer marketing has now gained a place in the Marketing Budget or major brands/corporates as the Return on Investment (ROI) is quite effective and brands are ready to make an investment in micro-influencers as well.
So you can say Brand partnership and a few endorsements along with my Photography projects help me make decent money."
Where do you get inspiration for your posts from?
"I am quite observant in terms of what's going around us and what affects a human psyche. My inspiration is the Time which is NOW. My content is my state of mind which I want to share with my audience in the form of information, experience or preference.
My posts are the reflection of my womanhood which is quite dynamic and has various emotions. It's a blend of positive living, relationships, Mother & Child, Self-care and Mindfulness, fashion & Beauty, Healthy Lifestyle."
Have you ever received a weird or funny brief from any brand for collaboration? Please share, if any.
"Oh yes! (Smiles) I cannot reveal the name of the brand but they were too confused in terms of Brand Positioning during the Campaign and kept changing the narrative of the brief. After 3-4 edits of my script, I could not resist myself from speaking to the Brand directly along with the agency and then we cleared the air. I gave them some real insights about how a complex communication will not be received well as it will leave the audience confused."
If not an influencer, what would your full-time profession be?
"I would have given more time to photography and be more regular with the projects."
Any message/tips for upcoming bloggers and influencers?
"Be honest to yourself. Don't Follow trends if they don't fit your space and personality.
Work on quality content rather than randomly posting something that doesn't make sense. Take regular breaks to brainstorm on content and go creative when you need more engagement or reach. Pay attention to images and visuals as they are the first thing that works on social media. Surprise your audience with your different sides of personality and work."
Here's how Shweta Tanwar Mukherjee reacted to our Quick 5:
Favourite meme template on social media?
There are so many. One I can remember is Avengers in Tamil Comedy really cracked me up.
One celebrity you want to collaborate with?
Priyanka Chopra
Your favourite Influencer?
Sadhguru, super cool in all aspects.
Favourite face filter?
My very Own .. Magic By Shvtas
Follow Shweta Tanwar Mukherjee on Instagram at @shvtas to get her expert opinions on Motherhood, Child Development, toddler learning, Reviews and Choices and Positive Living.