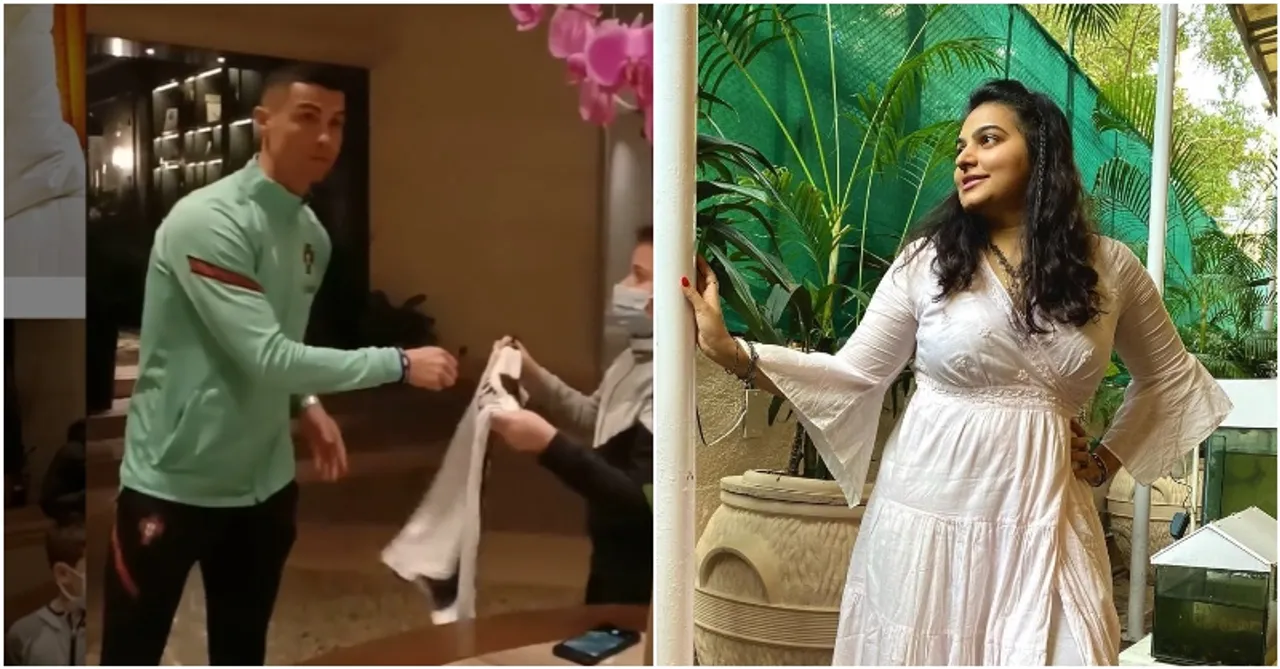 Check out the iconic moment when actor and creator Snehil Dixit Mehra caught Cristiano Ronaldo in true DDLJ style.
When we saw Shah Ruk Khan do the palat scene with Kajol in DDLJ we all have dreamt of having one of our own since. We have all imagined it happening to us when we are at a concert, or at a mall or anywhere in that matter. It is not always that you get to meet famous personalities when you are travelling. But when you do, you want to cherish it as one of the most special moments in your life. Actress and Content Creator Snehil Dixit Mehra experienced it for real recently.
The actress was travelling to Serbia when she had her moment with Football player Cristiano Ronaldo. Who is not a fan of the player and who doesn't have a crush on him? Everyone does. And Creator Snehil aka BC Aunty captured the moment of meeting the player in true Bollywood manner. Ronaldo was staying in the same hotel that she was staying in and she shared a video of him walking up the stairs opposite her. She posted the video captioning it, "Nazren Mili Dil Dhadka … Meri Dhakan Ne Kaha… Love You Raja." She did the iconic, "Agar ye mujhe pyaar karta hai toh palat kar jarur dekhega. Palat. Palat. Palat," and he did! It made for the most fun video on the internet.
Take a look at the video:
She was also able to meet him in person when he decided to meet and greet his fans.