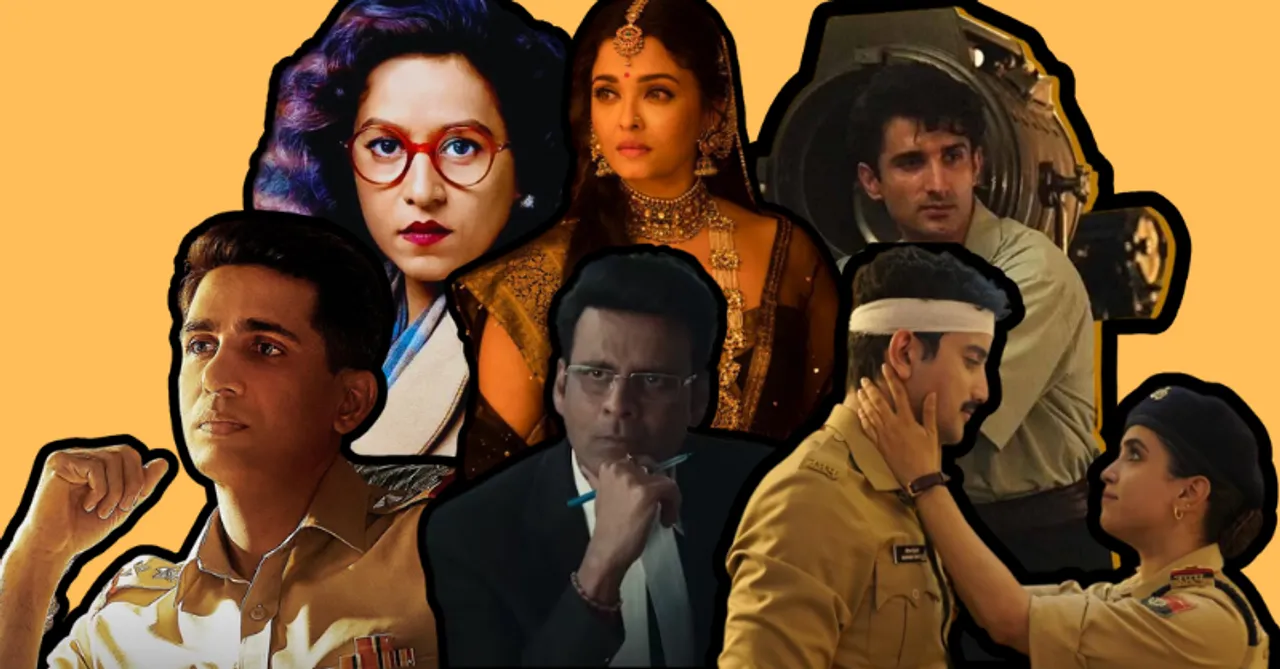 From the content we've consumed so far, we can't stop obsessing over these characters from 2023!
Characters from fictional worlds can become important to us, almost as much as the fictional world itself. We relate to them in ways we never have and it's comforting to feel represented in a positive way where we don't feel alone. The importance of these characters is huge and while there are many of them, sometimes even in the same piece of content, some just tend to tug at our heartstrings. Up til now, here are characters from 2023 who not only taught us valuable lessons but also made us feel special.
Check them out!
PC Solanki - Bandaa (Zee 5)
Manoj Bajpayee has put such life into this character PC Solanki despite being a real-life inspiration that he could have a solo run with a series of his own!
Nandini - PS 2 (Amazon Prime Video)
Quite similar to Cersei Lannister yet rather different from her, Nandini, the stirrer of all the Game of Thrones drama in PS 2 has been played by Aishwarya Rai Bachchan with her eclectic beauty in such a manner that she is unmissable and unforgettable!
Niloufer and Jay - Jubilee (Amazon Prime Video)
Though the entire show is nothing short of masterful storytelling with all of its craft, you can't take your eyes off Sidhant Gupta as Jay Khanna and Wamiqa Gabbi as Niloufer, the struggling artists trying to make it into the industry by hook or by crook have a magnetic pull!
Firoz - Farzi (Amaozn Prime Video)
Standing next to Shahid Kapoor anybody can be invisible but Bhuvan Arora makes sure that Firoz's best friend has his own identity and such that he stands out irrespective of Kapoor!
S.H.O. Devi Singh - Dahaad (Amazon Prime Video)
A show that explores the mind of a serial killer and a Dalit woman police officer's struggles, both performed brilliantly by Vijay Verma and Sonakshi Sinha could take quite a centre stage. Yet Gulshan Devaiah makes sure he, as Devi Singh, a real feminist male police officer and father shines out!
Imran and Shroff - Scoop (Netflix)
This is the story of Jagruti Pathak and Karishma Tanna plays it with all her heart with quite little space for others. Yet Mohammed Zeeshan Ayyub as Imran and as a good surprise to everyone, Harman Baweja as Shroff in this one perspective world put forth points rather well making us love and hate them!
Lipika Saikia - The Night Manager (Disney+ Hotstar)
If anyone could have done justice to a character played by the great Olivia Coleman then it would definitely have to be Tillotama Shome. As Lipika, she's a dedicated, funny, and real RAW officer we desperately needed and didn't even know!
Indira - Gulmohar (Disney+ Hotstar)
When there is Manoj Bajpayee and Sharmila Tgaore in a film together it is hard to make a screen presence noticeable. But Simran as Indira not only makes her visible but also represents the character of housewife to the nail where she becomes the person who you enjoyed the most watching! (Though all the characters in this film make up for favorites!)
Mahima Basor and Constable Saurabh Dwivedi - Kathal (Netflix)
In a comedy film with the geniuses of comedy, Sanya Malhotra as Mahima Basor, a Dalit police officer fighting the system and the patriarchy without ruffling any feathers, and Anant Vijay Joshi as Constable Saurabh Dwivedi, Mahima's boyfriend and a man in this society essay their characters to the point of reality!
Shakti and Vikram - School of Lies (Disney+ Hotstar)
Despite the super-talented adult cast in the show, these kids Shakti and Vikram steal the show with the representation of innocence, loneliness, and maturity, all at the same time, in kids presenting a dark tale of trauma while growing up!
Kaveri - Sweet Kaaram Coffee (Amazon Prime Video)
Kaveri played stirringly by Madhoo is quite a fascinating character of all three women in the series. As a meek housewife whose life revolves only around her family, she is relatable to most women in this country.
So far, which characters from 2023 have stole away your hearts with their fictional presence? Tell us in the comments below!
For more binge-centric content and reviews, follow us on @socialketchupbinge.