Check out how Bollywood's own King Khan made it to our iconic villain list with his crazy, obsessive villainous character Rahul Mehra from Darr.
There is a lot that an actor wants to do in his career. Every actor dreams of getting the chance to portray various eclectic characters that can bring out the best of their performance. Indian cinema is sure to be blessed with such flexible and focused actors who have given their best performances over the years. And Shah Ruk Khan is definitely one of them. We may know him as the king of romance and the epitome of love, but one performance that always stands out in his career is quite the opposite of this, isn't it? Even as you read it you know we're talking about Rahul Mehra from Darr.
What is love? A grand gesture, confessing love over and over again or stalking the person? Rahul Mehra showed us what love is not. The story begins when he starts having feelings for his college-mate Kiran played by Juhi Chawla but this crush soon turns into an obsession. Hailing from a well-to-do family, Rahul could be charming and loving until his psychopathic traits start showing. One might fall for his twinkling eyes but when the monster in him unleashes he was willing to kill a person with the hope of getting the love he always wanted. The intensity of his obsession is clearly captured in the scene where he carves Kiran's name on his chest with a knife.
Shah Ruk Khan is known as a self-made actor. He is a person who has been part of a number of incredible and amazing movies delivering top-notch performances. Representing the Indian cinema around the world, he has created his own sphere of fans. Winning a number of accolades for his significant contribution in the field of arts, SRK has been inspiring many (this can clearly be seen outside Mannat!). His choice of characters has always made him stand out of the rest with critical acclamation coming his way. Playing the antagonist during the initial stage of his career was a bold SRK step and what an iconic one it turned out to be.
When questioned on his decision on playing the antihero we all love to hate, especially when many rejected the same Shah Ruk Khan said that he thought he never found himself as someone who was 'good-looking enough' to be a hero. But his role was the one that stood out in the entire movie. This character was also offered to his industry counterparts Aamir Khan and Ajay Devgan who decided to pass it on.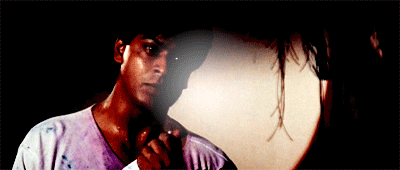 Here are some of the iconic dialogues by Rahul Mehra:
"I love you, K…K…K…Kiran!"
"Uski yaad ek amanat hai… ek bahut haseen, bahut hi pyaari, bahut hi keemti amanat hai"
"Joh taar se nikli hai, woh dhun sabne suni hai… joh saans pe ghuzri hai, woh kis dil ko pata hai"
"Sachchi mohabbat ko pechaanne ke liye aankhon ki nahi… dil ki zaroorat hoti hai"
Rahul Mehra could give Joe Goldberg a run for his money, don't you agree?