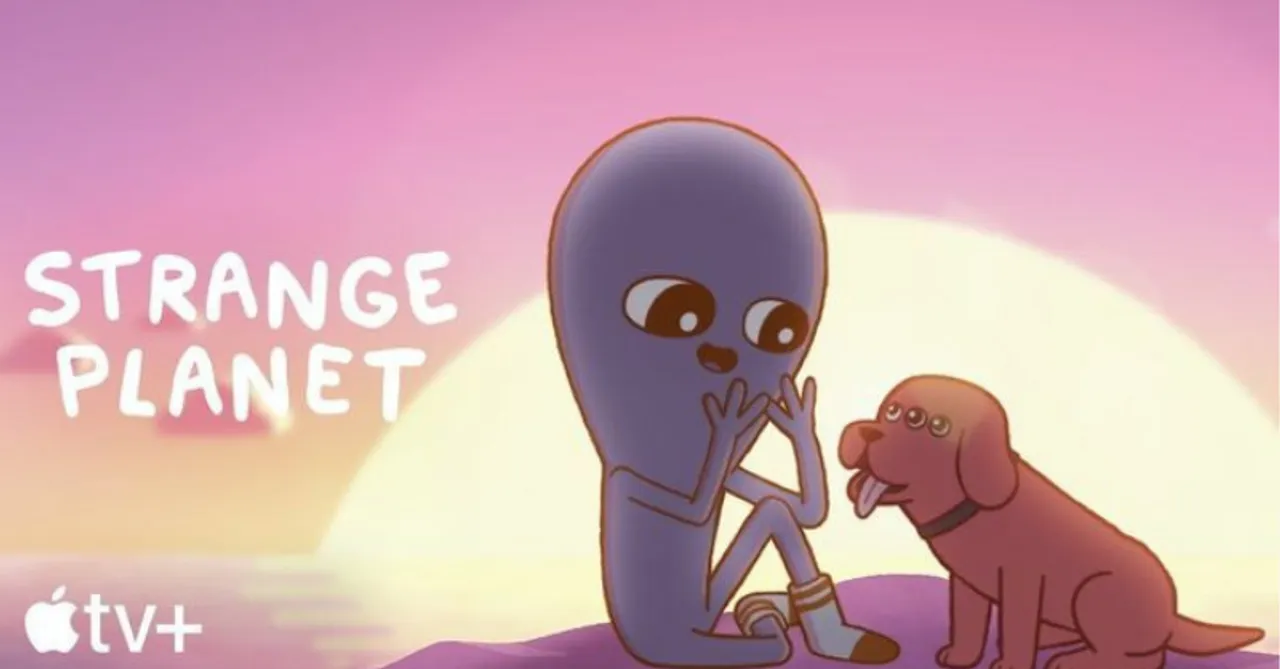 The animated adaptation of Nathan W. Pyle's webcomic "Strange Planet" has made its debut on Apple TV+.  Cheerful, adorable, and funny, the show emphasises human possibilities than limitations but gets a bit predictable at times.
Cartoon enthusiasts know the breakthrough that author Nathan W. Pyle made with his beloved webcomic, "Strange Planet'' in 2019. The show has made its debut on screens with him co-creating its animated series for Apple TV+ along with Dan Harmon. The first three episodes were released on August 9 and the adaptation has followed the minimal blue/pink aesthetic of the comics. 
Sometimes the vastness of the universe makes you feel small and insignificant but it's the same vastness that also makes you believe in its infinite possibilities, which is exactly the essence of 'Strange Planet'. Following the lives of blobby blue aliens on a strange planet, this Horatian satire takes us through their journey aspiring to understand and explore human dilemmas through its observational comedy and social commentary. Watching the initial episodes of the show, we see how it navigates the impudence of social interactions with light irony.
Watch the trailer here:
In the first episode, we follow our protagonist as he joins the workforce of a restaurant, "Careful Now" situated on a cliff that can fall anytime into the void, taking us on a journey to know more about the universe. The show has followed the comics by keeping the visuals simple, and with keeping its characters is similar in resemblance but different in personalities. These characters indicate how in this vast universe, our identity matters little and the changes we make are influenced by our individual experiences, learning and mannerism. With no names to address the characters, the show has presented them in a way where the only way for the audience to remember them is through their unique personalities, opinions and voice. It is this aspect of its storytelling that I found the most appealing. It might feel confusing to people who are not very familiar with the comic strip but as the show progresses it eventually makes sense.
The characters in the show often use literal vocabulary while speaking, which satirically points out our real world and how we use terms that aren't always literal, making it tough to understand. One might take time to get used to the vocabulary but it's fun to hear them use terms like "mild poison" for alcohol, "mouth stones" for teeth, "days of being single" for being unmarried, "jitter liquid" for coffee and more. This "literal vocabulary" initially catches your attention but ends up feeling a bit too stretched out. In spite of the fact that they are literal and weird, these creatures have a certain familiarity with humans by being more emotionally mature and honest about their feelings. Strange Planet follows the minimalism of the comics in its visuals and character designs which makes for a decent animation with a thoughtful story. The simplicity of the comics and their satire on humanity is what makes this show special but since these characters rarely show any complexity in their nature, it can get tiresome for some.
Despite everything, the show does deserve a watch. It's very rare for adult cartoons to be raunch free and thus, to some extent, they can be watched by children as long as they understand these concepts. 
For more binge-related content follow us at @socialketchupbinge