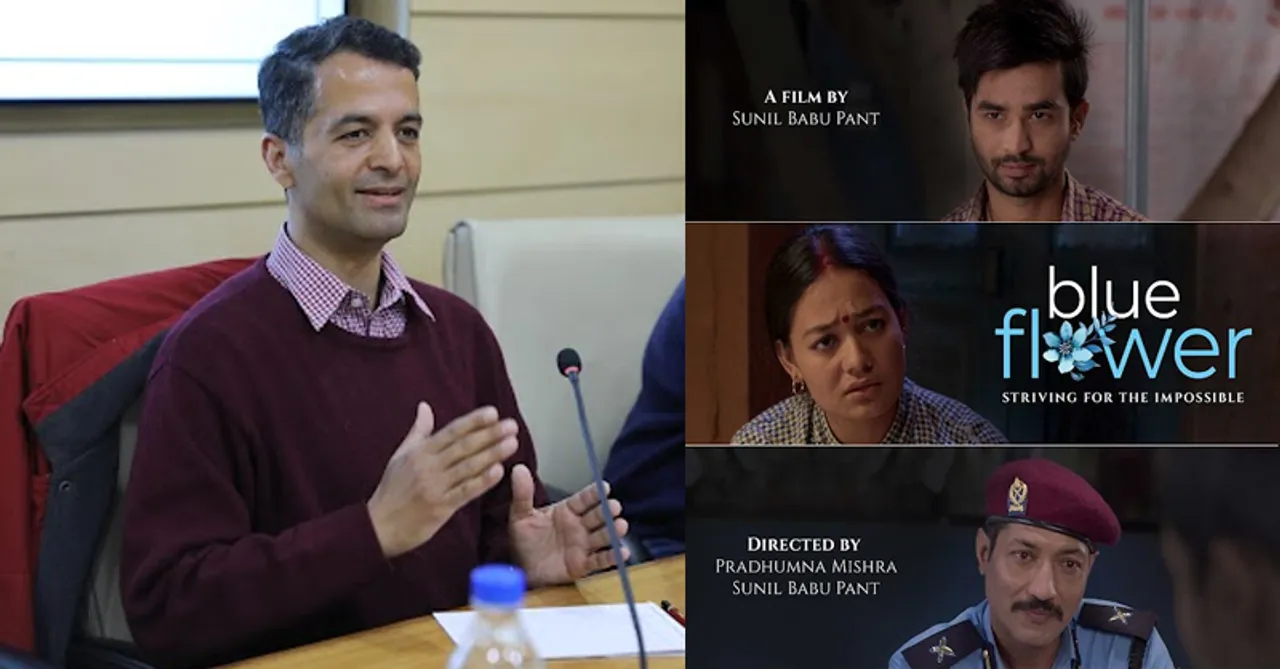 From fighting for LGBTQ rights in the parliament to voicing his story and that of many other people from the queer community in Nepal, our conversation with Sunil Babu Pant feels insightful and empowering to say the least!
Sunil Babu Pant has dedicated his whole life towards better rights for the LGBTQIA+ community in Nepal. He founded the Blue Diamond Society for creating awareness about the community, advocating for the change in the existing laws about same sex marriage, and educating queer people about safe sex. He is also the first openly gay parliament member in Nepal and has used his platform in politics to change minds towards the community. Even though he has been an LGBTQIA+ rights activist and a politician all his life, he decided to turn a filmmaker and make a short film on what life really is like for a gay man in Nepal.
His motive behind making the film was to reach as many people as possible around the world and as we have seen many times, movies really do have the power to bring about change in society. Through his film, he has helped people become more open minded towards the community and the short film is being shown in various film festivals. We had the opportunity to interview him at Kashish Film Festival this year and through his conversation with us, you can see the dedication he has towards the message he wants to pass and the hope he has for a better future for the LGBTQIA+ community in Nepal.
Here's how the conversation went!
What was the inspiration behind making Blue Flower?
The inspiration honestly was a desperate situation because of so many things happening around. So I wouldn't call it inspiration, but there's a desperation that LGBTQ+ people have to go through. Because their family puts a lot of pressure into it, you know having a heterosexual marriage. Otherwise, there's all kinds of blackmail, we found out there are three main kinds of blackmail. Some families said, you know, if you don't marry, there's no procreation, the lineage isn't continuing so you will be excluded from the ancestral properties. So that's one. Second, say you don't marry then you are bringing a lot of shame. People are calling names, causing a lot of ostracisation. So you better leave home. The third is like the mother says in the film, if you don't marry I'll give up my life and what not. So there's so much suffering we have to go through and there are  so many lives involved actually a lot larger society does not even know what the Queer community is. When the issue comes up and if somebody says they are gay, lesbian, trans, people deny it, it's very quiet, kind of, you know, under the carpet, settling everything through blackmail, through force or something like that, but never discuss outside. So I just thought of making this film and bringing the topic out to the public.
What was your creative process like? How did you work with the cast and crew while making the movie?
When I was running Blue Diamond Society and also a member of parliament, I was tired of explaining one to one, all these issues around gender, sexualities, laws and emotions, everything. So I decided to host a TV show of my own. I had a team working on a TV show, just a small camera, we created our own studio. So I have a little bit of knowledge and contacts through them. I decided I wanted to do something creative. I decided to make a movie based on this true story, which I made two to three years ago. I contacted the same TV crews and then I saw this young actor, Sagar's TikTok. He had sent me a friend request on Facebook as well. So then after seeing a couple of his videos, I felt it resembled the character and I felt maybe he can do justice to the story. But we had a casting crew and others in the screening process, and he passed it.
How much of the movie reflects your own personal vision?
Half of it. Because I've also felt the same amount of pressure in my personal life. But because I came out when I was 29 and economically independent, I could say no. But most people cannot, they don't have that option. That's how it's similar to my own story. 
How would you want the audience to perceive this movie?
If you look at this movie, there is no hero in it. It's all in difficult situations which are under the carpet. This movie, you know, in fact it calls you to become a hero in real life. So I want the audience to pick up and say, 'Oh, how can I change this suffering?' So it lets you become a hero in your real life. Also, the politicians in Nepal are now watching this film and becoming more aware about the queer community and even allow same sex marriage so the whole patriarchal marriage system is not ruining men and women's lives anymore. 
Some of your favourite movies that have good LGBTQIA+ representation?
Nepal is not a major movie producer country, but in world cinema, there was Harvey Milk. It was one of the most inspiring movies I've watched and the main character was also a first openly gay mayor who was elected and he wasn't spiritual which is similar to my own life. So that was one of the films I really liked. 
Sunil Babu Pant's short film Blue Flower premiered at The Kashish Film Festival this year.
For more interviews, follow us on @socialketchupbinge.