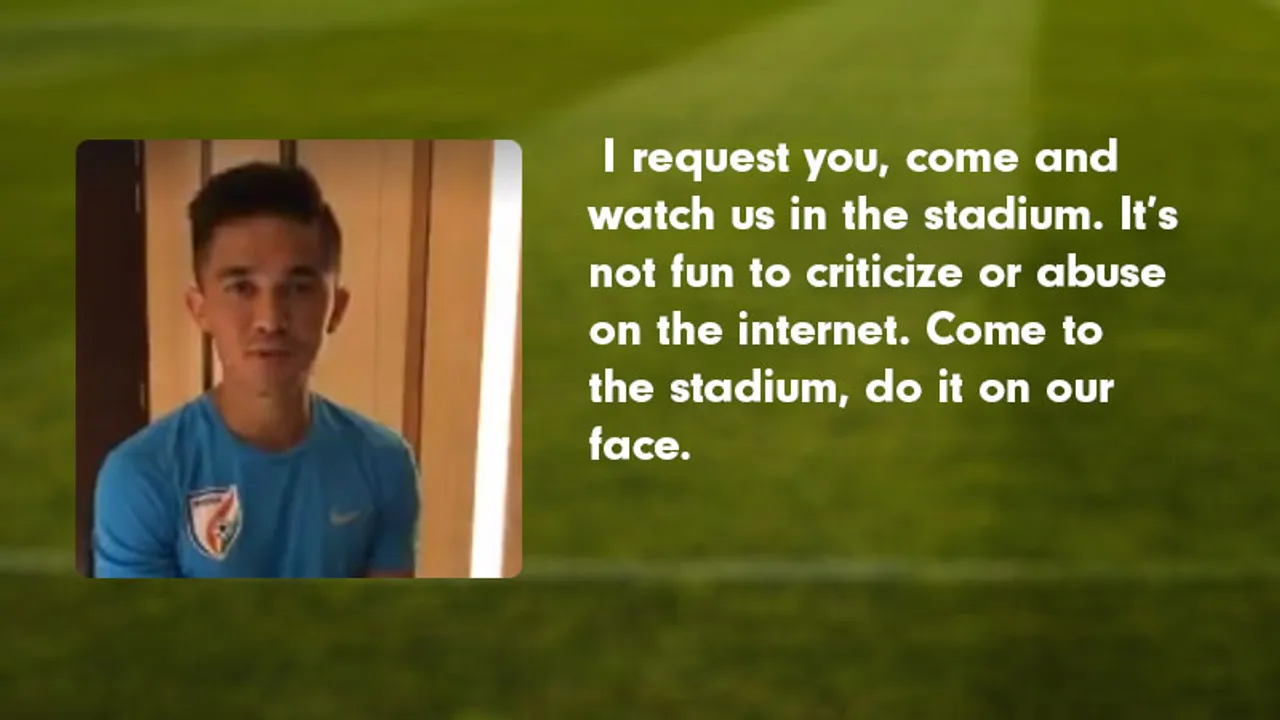 After decades of dedication and a tireless pursuit of excellence, Sunil Chhetri finally decided to speak up and made an impassioned plea to all his fellow citizens. The Sunil Chhetri video urging fans to attend India's football matches has gone viral and here's why it matters.
There has never been a dearth of Indian Football fans, but the lack of fans for Indian Football has been saddening to watch, especially for players as iconic as Sunil Chhetri who endured the indifference for years, continuing to give his all to his country. Posted on Facebook and Twitter, the Sunil Chhetri video has received an outpouring of support from fans all over the country.
In the video, Sunil Chhetri urges non-Football fans to come and watch the Indian Football Team atleast once, "Today, I'm making this video to appeal and request to all the people who did not come to see us in Mumbai. To everyone who is not a Football fan, please come and watch us. I'll give you two reasons: 1. It's the best game in the world, and 2. We play for our country."
Tickets for India Vs Nigeria, being played in Mumbai have been sold out after the Sunil Chhetri video was shared over 25K times on Facebook alone! But there was something he said that made such a strong impact on people, that things will never be the same and our beloved Indian Football Team will never have to play in front of empty stands again.
He said, "To all of you who have lost hope, or do not have any hope in Indian Football, I request you, come and watch us in the stadium. It's not fun to criticize or abuse on the internet. Come to the stadium, do it on our face. Scream at us, shout at us, abuse us. Who knows, one day, we might change you guys. You might start cheering for us."
The Sunil Chhetri video inspired Indian Cricket Team captain, Virat Kohli to voice his support on Twitter, urging all the fans to make an effort and go watch
Please take notice of my good friend and Indian football skipper @chetrisunil11's post and please make an effort. pic.twitter.com/DpvW6yDq1n

— Virat Kohli (@imVkohli) June 2, 2018
The voice of our Footballing Man In Blue was heard and tickets for the India Vs Kenya match today have been sold out, and we just hope this change is permanent. Support the Indian Football Team guys, because at the end of the day, WE ALL BLEED BLUE!
Watch the entire video below.
https://www.facebook.com/SunilChhetriOfficial/videos/10155265850291916/