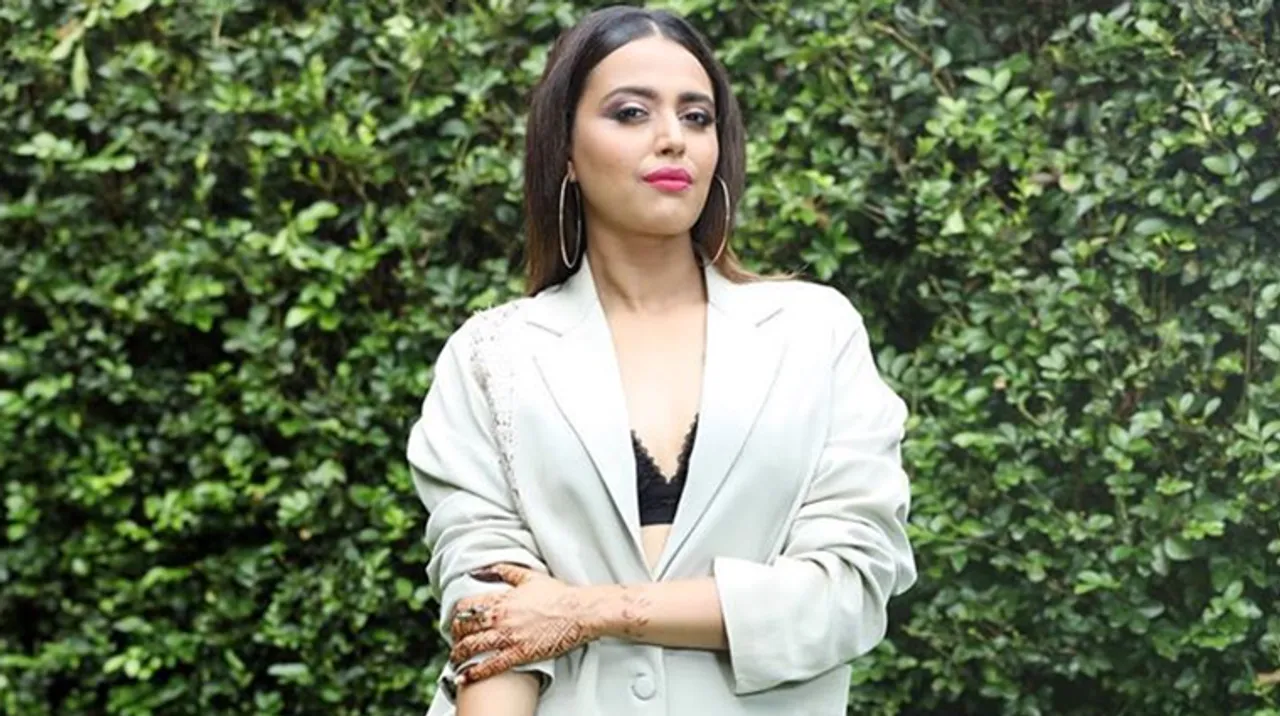 Twitter is calling out Indian actress Swara Bhasker as 'Swara aunty' after her recent appearance in a comedy talk show. People are mad at Swara Bhasker's comments on Son of Abish and here are the reactions.
Swara Bhasker is one among those Indian actors who is known for voicing their opinion on matters of concern. She has her point of view placed before everyone. Known for her controversies, she is usually in news for her controversial comments. People also call her cocktail politician for her political comments. But recently, Twitter called her out as 'Swara aunty' online for one of the comments she made while sharing stories from her early acting days.
The actress was part of a comedy talk show 'Son of Abhish' hosted by the well-known comedian Abhish Mathew. Swara was present on the show along with comedian Kunal Kamra. She was sharing a story from one of her advertisement shoots for a soap brand where she had to act alongside a 4-year-old who on seeing her called her out aunty. She then went on to call the child ch#tiya for calling her that. This sparked discussion among the people as they found it very offensive on her part for calling a child ch#tiya.
Take a look at the video doing rounds the internet:
#swara_aunty
Why people abusing @ReallySwara aunty as #swara_aunty? She said chu**ya & Kameena to a 4 year old child. Its not her fault. #swara_aunty was actually referring to her inner self as being Chutiyaa and Kameena ?. What u expect from Chutiyaa kameena #swara_aunty? pic.twitter.com/oMHxvoIB2Q

— Oxomiya Jiyori?? (@SouleFacts) November 5, 2019
Here is how people reacted to Swara Bhaskar calling out on a child:
#swara_aunty is disgusting

Complete failure in Bollywood is just a attention seeker on Twitter@ReallySwara

— Anjali (@dayal_anjali_) November 4, 2019
#swara_aunty will you please explain this or may be atleast apologise? Generally the "fake liberals" and "self claimed intellectuals" are quick to find and hide behind excuses. Hopefully, you would have found one by now. https://t.co/jpun3AJUOu

— Mayank Sengar (@Sengar_S_Mayank) November 4, 2019
#swara_aunty
# mently retarded swara_aunty#swarabhaskar
She is fake and her nonsense will increase with time in future.
I m sure ,she will not stop.
Ultimatly she is gaining popularity anyhow.

— Ajit Mishra (@ajitmishra05000) November 4, 2019
Using this type of cheap words for a 4 year old child by #swara_aunty and those two are smiling wah re wah https://t.co/IM3cmma4FJ

— Kishan Kumar (@itsKishna) November 4, 2019
Okay, I say #swara_aunty now what?
Plss don't repeat #swara_aunty ? https://t.co/Le4IIIxRrW

— Rajesh Acharya (@onlyoneRajesh08) November 4, 2019
Give me one reason not to call her #swara_aunty I will give you 1k reason to call her #swara_aunty because I know she is pathetic #swara_aunty because #swara_aunty 'S acts proves why we should call her #swara_aunty that's the reason she is #swara_aunty

— Hemant Behwal (@hbehwal) November 4, 2019
Who made this one.. #swara_aunty @reallyswara will definitely scold you chut**ya and kam**na.. pic.twitter.com/segOoaMaUl

— sivakesh?? (@SivakeshI) November 5, 2019
#swara_aunty Calling a 4 yr old kid a ch***ya does not mean you are cool, or have a sense of humor. But when you tell it sitting with @kunalkamra88 or @thetanmay it means you are a party to their pedo jokes. What a dum*f**k you are .@ReallySwara !!!

— Indian first (@Mungphali1) November 5, 2019
On one side, Swara Bhasker held placard for the justice for child rape & murder victim in Kathua case.

On the other side, Swara Bhasker verbally abused & called a child 'ch***ya & kam**na' just because he called her Aunty.#swarabhaskar #swara_aunty #SwaraAunty @ReallySwara

— Rajat Rathore (@imRajatRathore) November 4, 2019
So this is what #swara_aunty probably saw before calling a 4yr old ch***ya.. matlab bas chote ladko ki hi bejjati kar sakte h.. if you know what I mean..? don't blame her, she doesn't have a mind of her own..
@AbhiUpmanyu pic.twitter.com/5EJLcpucb9

— Anurag (@Anurag29424428) November 5, 2019
What are your thoughts on the matter? Tell us in the comments below.