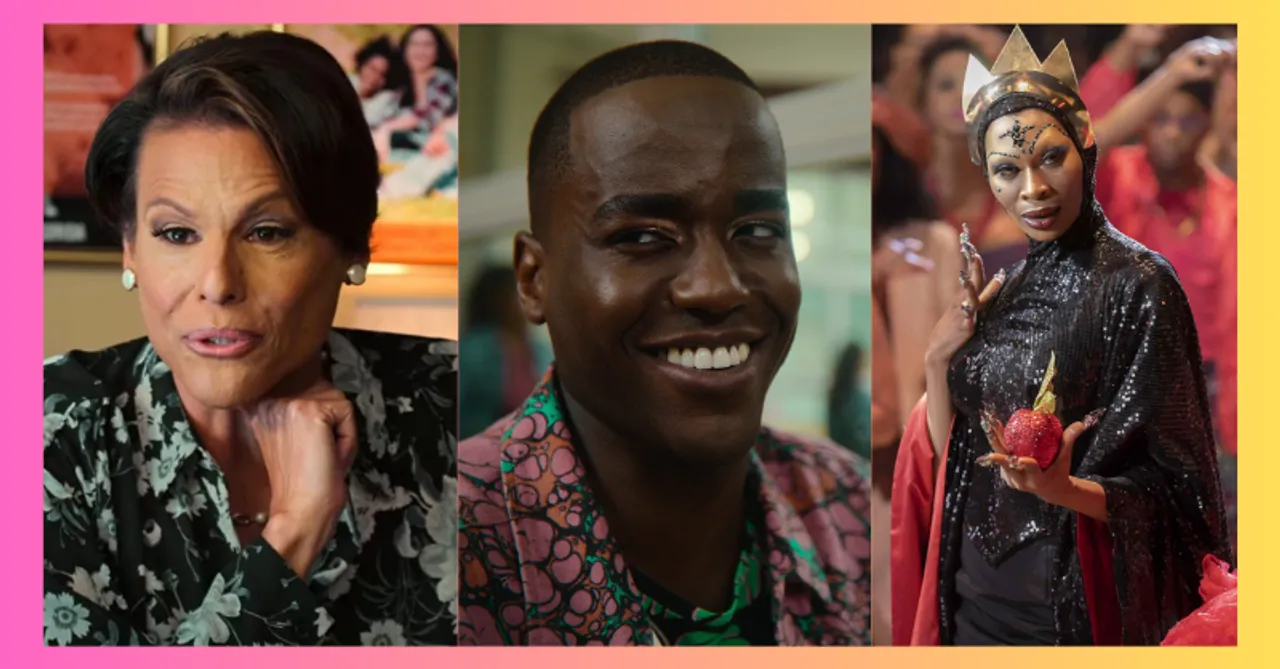 While the representation of queer onscreen might come across as a trend today, there have been certain characters in shows and films that have helped drive the conversation ahead instead of just representing them.
If you have seen Never Have I Ever, you might have noticed the career councelor, Jennifer Warner. Played by Alexandra Billings, Jennifer is a trans woman but this aspect of hers isn't highlighted or even mentioned but that doesn't mean that we didn't notice it! In fact, what it did was make a trans woman a part of society like everyone else without the need to talk about her identity specifically. It automatically takes a step ahead in the representation of queer onscreen. You might have felt this with Sophia Burset from Orange is the New Black as there was more to her character than just being transexual.
Cam and Mitchell from Modern Family come to mind when we talk about 'gay representation onscreen'. Both of them, in spite of being gay, were also loving fathers, lawyer, football coach, and so much more but they were often reduced to being gay stereotypes. But in the context of today, as much as we need to make every profession inclusive, it is not about giving them a seat at the table as "queer teachers, lawyers, doctors, police, artists", or anything. But a respectable position where they can just simply exist as 'I am a lawyer who is also queer'! This simple step by not making the entire discussion around specific sexualities or who they identify as gives space to the queers, normalising professions just the way for any cishet's. After all who we identify as is a part of our life that shouldn't be made our entire life!
Eric Effiong in Sex Education is not afraid of who he is and has always been openly gay. Even though he deals with the cruelty of society yet when he realises that he wants to be with someone who is comfortable with their identity and not with someone who is still dealing with 'coming out', you get where he is coming from. Being in a relationship with someone who is on the same timeline as yours is a comfortable space we all want to be in, don't we? Similarly Abby in Happiest Season wants the same thing! It is not that they don't get the struggle or the pain of coming out and dealing with sexuality but they have already been there in their lives and are making the choice to move ahead and they don't need to be made to feel apologetic about it.
But it is absolutely understandable why identity is a huge part of queer representation. Because if you are disregarded or unaccepted in society for exactly who you are, your first step is to bring about acceptance for that. And while that is impertinent, it is also imperative to have representation that goes beyond that. Otherwise 'queer' will become not part of the same society as 'us' but rather be referred to as the 'other' always. This gap is beautifully covered in Schitt's Creek with David and the way his romantic journey with Patrick is depicted. It is not born out of tragedy and overcoming battles for queer but out of love. And who can forget 'I like the wine and not the label' which meant different things to different people?! This paradigm shift in the narratives where 'queers' are just simply in love and existing rather than fighting homophobia is equally important with the ones that address issues.
All the characters from Pose, Blanca, Angel, Elektra, Pray Tell, and more, while fighting for their right to be treated as human beings, as queer people they also want the respect of a professional. Blanca's undying ambition, Elektra's hustle for business, Pray Tell's fight with the world or Angel's idea of being swept up by a prince charming, are all about living exactly like any other man or woman who lives in this society. Their 'Balls' depict that too, how desperately they just want to be part of the society that neglects and shoos them away. When we see someone like ourselves onscreen it helps us gain confidence and also makes it easier for the world to understand us. So it's more than necessary that in today's pop culture, we don't treat being queer as just something trending or as marketing to do for Pride month. But talk about the community in all aspects - relationships, identities, professional struggles, age, race, stereotypes, and so much more.
Even Call Me By Your Name or Cobalt Blue presented as love or coming of age stories to us and not as a 'queer love story' or a 'queer coming of age' one makes a huge difference. Brimsley and Reynold's heartbreaking romance in Queen Charlotte, Rosa being bi-sexual in Brooklyn 99 or Todd being asexual in BoJack Horseman is how queer people can still be part of society while being themselves. Even Sol and Robert in Grace and Frankie bring forth the point that coming out isn't restricted by age and if anything, the same rules apply to our parents as it does to us. Titles like Heartstopper, A Kid Like Jake, Feel Good, RuPal's Drag Race, Queer Eye, and so many more help take the discourse on the representation of queer onscreen further!
For more entertainment, follow us on @socialketchupbinge